Where's the DVR? Toshiba
Toshiba SD-H400 Digital Media Sever
Now, I'm not a slave to separates like some of the ultra-high-end audio zealots, but neither can I claim to fully comprehend the allure of multiple video players or recorders—two independent entertainment technologies—in a single chassis, except as the sort of feng shui one-box, one-remote approach that all of my apartment-dwelling colleagues in our New York City offices are always prattling on about.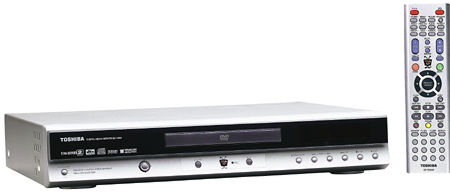 Still, for a DVD player with an integrated TiVo unit, the SD-H400 hardware is well thought out, with a single set of ColorStream Pro component video outputs (composite and S-video outs are also available, of course) to serve both DVD and DVR. You can select progressive or interlaced scanning from a hard switch on the rear panel, and the unit configures itself for the switch's setting upon reboot. Toshiba's Digital Cinema Progressive technology is at work on both DVD and DVR playback; however, if you record a program with fast motion to the hard drive at basic or EP quality, all of the compression artifacts will be superbly represented. Fortunately, the encoding here is quite clean, particularly at the best level (the default), which appears to be near-broadcast quality. At this setting, the 80-GB Maxtor QuickView hard drive will hold about 26 hours.
No surprise, the DVD picture is gorgeous too, with a lifelike, detailed image from a variety of source material and minimal digital distractions. No excuses are necessary for the DVD player's audio performance, with a 24-bit/192-kilohertz digital-to-analog converter and both optical and coaxial digital outs. DVD-R/-RW, CD-R/-RW, videoCD, and MP3 playback are supported.
Built upon the TiVo Series2 platform, the SD-H400 includes the free TiVo Basic service, which is about what it's worth. It allows only live-TV pause, fast-forward, rewind, and slow motion, plus a stripped-down version of TiVo's program guide that provides only three upcoming days' worth of information and manual recording by time and channel. Not coincidentally, the onscreen menus overflow with cheerful invitations to upgrade to TiVo Plus, the more-common pay service.
The user interfaces, such as the all-important channel guide, are quite friendly and intuitive. Also available as an upgrade via telephone dial-up, the new TiVo Home Media Option unlocks potential home-networking benefits, making this a true digital media server. By hooking up with optional equipment through one of the two USB ports—no broadband connectivity on the box itself—the SD-H400 can tap into either a wired or wireless home network, including a PC or Macintosh, to stream MP3s to the living room or view digital photos on the big screen in the home theater. Remote Scheduling also allows you to set up TiVo recordings from any Internet access point. With another connected TiVo Series2 DVR, you can share any stored content between locations. This is all well and good; however, for the considerable price of $549, shouldn't some of those next-generation Home Media Option features be accessible right out of the box?
The traditional TiVo functionality that consumers have been hearing about, have been enjoying for years, and have come to view as standard has been deliberately compromised; in doing so, though, TiVo and Toshiba have delivered a component that provides entrée into the world of digital video recording for all, with no mandatory additional charges. What it lacks in the depth of its interactivity, it makes up for with the bonus of a fine DVD player, all under one roof.
Highlights
• Excellent video on DVD and DVR
• Upgradeable for use as a full digital media server
SD-H400 Digital Media Sever $549
Toshiba America Consumer Products
(800) 631-3811
www.toshiba.com

<!- ----------------------- Tech Center Ads ----------------------------->
<!- ---------------------336x280 ADS------------------------------->
<!- ---------------------FIXED AD------------------------------->
<!- ---------------------336x80 ADS------------------------------->
<!- --------------------Sponsored Link Ads-------------------------------->
<!- ------------------------Bottom Ads---------------------------->