Vienna Acoustics Klimt Speaker System Page 3
This system includes ten 9-inch woofers, two 12-inch subwoofers, and five 7-inch coaxial midrange/tweeter units precisely aimed at the listening position. It pressurizes the room and almost leaves you feeling like you're under attack, but in a good way. The multichannel SACD layer of Beck's melancholy masterpiece Sea Change left me mesmerized. Each acoustic guitar strum body-surfed across my torso, leaving in its wake all of Nigel Godrich's backdrop of shimmering electronic bleeps and blops to crystallize and then evaporate into the three-dimensional ether. Few fanatical two-channel audiophiles forced to accommodate a multichannel home theater system into their listening room would feel as if they were sacrificing or compromising anything with this system in terms of scale, spatiality, or dynamic range at both ends of the scale. This system's spatial and tonal coherence was faultless. Low-level resolution was equally impressive.
Cinema and the Vienna Acoustics House Sound
Vienna Acoustics' chief designer Peter Gansterer attempts to achieve a uniform house sound throughout his speaker lineup. I've reviewed a few over the years, and the Klimt toes the line—but on steroids. While everyone talks up neutrality, every speaker represents a series of compromises. The final result depends on where you put the speakers on axis, off axis, and along the spectral continuum—and how you set them up to interact with your room and your listening position. That's one reason why all of the speakers at a hi-fi show—including the world's most respected—sound different from one another, even though many of the best speakers share common attributes.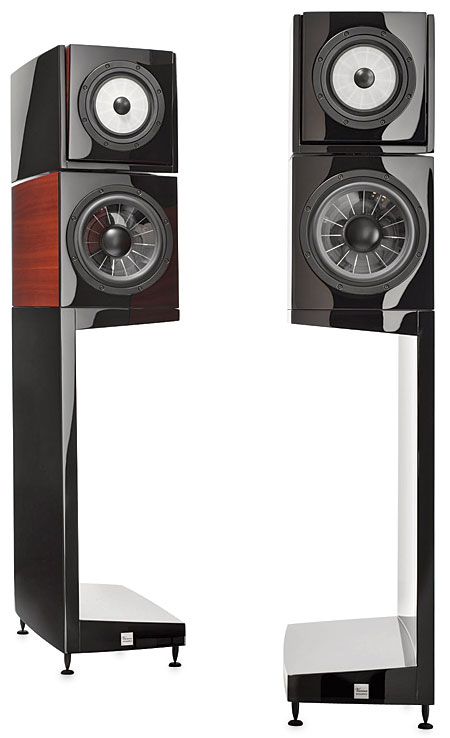 Even the biggest Klimt speaker exhibits the somewhat relaxed and very inviting Vienna Acoustics sound. This includes a slight warmth-inducing boost in the lower midbass and a slight dip in the presence region that draws the listener in rather than attacking outward. It also features a response that sounds somewhat rolled off above 10 kHz. This makes both bright and tonally neutral recordings sound more pleasing. The incredibly flexible rotating and rack-angle-adjustable head unit lets you (or your installer) dial in your balance preference by altering the direction of the axis to alter the perceived balance of the midrange/treble region at a given listening position.
Since art informs the marketing, if not the line's design philosophy, I'm happy to say that the Klimt system is artfully voiced to produce rich, satisfying musical performance as well as exciting cinema sound. An assortment of three-channel RCA Living Stereo orchestral SACDs demonstrated that the Music and Poetry produce a truly seamless and enormous panoramic soundstage. Small center-channel speakers can appear as tiny islands of sound in between the larger left and right speakers. There can be sonic voids halfway between, especially when the voicing doesn't match. That wasn't the case here.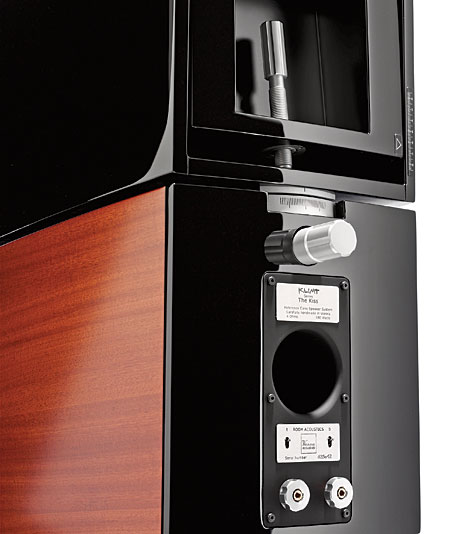 An Impressive Balancing Act With a Few Small Reservations
A famous Rubinstein piano concerto engineered by the legendary K.E. Wilkinson demonstrated that the Klimt system was not so soft sounding that the piano lost its percussive edge. Instead, the attack was appropriately intense, and the harmonic structure was complex. Violins had a satisfying amount of sheen and grit. Can you find more air and sharper edges from other speakers? Yes. But those can be annoying sounding on bright recordings and on many overly processed soundtracks. Great musical scores like the ones recorded by Shawn Murphy (Dances With Wolves, Titanic, Glory) sounded fully realized through this system, which is equally impressive at reproducing sound effects. The difference between one-note boom bass and harmonically complex low frequencies brought forth the weight and complex structure of explosions. The sound designers tune these things depending upon the intended weight of the effect and its placement in a scene's dramatic structure. This work often gets lost in the one-note boom that tiny box subwoofers produce. In this system, two really capable subwoofers placed at opposite sides of the room combined with the main speakers' prodigious low-frequency performance. During District 9, this occasionally produced lateral, foundation-shifting, shuddering sensations that were truly frightening. The big full-range surrounds helped produce a fuller sense of envelopment in a three-dimensional acoustic. The surround sonic action was unusually large compared with what the typical tiny tots can produce. This system produced a more physical (and sometimes more frightening) sound.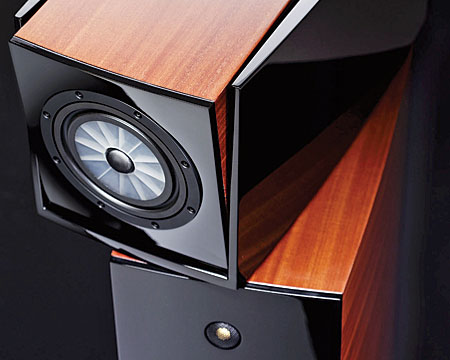 Shortcomings? When I played the multichannel Dark Side of the Moon SACD mix, I was somewhat disappointed by the sound of the alarm bells. They should ring and assault the senses. Instead, they were a bit polite and soft. I also found that the presence recess somewhat reduced dialogue intelligibility at low SPLs. However, at higher volumes, the big center speaker was more convincing with dialogue, particularly in terms of scale, than any center channel I've encountered—with the exception of the big one from Aerial Acoustics.
Conclusion
Overall, the Klimt system lived up to its price tag and then some. Blindfolded, you'd hear that you were in the presence of a big, dynamic, full-range, and incredibly capable system. You might not know how much it cost, but you'd know it was expensive. With your eyes open, you'd see that you were paying for gorgeous cabinetry and superb fit and finish. This system is aimed at wealthy folks with a big room who need an elegant-looking speaker system that's equally adept at reproducing music and film sound. It hits the intended target dead center. So, wealthy folks, don't be ashamed of having speakers showing in your great room. I had the Klimt here for last winter's Super Bowl. While the game looked good on the 100-inch Stewart screen with a JVC DLA-HD750 projector, my friends all agreed it was the best-sounding Super Bowl they'd ever heard.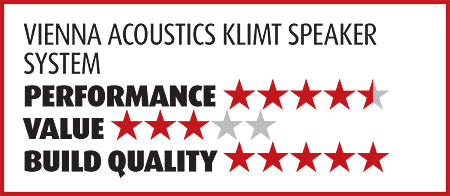 <!- ----------------------- Tech Center Ads ----------------------------->

SPONSORED TECH CENTER
<!- ---------------------336x280 ADS------------------------------->
<!- ---------------------FIXED AD------------------------------->
<!- ---------------------336x80 ADS------------------------------->
<!- --------------------Sponsored Link Ads-------------------------------->
<!- ------------------------Bottom Ads---------------------------->