Sony VPL-VW100 SXRD Video Projector Part I Page 2
Setup and operation
Point, shoot, align, zoom, focus, yadda, yadda, yadda. We've gone through this simple description too many times now at
UAV
. Simply put, the VPL-VW100, like most digital projectors, isn't at all difficult to configure once you have it properly positioned relative to the screen. A vertical lens shift control is provided, as is a vertical keystone. Avoid using the latter, if at all possible. Focusing the VPL-VW100 is a bit more difficult than with a 1280x720 projector: I usually check the focus by looking at the pixels up close and personal, and the pixels on this 1920x1080 projector are small and harder to see!
The projector provides all the usual video adjustments and aspect ratios, six configurable Picture Mode settings, and a number of other adjustments. Real Color Processing (RCP) "allows you to adjust the color and hue of each target of the projected picture you specify independently. You can thus obtain a picture more suitable to your taste." I'm more into adjusting a picture to be technically correct. I did check out the RCP function briefly in my review of the VPL-HS51 projector. But to use it accurately rather than just "to taste" requires test tools. I'll report on it in Part II, after we get our Photo Research colorimeter back from service. For now, I left this feature in the Off position. The same with the Black Level adjustment ("Produces a bolder, dynamic picture").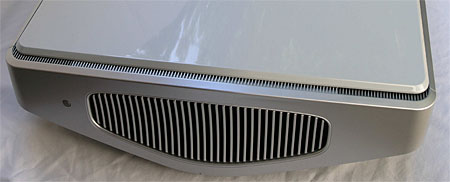 There are three gamma settings, and for now (prior to a detailed calibration, I preferred Gamma 1 for most of my viewing. The gamma may also be adjusted using Sony's ImageDirector2 program, provided with the projector on a CD-ROM. While I did not feel a need to perform a custom gamma setup until after I could perform a full calibration, the program had helped me get the best out of the QUALIA 004. Again, stay tuned for Part II.
There are six color temperature settings (High, Middle, Low, and Custom 1, 2, and 3). Pre-calibration, I found that for DVDs through the HDMI input, Middle looked a little blue, and Low a bit red (mainly on the bottom end). Low looked close to right, but I found that the as-delivered Custom 1 setting, with a few additional tweaks (backing off on the blue gain, primarily), provided a reasonable result that will keep me happy until a full calibration can be performed. For high definition through the component input, Low worked beautifully. (Since this was a pre-production sample, I can't be sure that its Custom 1 setting will be the factory default). These were the settings I used for this part of the review.
The QUALIA 004 offered two Color Space settings, Normal and Wide. Those options are also included here. In the case of the QUALIA, Wide provided color points further out on the color chart than the standard specifies. This seems like it would be a plus, but until someone produces programming to a standard that matches a wider color gamut, all Wide does is distort the color the program producers intended. It can look pleasant enough, and even exciting, but it isn't accurate. Until I can measure the color points on this projector, however, I'll reserve judgment—and use the Normal setting for all of my viewing, which looks just fine. (The new Sony SXRD rear projection sets do not offer any option; they are set up for a wider than standard color gamut).
Other controls in the user menus include DRC Mode (Digital Reality Creation) and Film Mode. DRC offers an adjustment of the image on a two-axis graph: "Clarity" on the x-axis and "Reality" on the y-axis. It appears to function as a multi-dimensional combination of sharpness enhancement (Reality) and noise reduction (Clarity). In other words, maximize both, and you'll get an over-sharpened image with heavy noise reduction; set them both on minimum and the DRC is effectively off. There's also a dedicated "Off" mode for DRC, which is the one I chose. DRC might be fun to play with if you're looking at digital photos (there are separate DRC modes for both moving images and stills), but for video- and movie-watching I preferred to stick with the traditional Sharpness and NR (noise reduction) adjusttments. Incidentally, the projector looked best with the sharpness control below 20 and the noise reduction Off (though it did prove useful on a few noisy sources).
Film Mode turns on 3-2 pulldown for film sources. In Auto it automatically detects it, when present; in Off it reverts to a fixed video (2-2) mode.
And perhaps most interesting, the projector has a dynamic iris—Sony calls this there Advanced Iris—which significantly increases the peak contrast of the unit. I've discussed this technology in the past; for a brief overview, see the Sony VPL-HS51 review here (that projector also has an Advanced Iris). Also see my blogs "In the Black" and "In the Black II" here
Random notes
Not all of the projector controls appear with all input sources. Obviously, Film Mode only appears when the projector receives an interlaced input. More surprising is the fact that DRC only functions with an interlaced input (such as 480i and 1080i) and not with a progressive input (720p and 480p). The purist probably won't want to use this feature anyway, but why would anyone want to use it to tweak a 1080i source when they can't do the same with 720p programming?
While you can save different video settings for different sources and different resolutions, there is a limit to setup flexibility. You can save your own settings to each of the six Picture modes and call any of them up for any input and any resolution—probably the simplest alternative. Beyond that, it gets complicated. For any specific Picture mode and resolution, you can save different settings for different inputs. For example, you can enter one group of settings for 1080i Cinema mode for the HDMI input and a different group of settings for 1080i Cinema mode for the component input. But for any specific Picture mode using the same input, you cannot select different settings for different resolutions. You cannot, for example, save different settings to the Cinema mode for 480p and the Cinema mode for 1080i for the same HDMI input. To save different setups in that situation, you must use a different Picture mode for each resolution.
The VPL-VW100 is exceptionally quiet—no one has yet come close to Sony in this aspect of home projector design, though a few have come close. If you listen really hard in a quiet room, you might hear the gentle whoosh, particularly at the back where the fan exhaust exits the case. If you have to use the High Altitude mode (above about 5000 feet) the fan becomes clearly audible with no sound playing, but at my near-sea-level location it was still quieter than most projectors that have passed through our doors. (Because of the thinner air at altitude, it's hard to say precisely whether the increase in the exhaust noise will be the same at 5000 feet as at sea-level. The noise increase in the higher fan mode likely won't be as prominent at altitude, because you're moving fewer molecules per fan rotation in the thinner air).
Dancing in the Dark
I knew as soon as I turned on the VPL-VW100 and it faded to black in the spaces between the trailers, FBI warnings, and menus that clutter the opening minutes on most DVDs that I was watching something special. Others can comment, and probably will, about how a mechanical iris that opens and closes in response to each scene is a kludge and a band-aid. Sure, we'd all like to see a totally electronic solution to the black-level problem that still keeps digital displays from matching the performance of good CRTs. But until that time comes, Sony has found a convincing—no, a stunning—solution.
It's the black level, with the Advanced Iris set on Auto that immediately sets this projector apart from any other I've seen (excepting only Sony's Cineza LCD, which isn't as good a projector overall, but is perhaps a more startling one because of its price). In fact, every time the projector went to black, I took a sharp intake of air. No, it wasn't so dark that you couldn't distinguish the screen from the blackness around it, but I've never seen any digital projector come closer.
I pulled out one challenging, dark-scene-heavy DVD after another, and nothing phased the VPL-VW100. In the opening sequence of Master and Commander: The Far Side of the World, we go below decks where sleeping sailors and wide-awake livestock are illuminated only by a single dim lantern. It has never looked better. I saw more details than I remember seeing before. Not a lot—it's supposed to be a dark place, and even in real life you'd strain to see anything in the shadows. But never once did I see anything in the sequence that hinted at that dreaded gray fog signaling a projector that just can't go black enough. Blacks looked truly black, but in a way that make them appear to be part of a real scene and not some opaque, digital void. That's a difficult distinction to describe in words, but you know it instantly when you see it.
Later on in the same movie, the crew of the HMS Surprise builds and launches a decoy to deceive the enemy of their true position. The raft is launched into a deep, black night, illuminated only by a few lanterns that will become part of the deception. Again, you can see all the details you need to see, a realistic degree of shadow detail, and the dark night surrounding it all.
<!- ----------------------- Tech Center Ads ----------------------------->

SPONSORED TECH CENTER
<!- ---------------------336x280 ADS------------------------------->
<!- ---------------------FIXED AD------------------------------->
<!- ---------------------336x80 ADS------------------------------->
<!- --------------------Sponsored Link Ads-------------------------------->
<!- ------------------------Bottom Ads---------------------------->