Sony BDP-S300, Samsung BD-P1200, and Panasonic DMP-BD10A Blu-ray Players Samsung BD-P1200
Samsung BD-P1200
As a big mea culpa for the initially-icky-eventually-meh BD-P1000, Samsung lets loose the new BD-P1200. It's more attractive, looks more upscale, and offers all sorts of processing goodness inside, thanks to a Silicon Optix HQV chip.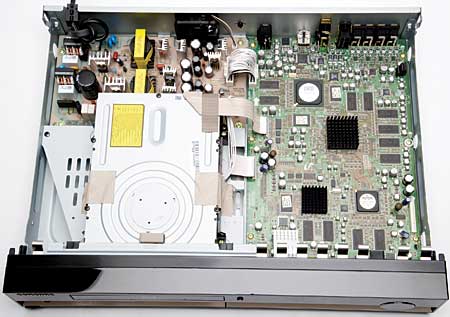 Old Samsung Guts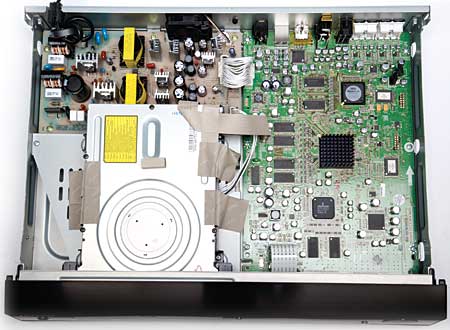 New Samsung Guts
The remote is standard Samsung, but it has glow-in-the-dark buttons for the important bits. I'm not sure why more companies don't use glow-in-the-dark buttons. It's not like they're made out of radium anymore. Mmmm, radium. Tasty.

It takes a little under a minute to go from off to playing a movie. In everyday use, it's a little faster. This is because the way I time a player is, when it is off, I press the tray-open button, it opens, in goes the disc, and then I hit play. If you press the open button on this player, "Open" appears on the BD-P1200's screen; but guess what doesn't happen? So you have to wait a moment until it's ready to let you press the button again and allow you to insert a disc.
Processing, across the board, is excellent. This doesn't come as much of a surprise, as the same brains in this player are found in Toshiba's HD-XA2. As you'd expect, it sailed through all of the HQV Benchmark tests, both on Blu-ray and regular DVD. It deinterlaces 1080i correctly, and the flag scene on DVD looked excellent. As I mentioned above, these tests don't matter much with a Blu-ray player because almost all the content you're going to put on it is 1080p or 480p sourced from film. Consider it an added bonus when they're processed well. With the M:I:III scene, the stairs looked excellent—the best I've seen so far.
The Fifth Element and Gladiator DVDs, upconverted, had lots of detail and essentially no artifacts. They looked as good as you'll ever see DVDs look. The player quickly picked up the 3:2 sequence with both synthetic tests and actual material.
This is the real videophile's choice in Blu-ray players. If you're looking for a next-gen player that will also make your DVDs look great, get this or the Toshiba HD-XA2 (if HD DVD is your thing), as they both do a masterful job. They're worth the premium.
As you read this, the newer BD-P2400 will be out. It has all of this, plus Dolby TrueHD and DTS-HD decoding.
Highlights
Samsung BD-P1200:
• Excellent processing and 1080p/24
• The HD-XA2 of the BD world
<!- ----------------------- Tech Center Ads ----------------------------->

SPONSORED TECH CENTER
<!- ---------------------336x280 ADS------------------------------->
<!- ---------------------FIXED AD------------------------------->
<!- ---------------------336x80 ADS------------------------------->
<!- --------------------Sponsored Link Ads-------------------------------->
<!- ------------------------Bottom Ads---------------------------->