SkipJam iMedia A/V Distribution System Page 2
SkipJam's installers spent the better part of a day resolving network issues for us. They replaced our misconfigured router, set up IR codes, attached sticky IR emitters to all our cable boxes, receivers, and DVD players, and put in an IR blaster that turned on our TV. An antenna on the iMedia Center makes it look Wi-Fi-ready but is actually for the two-way RF remote. (If you misplace the remote, you can get it to beep three times from a button on the iMedia Center.) For the best video performance, SkipJam advises against using Wi-Fi.
PERFORMANCE After a lot of hand-holding by the installers, I was able to get the iMedia Center to jump through hoops. Though the TV would sometimes turn off when the Center turned on my receiver, and the Maxtor NAS had to be rebooted more than once, I did grow to like the sense of control I had playing any A/V device in any room and experiencing all my entertainment without leaving the couch. (I was even able to view and operate a computer running in another room from the TV.)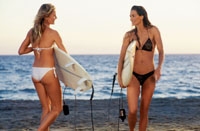 I could also change channels on a cable box in another room and saw no degradation in picture quality. After recording Charlie's Angels: Full Throttle from cable to the NAS, I started the movie up, pressed pause, then "Follow me" and selected another room destination. When I entered the other room, I pressed play on the remote, and the movie continued. This also worked for music. When I watched a movie from a DVD player, the SkipJam would stream it directly to the other room or play it in both rooms.
You can record a TV show using SkipJam's program guide or by manually setting the time and channel. Unfortunately, there are no grid-type listings. (You still have access to your cable or satellite guide for that.) SkipJam offers four MPEG-2 and three MPEG-4 compression modes. (You'll want to use MPEG-2 if you plan to burn a DVD in your PC.) The best quality in each of the compression schemes approached that of DVD, but MPEG-4 uses about half the disk space. You can skip forward 30 seconds or back 10 seconds.
There are three reverse and three fast-forward speeds (you can scan through a 1-hour recording in 85 seconds), one slow-motion speed, and frame advance. One thing that needs refining is that the screen goes black for a second upon coming out of any fast-forward speed. Also, the live TV buffer isn't automatic - you have to pause your viewing session at least once to activate it. But unlike TiVo and other self-contained video hard-disk recorders, the SkipJam can replay anything you've watched in the last 2 hours even after you've switched to another channel.
As a multiroom audio server, SkipJam aggregates songs stored on the NAS and all the computers on your network. It plays the MP3, WMA, AAC, WAV, PCM, FLAC, and OGG formats, including music purchased from Napster and iTunes with digital rights-management wrappers. I liked the Play Anything random-play mode and the ability to run a slideshow or watch TV with music in the background.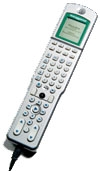 The RF remote, meant to replace every other remote in your home, was pretty easy to use. The Home and Back keys keep you from getting lost, and you can navigate from its LCD screen while in secondary rooms.
By accessing cable boxes in either of the other rooms, I could watch TV in a third room on a networked computer that was loaded only with SkipJam's software - no PC tuner card needed. I could also record what I was watching to the computer's hard drive and play it back with Windows Media Player.
By installing the SkipJam software on any PC in a remote location with broadband Internet access, I was able to control my cable box and watch programs. This means that no matter where you are, if you have broadband access you can watch anything you'd see at home, including local sports. Unfortunately, the picture quality was like watching a worn VHS tape. But still...
BOTTOM LINE If you have a network in place, SkipJam is one of the most adaptable systems available for distributing your cable or satellite TV channels, recorded shows, movies, music, videos, and photos throughout your home. Its hardware components are less expensive than other whole-house systems, but it's a complex product to get running and requires a professional installer with strong computer networking skills. You may even need more than one visit to tweak the system as you learn the many ways to use it. That said, the remarkable freedom it provides makes SkipJam's steep learning curve well worth the climb.
<!- ----------------------- Tech Center Ads ----------------------------->
<!- ---------------------336x280 ADS------------------------------->
<!- ---------------------FIXED AD------------------------------->
<!- ---------------------336x80 ADS------------------------------->
<!- --------------------Sponsored Link Ads-------------------------------->
<!- ------------------------Bottom Ads---------------------------->