Shifty Devices Page 3

Among the lesser-known products introduced since LocationFree and Slingbox established themselves in the video place-shifting category are several from Monsoon Multimedia. The company's latest is the Hava Titanium HD WIFI base station. Although less polished than its competitors, the Hava Titanium player goes further than either by integrating both DVR and DVD burning functionality.
The Short Form
Despite some bugs and rough edges, the Hava Titanium HD's DVR and DVD burning capabilities make it a top choice for tech-savvy users. Price: $250
Plus
• Player software can pause, replay, save, and burn video to DVD when used within a home network • Can save screen grabs from player window • Multicasting feature lets player software run on multiple computers for simultaneous viewing within a home network • Can access tuner card in a networked Windows Media Center Edition PC in lieu of cable box or other TV tuner
Minus
• Occasional video sync problems with 720p programs • Standard A/V cables not compatible with base station's minijack connectors
Key Features
• Wireless 802.11g USB dongle • Inputs: composite- component-, and S-video; stereo audio • Outputs (pass-through): composite- component-, and S-video; stereo audio • Other jacks: Ethernet, 2 USB, IR blaster • 8 1/2 x 1 3/4 x 5 1/4 in; 2.8 lb MYHAVA.com :: 866-937-4282
Setup The Titanium HD's box includes an 802.11g wireless dongle (which plugs into one of the unit's two USB ports), an Ethernet cable, two minijack-to-RCA composite video/stereo cables, two minijack-to-RCA component-video cables, an IR blaster, a CD-ROM loaded with software, and a Quick Start Guide. Unlike the embedded Wi-Fi antenna of the LocationFree model, the Hava model's detachable antenna sits at the end of a 5-foot cable. That provides more flexibility in placing the Titanium HD, but it also means accommodating another cable. (Wi-Fi is supposed to reduce such clutter.)
I used the included component-video and stereo audio cables to connect my TiVo HD to the Titanium HD. I then installed the Hava player software on my home-network-attached notebook. The same program playing from TiVo on my TV showed up on my computer, and I used the setup wizard to install the onscreen remote for the closest match, a TiVo Series 2, which mostly uses the same IR codes. A Monsoon spokesman said that late-model TiVo remote codes were available for download.
Performance The Titanium HD's picture quality proved to be slightly better than that of the other place-shifters on my home network, though I didn't see any difference when using it away from home. This may be because the Hava player uses MPEG-2 within a home network and MPEG-4 over the Internet, while the others use MPEG-4 exclusively.
However, of the three place-shifters I tested, the Titanium HD was also the flakiest. When it was connected to my TiVo HD, there were minutes when the video in the player looked fine and then, suddenly, a slice of the right side of the picture relocated itself to the left side of the screen, and color registration for the entire image was lost. This typically happened after I changed channels, but not always. Only rebooting the Titanium HD's base station, which can be done from the computer, let me correct the video - for a short time, anyway.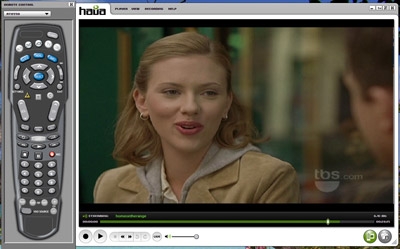 Scarlett shifted: A scene from the movie Good Company, as broadcast on the TBS high-def channel and playing in Hava with built-in DVR controls.
I called support, and a Monsoon technician identified a known problem in the Hava firmware and directed me to the company's Web site, where I could download a fix "specifically to resolve the color-distortion/right-to-left-side wraparound issue seen primarily when using 720p HD input." Lucky me. My TiVo was set to a fixed 720p output to match the native resolution of my plasma TV. Unfortunately, the procedure for transferring downloaded firmware from a computer to the base station wasn't obvious, and it took another call before the fix was in. (It didn't help that the fix predated the most current version of the firmware available for download. Also, the setup wizard indicated I had the most current version, failing to specify it was referring to the player on my computer, not the software in the base station.)
By this time, though, I had given up on TiVo as my source component and switched the Titanium HD base station to my cable box DVR. I became more optimistic when the setup wizard gave me the choice of the correct remote, but I discovered a whole new set of problems upon viewing video in the player window. While high-def channels looked fine, the picture from each standard-def channel quadrupled and rolled. Where's the vertical hold knob when you need one?
Getting back once again with tech support, they advised me to adjust the display output settings on my cable box DVR to a fixed 720p format. Finally, the Hava player showed me a stable image. Still, the List button was grayed out on my virtual remote, so I couldn't directly call up a list of recorded programs. My workaround was clicking on the menu button to access the titles.
While I don't wish these setup hang-ups on my worst enemy, let me tell you what I love about the Hava player. Because the included software is the only one of the three systems to embed DVR controls, you can delay viewing of video streamed from your home network while it accumulates on your computer's hard drive. So, even if you don't use a DVR as the main video source connected to the base station, you'll get one on your computer. The default recording buffer is 30 minutes, which requires about 1.3 GB of disk space (assuming a recording bit rate of 6 Mbps). It can be reset based on time or available disk space. Assuming enough of the stream is buffered, you can use your computer's mouse to grab the time-elapsed bar below the viewing window and tug the play point past commercials. And you could do it in a fraction of the time it would take to fast-forward through the same commercials on a regular cable or satellite DVR or TiVo. However, the Hava's DVR (and DVD burning) functions are only available over a home network, not when streaming video over an Internet connection.
Bundling DVR recording and DVD burning capabilities into place-shifting software also enhances a user's ability to open a tightly controlled viewing window. For example, via the Amazon Unbox service on TiVo, I had downloaded the movie Pieces of April. Once I started watching it, I'd be able to watch it as many times as I could within the next 24 hours, and then it would disappear. But if I didn't watch it within 30 days of the download, it would still be erased, and I'd forfeit my fee. As the erasure date approached, TiVo noticed I hadn't watched even a piece of April and flagged the title on my Now Playing list. Rather than lose the movie, I played it over my home network through the Hava player (the movie streamed at between 5 and 7 Mbps, according to the dynamic readout on the lower right of the player screen), recorded it, and burned a DVD.
Another thing I love about the Hava player is that you're not limited to streaming shows to one computer at a time. In addition to screening the movie Good Company from TBS-HD on my big-screen TV, I could watch it simultaneously on my wireless notebook in the kitchen and on my main computer in the home office. Scarlett Johansson was on every screen!
Clearly, when people in different rooms (or states) are watching the same video source and all have access to the same remote, there must be an understanding that one of them won't unilaterally change the channel. That said, separate viewers within a home network could still use their individual Hava players to pause, replay, play catch up, or record the program stream, since they each have DVR software on their computers. While there is no limit to the number of computers streaming the same program on a home network, there is a limit of one remote viewer on the Internet at a time. And the Hava player can also access programs recorded on a Windows Media Center Edition PC, taking advantage of the computer's own TV tuner.
Another unique feature is the ability to use the PrintScreen command to capture a BMP file of not just the player but a still of the video. This works both on a home network and over the Internet. Try using the screen capture command with the Slingbox or LocationFree players, and all you capture are black holes.
Bottom Line Getting the Hava Titanium HD WIFI to work properly proved the most challenging of all three products tested. The firmware in the base unit was buggy, and the software in the computer could have been more user-friendly. But its MPEG-2 picture looked the best over my home network, and I love the convenience of having DVR buffering and recording controls on my computer, independent from those on the DVR in my home theater. The inclusion of DVD burning capability and the flexibility of viewing on several computers at once place the Titanium HD in a league of its own.
Conclusion Once I got past setup and tweaking, performance among this threesome wasn't sufficiently different to highlight a true standout. So, rather than choose one as best in show, I'd rather recommend them individually for different reasons: the Sony LocationFree for its multiple source component support and reliable wireless networking, the Slingbox Solo for its setup simplicity and ease of use, and the Hava Titanium HD for its integrated DVR functions and picture quality over a home network.
In terms of being a category killer, all three should strike fear into manufacturers of TV tuner cards and USB tuner sticks. Anyone with a cable or satellite receiver and home network would be well advised to leverage the hundreds of channels coming in using a place-shifter rather than fitting a computer with an add-on tuner typically limited to over-the-air broadcast stations. Endowing the computer in your home office with all the program options available to the DVR in your home theater is a logical extension of your home theater's source components. In-home video distribution from your cable or satellite DVR has never been as affordable, or so prone to being a do-it-yourself project. And if you do happen to be gone a lot, you might miss home, but you won't miss what's on your home TV.
<!- ----------------------- Tech Center Ads ----------------------------->
<!- ---------------------336x280 ADS------------------------------->
<!- ---------------------FIXED AD------------------------------->
<!- ---------------------336x80 ADS------------------------------->
<!- --------------------Sponsored Link Ads-------------------------------->
<!- ------------------------Bottom Ads---------------------------->