Samsung UN46C8000 LCD 3D HDTV Page 3
The LG produced a clearly superior picture off axis. In fact, it was the best I've yet seen from an LCD set. On the other hand, the Samsung was typical in this respect. The image lightens noticeably, and 3D images progressively lose depth as the viewer moves off axis.
While both of these sets compete head to head in terms of price and size (the Samsung is $100 cheaper and a diagonal inch smaller), the Samsung has one undeniable advantage. It's 3D.
Into the Deep
To see 3D on this set, you'll need a set of 3D shutter glasses for each viewer, and only Samsung 3D glasses are guaranteed to work properly with the UN46C8000. You'll also need an uninterrupted HDMI 1.4 link from your player to your set and a Blu-ray 3D Disc played back on a Blu-ray 3D player. (3D broadcasts over cable or satellite are some distance down the pike.) I used Samsung's BD-C6900 Blu-ray 3D player ($400, to be reviewed separately in the August issue).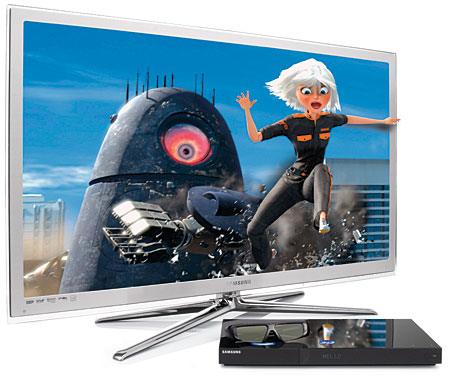 Up until June 20, 2010, Samsung will offer two sets of 3D glasses plus a custom Blu-ray 3D copy of Monsters vs. Aliens free to any buyer of a Samsung 3D HDTV and a Samsung Blu-ray 3D player (the disc is not sold separately). The retail price of this package is usually $350. Samsung will also offer other promotions throughout the year.
Even in 2D, Monsters vs. Aliens is a lot of fun, but it's spectacular in 3D. There aren't a lot of effects that jump off the screen, but when they do turn up, they're jaw dropping. The paddleball in the polar tracking station and General Monger in his hover chair were especially notable. Make no mistake: 3D at home really works. Apart from the additional immersion that's possible with the big screen, it works even better than it does in the theater.
I did have a few reservations. Some viewers might find the 3D glasses uncomfortable for long periods. They didn't bother me at all, though, even after a couple of hours of viewing and worn over my TV/video distance glasses. You should make sure that Samsung's glasses work for you before you purchase a display, particularly if you or other people in your family are members of the glasses-over-glasses club.
The 3D image is also far dimmer than you're likely accustomed to seeing at home. Some viewers might even consider the 3D effect to be a poor tradeoff for the dimmer image. I didn't find it hard to adapt to this, and I never felt deprived during the relatively bright Monsters vs. Aliens. But that might not be true of all 3D films.
Finally, some viewers have reported seeing occasional ghosting in the 3D image. As I mentioned earlier, ghosting can happen when one eye sees an image that's meant for the other eye. This didn't bother me, and when I thought I saw it, it was so subtle that it was hard to distinguish from ordinary motion blur.
Like DLP displays' rainbow effect, there are some aspects of 3D watching that will affect some but not all viewers. These may include the glasses, ghosting, fatigue, or wooziness. We're still learning. Along with other 3D set makers, Samsung has issued warnings about possible 3D side effects as mild as those mentioned above or as serious as epileptic seizures in susceptible viewers. Check out manufacturers' Websites or owner's manuals for more details. Tens of thousands of viewers watched 3D at last January's CES without any reports of serious 3D-itis. It's likely to be very rare, but TV makers are well aware of the need for such warnings. Even as we speak, teams of lawyers are chasing 3DTV delivery trucks nationwide.
2D to 3D
One problem with 3D for the home, at least in these early days of the format, is that there simply isn't much 3D source material. Until we get 3D from satellite, cable, or over the air (all of which will be in reduced resolution, at least initially), the only available 3D sources will be Blu-ray 3D.
But Samsung has you covered—sort of—with its 2D-to-3D conversion feature. And it actually works. It's not as effective as the real thing, but it can produce a compelling sense of depth with many 2D sources. For the best result, without visible artifacts, you should set the Depth control (in the 3D menu) no higher than 6.
I used this feature to convert a variety of programming to faux 3D. A few very dark scenes on 2D sources suffered more than most with this conversion, due to the loss of brightness inherent in 3D playback. Filmmakers can compensate for this by limiting the video dynamic range when they are producing original 3D programming.
On most sources, the result ranged from interesting to startling. The interesting included the 2D release of Monsters vs. Aliens. While it was unmis-takably less vividly dimensional than the 3D release, it provided a front-to-back depth that regular 2D playback couldn't equal. This is despite 2D's greater brightness, which is no small thing. The same was true of Up.
In the middle of the pack was Stargate: Continuum. I chose this title because I've watched some of its scenes so many times that they're seared into my memory. The 3D effect was modest but worthwhile. I noticed that the setting of the 3D Depth control was more critical here than usual, which suggests that one control setting may not fit all for 2D-to-3D conversions.
The most effective disc I watched with 2D-to-3D engaged was an early (2006) Pioneer Blu-ray demo disc that includes a mix of movie trailers and video-based material. The video selections offer both nature shots and rapid-fire concert video clips of all genres, from rock to opera. It looked amazing. There was a hint of the cardboard-cutout effect we've anticipated as a possible side effect of simulated 3D, but it was easy to ignore. Most startling was the way the 3D conversion made the frame of the set appear to float in front of the image behind it—a true "looking through the window" experience. In fact, some viewers may even find the relatively subtle look of simulated 3D more natural than real 3D.
One issue to watch for is that the 2D-to-3D feature automatically reverts to 2D when you change a disc or change the input resolution. It can also happen at one or more points on the same disc if the disc's mastering somehow fools the set into thinking that it's seeing a new disc. I discovered the latter problem on the Pioneer sampler disc (which wasn't mastered with conventional chapters), but it didn't appear to affect normal movie discs.
Conclusions
A great picture, plenty of adjustments to make it even better, and cutting-edge technology all around would be enough to make this Samsung a real contender for the top of the pack in flat-panel HDTVs. Then add in 3D performance that (based on the limited program material available) is arguably at least as effective as anything you'll see in the theater apart from sheer size, and the UN46C8000 sells itself. Without question, it's a Home Theater Top Pick and highly recommended.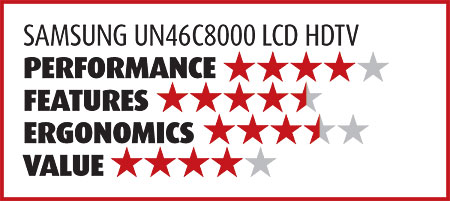 <!- ----------------------- Tech Center Ads ----------------------------->

SPONSORED TECH CENTER
<!- ---------------------336x280 ADS------------------------------->
<!- ---------------------FIXED AD------------------------------->
<!- ---------------------336x80 ADS------------------------------->
<!- --------------------Sponsored Link Ads-------------------------------->
<!- ------------------------Bottom Ads---------------------------->