Review: The Beatles Remastered CDs Page 2
<<style type="text/css"> p>
THE BOOKLETS

It would be hard for anyone not to improve upon the "booklets" of the 1987 releases. Excepting the celebratory one for Sgt. Pepper, they were poorly designed and minimal, all the way down to the insulting, single-fold sheet for Abbey Road.
The new ones for the stereo CDs are genuine booklets, and they not only include all of the original artwork but are almost always stocked with rare, wonderful photos. (And each photo has a date/place caption. Thank you!) Any original-LP liner notes are reprinted here - and that's a good thing, because the mono box merely shrinks them down for its LP replicas, meaning that the now miniaturized text is basically unreadable without a magnifying glass. And the old 28-page Pepper booklet is now an even more colorful 32-page aair, with revised versions of the 1987 notes and a new introduction by Paul McCartney.
The other booklets, however, vary widely in length. Some had to add extra pages for those original-LP liner notes. That helps explain why the booklet for Rubber Soul is four pages shorter than the one for Yellow Submarine - which, taking the notion of "let's honor the original" to a silly extreme, includes the British LP jacket's review of The White Album (placed there by then press agent Derek Taylor to persuade people to buy that still current album).
More perplexing is the fact that the booklet for Rubber Soul hits a catalog low of 16 pages. So does the one for Abbey Road, but at least that booklet has normal-size type and a host of photos. For some reason, Rubber Soul has a relative dearth of images, and if you deleted the four that are mere blowups of back-cover shots and then reduced the size of the oddly enlarged type, this booklet could collapse down to eight pages. Or fewer, since it also gives over a full page to repeating the track listing from the back cover (a duplication that, inconsistently enough, only the first four albums manage to avoid).
The new liner notes don't take up the slack, because they retain the same format and length from title to title. That format has Mike Heatley and the aforementioned Kevin Howlett providing "historical notes," followed by Howlett and Allan Rouse serving up "recording notes." The latter writings are certainly welcome, if short. But the historical notes are mostly just a recitation of pop-chart statistics and other dry facts, even when Howlett on his own attempts to expand into something resembling track-by-track notes for Past Masters.
Actual analytical track notes would've been a great addition; so would any sort of critical essays. As such, the stereo booklets remain very good, but they could have been even better.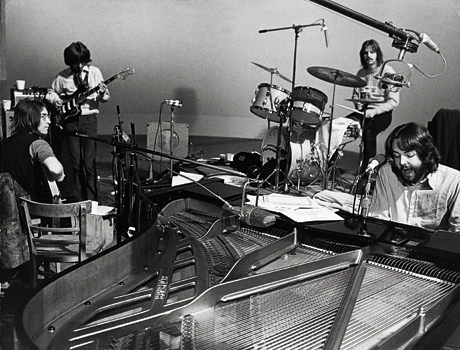 I'll show 'em," thinks Paul at last, ripping into "Let It Be" in January 1969.
THE EXTRAS

Don't get me started on what these could have been. Bonus tracks? Clips of TV appearances? Groundbreaking early "videos" like "Strawberry Fields Forever"? You won't find those here because the Beatles didn't want them here; they wanted the original albums to speak for themselves.
Of course, that allegiance to the historical record has been broken for Help! and Rubber Soul, still heard on the stereo releases in the remixes that George Martin did for the 1987 CDs of those two albums (and those two only). Strangely, the 1965 stereo mixes of Help! and Rubber Soul are appended to the corresponding discs in the mono box - but I don't consider those "extras" because, ahem, they're the original mixes!
That leaves us with . . . not much. There are "mini-documentaries" on all of the stereo albums. For a limited time only, these will be available as QuickTime files for PC or Mac viewing; after that, you'll have to buy the stereo box, where they appear together on the set's 17th disc, a DVD. Assembled primarily from Anthology footage and interviews, these are more haikus than docs, with all 13 totaling only 50 minutes. Pass.
And that brings us to four selections in the mono box that can actually be called bonus tracks because they've never been heard before: true mono mixes (made in 1967 and '68 but shelved) of "Only a Northern Song," "All Together Now," "Hey Bulldog," and "It's All Too Much." The first of these is also on the Yellow Submarine CD because it was never mixed in stereo. Got all that? Great! We now return to . . .
<!- ----------------------- Tech Center Ads ----------------------------->
<!- ---------------------336x280 ADS------------------------------->
<!- ---------------------FIXED AD------------------------------->
<!- ---------------------336x80 ADS------------------------------->
<!- --------------------Sponsored Link Ads-------------------------------->
<!- ------------------------Bottom Ads---------------------------->