Pioneer Elite PRO-FHD1 Plasma HDTV Test Results
Tests
For those that just want to glance at the measurements we've included, I'll save you the reading. The PRO-FHD1 is exemplary in virtually all respects, and what's perhaps even more impressive than that is how excellent it can look right out of the box by simply selecting the Pure or Standard AV Selection modes. Now, on to the specifics.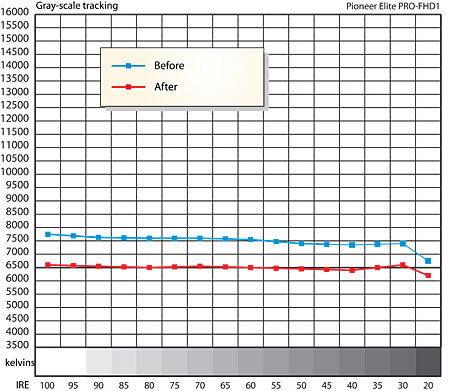 The PRO-FHD1 delivered on digital's promise of outstanding if not perfect geometry and convergence (a term used out of context since there isn't any convergence to speak of with any fixed pixel, flat panel display). At all resolutions (480i/p, 720p and 1080i) with both component and HDMI sources the lines were straight and completely uniform. There was no color fringing anywhere with white lines on a black background, and focus was uniformly excellent from side to side. At 1080i I was particularly struck with the fact that the pixels were crisply defined and discernible across the screen, at the sides and top and bottom. There simply wasn't anything to differentiate the pixel structures at the center of the screen versus the extremes in any direction- they were virtually perfect everywhere I looked. As great as the direct-view CRTs of the past were, this is performance that is unlikely to be equaled by any tube TV ever made.
Overscan was so right with HDMI signals it's not worth commenting on here, but component was a little mixed. Although it was under 2% on all sides at 720p and 1080i, with 480p it was as high as 5% on the top and bottom of the image. That's not a total outrage, but it sticks out like a sore thumb compared to the relative perfection of all the other aspects of this set's test bench performance.
The grayscale here dialed in beautifully across the brightness range, and in near record time. Few sets of any kind snap in so quickly and tightly. In addition to tracking color temperature exceedingly well this set's x/y coordinates weren't off of the D65 standard more than .002 in either direction from 30 IRE to 100 IRE. Although 20 IRE was farther off it was acceptable and directly toward blue, which is benign to the eye with program material and indeed I saw no unwanted color tint at any brightness level. This set is superb in this regard.
I did see some ringing on lines in the typical sharpness patterns with black horizontal and vertical lines showing some whitish haloes against the gray background of the pattern. Turning the sharpness down to the point where the ringing went away entirely softened the picture noticeably, and with program material I simply couldn't see any artifacts as a result of leaving the sharpness at its default position of 0. With the best HD DVDs, which are completely devoid of edge artifacts and ringing, I still didn't see any ringing the PRO-FHD1 was adding to image. In fact, as I've said over and over again, the smooth and natural qualities of this set's image are its most endearing traits.
1080i is the highest resolution signal my AccuPel test pattern generator offers. With luma and chroma bursts over HDMI and component the PRO-FHD1 was simply outstanding. There was full resolution at the single pixel width sections of the bursts, nailing the 37.1MHz luma signals at 1080i and 720p with no problem. And the lines were clear black and white, with no graying to reveal a rolloff in amplitude. There was slight banding at the highest frequency portions of the bursts, and with component video there was more visible noise. The resolution was righteously strong in both component and HDMI, meaning this set can cleanly reproduce all of the information there is in our highest resolution HD sources.
It should be neither an afterthought nor a surprise to know that 480i and 480p the PRO-FHD1 also delivers resolution to the limits of the DVD format.
Before discussing deinterlacing, note the following. According to Pioneer the ADV Pure Cinema setting allows the PRO-FHD1 to properly deinterlace film-sourced 480i and 1080i material and recreate the original 24fps cadence, which it then displays at 72Hz, a direct multiple of 24. This eliminates 3/2 pulldown and its inherent temporal artifacts completely. While the Toshiba HD-XA1 HD DVD/DVD player I currently use doesn't output 480i over HDMI, it does upconvert standard DVDs to 1080i, which is how I used the player throughout the review period with DVD program material. I tested the set's deinterlacing at 1080i over HDMI and 480i via component video. It was excellent in both cases, with some slight differences that are interesting.
At both 480i and 1080i the PRO-FHD1 was terrific with the tests we use from Silicon Optix' HQV Benchmark DVD and Faroudja's test DVD. It was particularly good with the video-based jaggies torture tests and the classic waging American flag tests that trip up so many good deinterlacers. Only Faroudja's deinterlacers have performed better with these tests, and still only marginally so. However, there is a 2:2 cadence test at 30fps on the Silicon Optix disc and a 3/2 test from the Faroudja disc (a diagonally moving white crosshatch on a black background) that tripped up the Pioneer with the Toshiba outputting 480i. But switching to 1080i, although the Pioneer was slightly less sure footed (but still terrific) on the video-based jaggies tests and other video torture tests, it was able to ace both the 2:2 cadence at 30fps and the 3/2 Faroudja test.
Another interesting point to note is that finely detailed tests revealed slightly sharper performance on 480i upconverted 1080i in comparison to a direct 480i link with both HDMI and component signals. This more than made up for the very slightly less refined deinterlacing performance, and in fact you'd not really discern one resolution from the other without an A/B. Nevertheless, if you own an upconverting DVD player, check out 1080i on this TV.
As an aside, deinterlacing performance with video based material is much more difficult to pull off well than 3/2 pulldown detection and compensation for movie material, generally speaking. If you're a fan of music videos or TV shows, this could be important, which is why we look at these funny little tests.
Although the PRO-FHD1 failed with text crawls over movie source material, it excelled at virtually all other deinteralcing tests and earns my highest praise in this regard. I've no doubt that this is one of the reasons I found this set's performance so superb, and overall this set performs wonderfully with all the tests I subjected it to. A virtual clinic in how a set should perform in most respects.
<!- ----------------------- Tech Center Ads ----------------------------->

SPONSORED TECH CENTER
<!- ---------------------336x280 ADS------------------------------->
<!- ---------------------FIXED AD------------------------------->
<!- ---------------------336x80 ADS------------------------------->
<!- --------------------Sponsored Link Ads-------------------------------->
<!- ------------------------Bottom Ads---------------------------->