Mitsubishi LT-52149 LCD HDTV Page 2
On test patterns, ghost-like gray shading flanked both sides of vertical and diagonal lines, regardless of the set's sharpness control position. With HD material, a sharpness setting of zero was optimum. While the gray shading never went away, it was not obvious as such on normal program material.
However, for 480i and 480p sources, the Mitsubishi needed a Sharpness setting of 15 to 20. At lower settings, the gray artifacts became progressively more prominent. At a sharpness setting of zero, the result was fuzzy and unwatchable.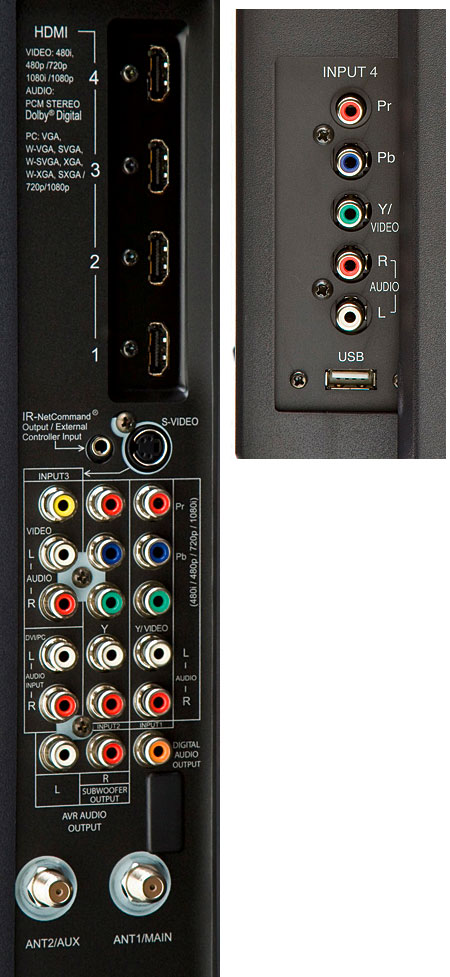 Once I worked this out, however, the overall image quality on most mid- and high-brightness 1080p HD material was respectable. Hidalgo, is one of the best Blu-ray transfers available. The Mitsubishi handled the mostly bright desert landscapes well, with a convincing sense of depth, rich color, and good, but not superb detail. The very few dark scenes turned a little reddish, with an obvious lack of contrast. There isn't much green in this movie, but when there was—particularly in the closing scenes—it was believable.
With Indiana Jones and the Kingdom of the Crystal Skull, I began with the extras disc, which is mostly presented in pristine, 1.85:1 HD. Aside from the slightly artificial-looking green foliage in the New Haven (Connecticut) and jungle scenes, the set's color was satisfying. The 2.35:1 movie looked excellent as well, apart from a few slightly foggy-looking dark scenes. Still, it couldn't quite equal Hidalgo's stunning cinematography and eye-popping HD transfer.
Animation isn't the best type of material to evaluate a video display, but it can give you a few hints on a set's sharpness and how well its colors pop. The underappreciated, computer-generated Chicken Little was a treat on the Mitsubishi. It looked clean and crisp, with excellent detail and bright, saturated colors.
While the set's non-adjustable gamma is in an acceptable range, it's still a bit higher than on most sets, so it produces a darker look on mid-brightness scenes. This made it more difficult than usual to arrive at a satisfying balance of the brightness and backlight controls. The Mitsubishi would not reproduce information below black from its HDMI inputs, and it only went barely below black (0 IRE) in component. However, it did respond to above white.
Except for the few designs I've reviewed with LED backlighting and local dimming, I've yet to test an LCD display with totally satisfying black levels and shadow detail. This Mitsubishi is no exception. The night scenes in chapter 3 of Stargate: Continuum (Blu-ray) begin with a shot of a tramp steamer plowing across the Atlantic Ocean at night. These scenes look OK if you have nothing to compare them with. But once you've seen better, they clearly have too much gray rather than a genuinely rich black. The same was true for dark scenes from Master and Commander: The Far Side of the World (Blu-ray), including the belowdecks sequence near the beginning and the night launch of the raft decoy in chapter 13.
The Mitsubishi's SD video processing (480i to 1080p) was good on average, with 3:2 (film-based) material. However, it did poorly on 2:2 (video-based) cadences. The set performed HD 1080i-to-1080p motion-adaptive deinterlacing correctly, although our tests revealed minor but visible flickering and moiré artifacts on some of our challenging HD 3:2 and 2:2 pulldown tests.
Quality off-axis viewing can be a sometimes thing with LCD displays. The LT-52149 held up better than many in this regard. It provides a reasonable image far enough to both sides to accommodate a fairly wide viewing area. Depending on the distance from the screen, it can accommodate three or four viewers spread out laterally across the viewing area.
Comparisons
Like most modern sets, the Mitsubishi can look quite good when viewed on its own with decent program material—despite its limitations. Indeed, my first impressions of the LT-52149 were quite positive.
However, when seen side by side with a better-performing set, the Mitsubishi's weaknesses became clear. The LG 50PG60 plasma (also reviewed in this issue) has much more accurate color and far better detail. Its blacks measure worse than the Mitsubishi's, but they often look better overall. The Mitsubishi can go much brighter, but the LG is plenty bright enough—and lists for $600 less.
Conclusions
The Mitsubishi LT-52149 is a respectable performer in many ways, with interesting features and a basically good picture that will certainly satisfy the average buyer. But the fussy videophile who watches a lot of movies in a dark or dimly lit room will want deeper blacks, more accurate color, crisper detail, and better color-temperature calibration facilities than this set offers.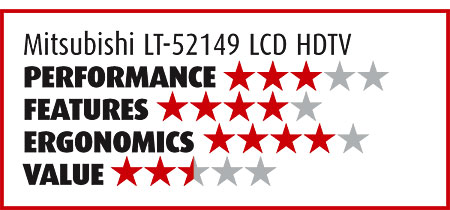 <!- ----------------------- Tech Center Ads ----------------------------->

SPONSORED TECH CENTER
<!- ---------------------336x280 ADS------------------------------->
<!- ---------------------FIXED AD------------------------------->
<!- ---------------------336x80 ADS------------------------------->
<!- --------------------Sponsored Link Ads-------------------------------->
<!- ------------------------Bottom Ads---------------------------->