Harman Kardon HKTS 30 Speaker System Page 2
Give 'em Hell, Malone, also in DTS-HD Master Audio, is a satirical gangster pic whose most memorable moments involve people setting themselves or others on fire. It opens with a lavish sequence of extended gunplay juxtaposed with a voiceover. The center speaker delivered the voice quite clearly despite the savage noise in all channels. I upped the sub to 60 percent of its volume control's range (and would later invoke the bass boost, but not until the music demos began).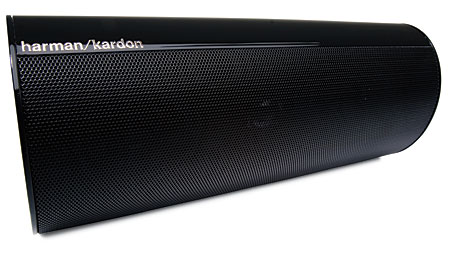 Sleep Dealer, with an old-school Dolby Digital soundtrack, might be seen as a Mexican version of Avatar: workers in various trades, such as construction, acquire nodes that plug their bodies into systems that direct robots doing the work elsewhere. With its contrast between the lead character's hardscrabble rural hometown and the alienating high-tech milieu of the big city, the movie tugs at the emotions. The gentle, meditative electronic score occasionally gives way to livelier material, like a racy club with bouncing bass and joyful trumpet. When they had a decent piece of music to work with, the Harman Kardons did well.
All Star Band
Asia's Fantasia: Live in Tokyo is a Blu-ray Disc with a DTS-HD Master Audio soundtrack—complete with prog-friendly cover art by Roger Dean. Even with the lineup mentioned below, this band was always less than the sum of its parts, but there is some dazzling playing here. For the first time, I turned on the bass boost. It seemed to be the only way to get something faintly approaching the proper weight from John Wetton's colossal bass and Carl Palmer's monster drums. Guitarist Steve Howe's distinctive singing tone was often submerged under Geoff Downes' synthesizer. A higher-resolution system might have rescued more of Howe's contributions, but the mix was the main culprit.
Music for Ten-String Guitar is a collection of works by Maurice Ohana, a North African composer, played by Graham Anthony Devine on a Naxos CD. The HKTS 30 system's matched drivers running in the Dolby Pro Logic II Music mode nicely served this recording's natural ambience, with the relatively deep-voiced acoustic guitar resounding off the walls of a church. When Devine knuckle-raps the guitar body, the percussive sound unfolded naturally in the soundfield. I felt like I was seated in the church.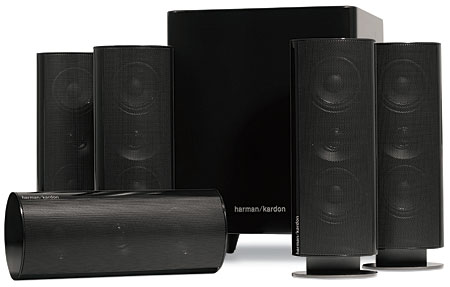 In its own modest way, this demo was a perfect storm that combined a decent speaker package, a fine recording, a reliable A/V receiver, Jim Fosgate's brilliant DPLII stereo-to-surround circuitry, and the inherent genius of 5.1 as a music delivery medium.
I'm fortunate enough to have Dexter Gordon's Go! album on a direct metal mastered LP. The 1962 stereo mix places Gordon's tenor sax at far left and the drums at far right. Fittingly, the bandleader's instrument is the most prominent one in the mix, but the overall effect is somewhat unbalanced. Of course, this isn't the speakers' fault. The Harman system took care of job one, which was to make the sax sound both natural and reasonably detailed. The presentation was one of a breathing human being at the top of his game playing the saxophone, not a tired metallic squawk. When I switched from stereo to DPLII, it brought out the piano and rhythm section more without impairing Gordon. Overall, this was the most relaxing demo.
The Harman Kardon HKTS 30 is a good satellite/subwoofer system with a surprisingly pleasant midrange. As with many sat/sub sets, a fairly lightweight sub limits its performance, and our performance rating reflects this.
This system's main limitation is its price. For $999—or a hundred dollars less online, when we checked at press time—this speaker package competes with HTIB packages that offer both speakers of comparable quality and an A/V receiver. It also rubs elbows with pure speaker packages of comparable quality that cost half as much. If you can get it at a lower price, the HKTS 30 would have a chance to shine.
<!- ----------------------- Tech Center Ads ----------------------------->

SPONSORED TECH CENTER
<!- ---------------------336x280 ADS------------------------------->
<!- ---------------------FIXED AD------------------------------->
<!- ---------------------336x80 ADS------------------------------->
<!- --------------------Sponsored Link Ads-------------------------------->
<!- ------------------------Bottom Ads---------------------------->