The Great 1080p HDTV Face Off Samsung HL-R5668W
Samsung HL-R5668W Rear-Projection HDTV
Polarizing detail.
This set was extremely polarizing. Maureen and Jerry picked it as their first choice, Adrienne and John picked it fourth, and Nikhil picked it last. This is a tale of measurements not telling the whole story.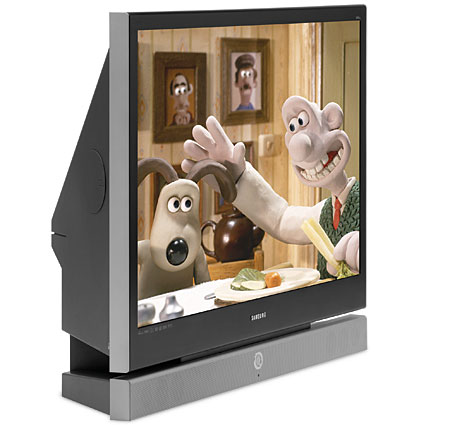 And what measurements they are. The HL-R5668W has the highest contrast ratio and the second lowest black level in the Face Odd (although you can set both the Sony and the Toshiba to be lower at the expense of overall contrast ratio). This led Jerry to comment that the image had a real sense of depth and was quite punchy.
The color points were the most accurate of any in the test. This, with the added help that it had the second most accurate color temperature out of the box, led Maureen to comment on how realistic the fleshtones looked. This was one of the few TVs where no one had a "color is a little off" type comment.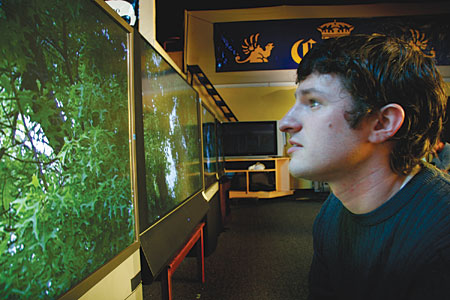 The deinterlacing was also solid. It consistently ranked among the best in the Face Off with all the deinterlacing tests, both film and video. Noise in the image, for the most part, was commendably low.
Most everyone had comments about how detailed the picture looked. Jerry and Maureen felt that from about five times the picture height, the image was detailed and, as Jerry put it, "crisp and clean."

On the other side of the ring, Adrienne called the picture "artificial," while Nikhil felt it was "unrealistic." John seemed to find the culprit by writing "edge enhancement" three times on his questionnaire with a corresponding increase in exclamation points. Adrienne felt that the HL-R5668W has a "unique picture quality that you'll either like or dislike." Well said. While some of you are no doubt headed to your computers to e-mail that a lot of these issues are defeatable in the service menu, let me cut you off. While it is reasonable to figure that any ISF tech can calibrate any TV, it isn't fair to assume that every ISF tech will know the ins and outs of every TV. So, if you find one who can defeat the DNIe circuitry, great. Then you can ignore this paragraph. We can't assume that everyone can, so we judge it as is. As is, some people like what DNIe does to the image, and others don't. It's too bad Samsung chose not to allow the end user to defeat this "picture enhancement" circuitry like you could in previous models.
The remote wasn't well liked, with a basic design, no backlight, and no direct input access.
The Samsung was a strong performer in many ways. If you think you might like this set, make sure you check it out in a store before you buy. Had we been able to easily turn off DNIe, it would have surely given the winner a run for its money.
Highlights
• Excellent contrast ratio
• Love-it-or-hate-it detail
At A Glance: Samsung HL-R5668W Rear-projection HDTV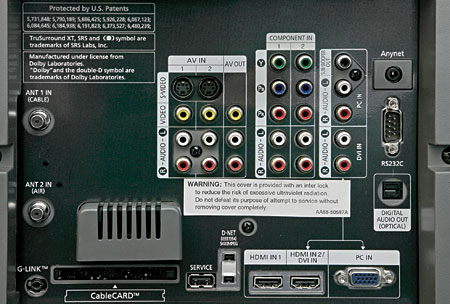 Connections
Inputs:
Video: HDMI (2), RGB (1), component video (2), S-video (3), composite video (3)
Audio: stereo audio (7), subwoofer (1)
Outputs:
Video: Composite (1)
Audio: Optical (1), stereo audio (1),
Additional: FireWire (2), RS-232 (1), RF (2), CableCARD (1), Anynet (1), G-Link (1)
Features
Type: DLP
Screen Size (diagonal): 56 inches
Native Resolution: 1,920 by 1,080
Lamp Life: 6,000–8,000 hours
Dimensions (H x W x D, inches): 37.86 x 52.36 x 15.30
Weight (pounds): 84.77
Price: $4,300
Ratings: Samsung HL-R5668W Rear-Projection HDTV
Build Quality: 93
Value: 89
Features: 89
Performance: 90
Ergonomics: 87
Overall Rating: 90
General Information
HL-R5668W Rear-Projection HDTV, $4,300
Samsung
(800) SAMSUNG
www.samsung.com
Dealer Locator Code SAM
HT Labs Measures: Samsung HL-R5668W Rear-Projection HDTV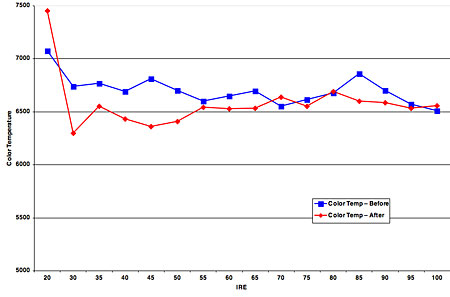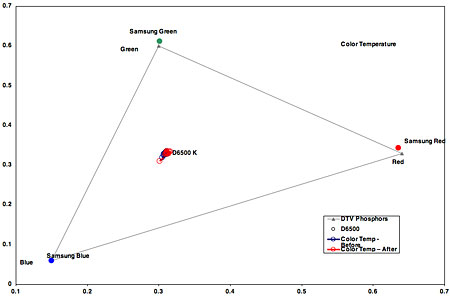 Full-On/Full-Off Contrast Ratio—7622:1;
ANSI Contrast Ratio—374:1
Measured Resolution with the Leader LT-446:
480: 470 (per picture height)
720p: 720 (pph)
1080i: 1080 (pph)
DC Restoration (poor, average, good, excellent): Excellent (In Movie Mode)
Color Decoder (poor, average, good, excellent): Good
Measured Color Points:
Red Color Point: x=0.635, y=0.343
Green Color Point: x=0.301, y=0.612
Blue Color Point: x=0.150, y=0.060
The left chart shows the HL-R5668W's gray scale relative to its color temperature at various levels of intensity, or brightness (20 IRE is dark gray; 100 IRE is bright white). The gray scale as set by the factory, in the warm2 color-temperature measures slightly cool across most of the gray scale, with the darkest images being even cooler. After making adjustments using the Photo Research PR-650, the gray scale measures within 203 Kelvin of D6500, the accurate color temperature, across most of the range, with the darkest of images still much cooler.
The right chart shows the gray scale (or color temperature) relative to the color points of the display's red, green, and blue color-filter-wheel segments. These are fairly close to those specified by SMPTE. Red is slightly undersaturated and slightly reddish-orange. Blue is spot-on. Green is very slightly oversaturated.
After calibration, and using a full-field 100-IRE white (137.2 foot-lamberts) and a full-field 0-IRE black (0.018 ft-L), the contrast ratio was 7622:1. Using a 16-box checkerboard pattern (ANSI contrast), the contrast ratio was 374:1.—GM
<!- ----------------------- Tech Center Ads ----------------------------->

SPONSORED TECH CENTER
<!- ---------------------336x280 ADS------------------------------->
<!- ---------------------FIXED AD------------------------------->
<!- ---------------------336x80 ADS------------------------------->
<!- --------------------Sponsored Link Ads-------------------------------->
<!- ------------------------Bottom Ads---------------------------->