DreamVision Dream'E SXRD Projector HT Labs Measures
HT Labs Measures
Full-On/Full-Off Contrast Ratio: 1,254:1
I calibrated the Dream'E before and after I installed the anamorphic lens to see if there was much difference between them. As expected, the extra lens reduced the light output, which meant I needed to open the aperture a bit to achieve the same peak-white level after I put the lens in place.
DreamVision claims that the Medium color-temperature setting is factory-calibrated to D65, but it was quite deficient in red. I obtained the most accurate gray scale before I put the lens in place using the Normal lamp mode. However, the calibrated gray scale with the lens, shown here, was very good except at the very top and bottom ends of the brightness range. Interestingly, this profile closely matches the best gray scale I could get using the Economic lamp mode without the lens.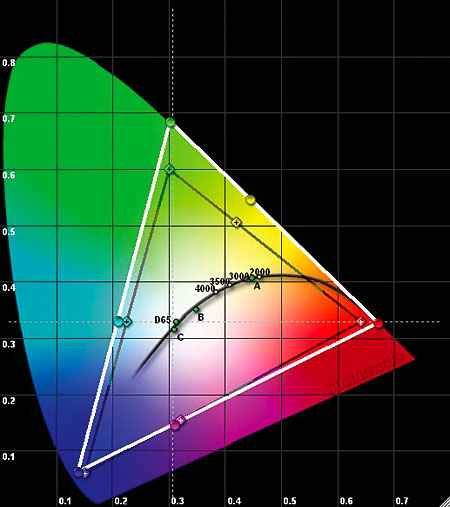 The color gamut was quite oversaturated along the green-yellow-red axis. DreamVision touts its "advanced color management system (CMS)," so I thought that might help, but it didn't. For one thing, it only has Range (hue) and Saturation controls for the three primary and three secondary colors, but it doesn't have Brightness. Also, the Range controls didn't seem to do much at all. The Saturation controls brought the green, yellow, and red color points into line as measured, but the picture looked awful, so I put them back to their defaults. Reducing the main Color control brought the points close to correct as well, but it also made real-world material look very washed out.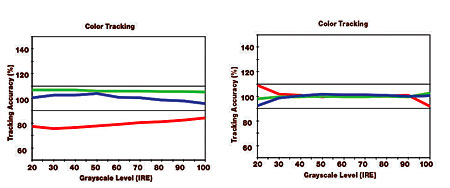 Without the anamorphic lens, luma resolution extended fully to its theoretical limit, but there was a slight reddish tinge in the highest frequency and a bit of a cyan tinge in some of the lower frequencies. The highest-frequency chroma resolution was almost completely rolled off. With the extra lens in place, the Converted 16:9 aspect-ratio setting caused the luma resolution to roll off more than it had before, and the color tinges got worse and added some banding.
In the Full Screen and Normal aspect ratios (which are not used with an anamorphic lens), a few pixels were cropped from each edge of the picture, even with Overscan off. In Converted 16:9 mode (the aspect ratio used with an anamorphic lens to properly display 16:9 images), there was no cropping on the right or left, but the top and bottom were still cropped a bit.—SW
<!- ----------------------- Tech Center Ads ----------------------------->

SPONSORED TECH CENTER
<!- ---------------------336x280 ADS------------------------------->
<!- ---------------------FIXED AD------------------------------->
<!- ---------------------336x80 ADS------------------------------->
<!- --------------------Sponsored Link Ads-------------------------------->
<!- ------------------------Bottom Ads---------------------------->