Denon AVR-5803 A/V receiver & DVD-9000 DVD-Video/DVD-Audio player Page 2
Sound
Once you get the hang of using the AVR-5803, you'll find your sonic horizons virtually unlimited. If you want superb CD playback, run the AVR-5803 in Pure Direct mode. I compared the receiver's DACs and Alpha 24 processing with the sophisticated upsampling DAC circuitry built into the Camelot Technology Round Table DVD player. While the latter sounded somewhat richer and smoother in direct A/B comparisons, the AVR-5803's clarity, purity, transparency, and resolution of low-level detail were remarkably close to the superb Round Table's.
Overall, in fact, the AVR-5803's sound in all modes was hard to fault. Without direct comparisons with other flagship receivers I've reviewed, it's difficult to rank them. Nonetheless, I did my listening with very revealing Piega P5 LTD tower speakers, which have ultrafast, extended, and detailed ribbon tweeters. The AVR-5803's top end was smooth as glass, airy and extended, richly detailed, and remarkably free of even a hint of grain or etch. The bottom few octaves were full-bodied, dynamic, and extremely well articulated—something lesser receivers have trouble delivering because of power-supply constraints.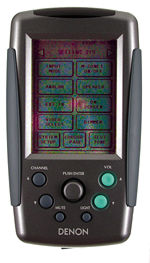 These outstanding qualities didn't diminish when I switched to multichannel source material—another tribute to the AVR-5803's power supply, among other things. The Denon never sounded strained, compressed, or hard, even when played at ridiculously loud levels. This is one home-theater receiver that should satisfy the sonic needs of all but the most picky video- and audiophiles, and even they would probably concede that the AVR-5803 comes remarkably close to delivering what all but the very top-end separates do.
Denon's Denon Link is a great idea and may yet prove useful, but for now it isn't. Many of the DVD-A discs I played, including those from Warner Bros. and DTS, were copy-protected, and blocked the passage of the multichannel bitstream to the receiver. So you'll need to use one of the 7.1-channel analog inputs for those discs if you're interested in DVD-A. The Denon Link connector did pass Dolby Digital and DTS movie datastreams, but so would a plain old coaxial or TosLink connection. For now, it's much ado about nothing. In fact, unless the labels wake up and stop worrying about piracy and give buyers "fair use" rights (such as a digital multichannel connection), I don't see DVD-A or multichannel SACD being successful.
Many of the AVR-5803's other enhancements, such as Dolby Pro Logic II, DTS 96/24, and THX Ultra2 certification, will prove more useful for some users than others. Overall, I find Dolby Pro Logic II a major improvement over Pro Logic, and I kept it on while watching regular television during the entire review period. It managed to synthesize an unobtrusive yet effective 5.1-channel listening experience from stereo television. The few multichannel DTS 96/24 discs I have on hand, such as Toy Matinee and Queen's A Night at the Opera, sounded superb and didn't require a DVD-A player to enjoy.
As for THX Ultra2 and the other THX enhancements above and beyond the Re-Equalization, Timbre Matching, and Adaptive Decorrelation features, these are minor refinements that include processing 5.1-channel material for 7.1 playback in Ultra2 Cinema or Music Mode. There's a Boundary Gain Compensation for THX Ultra2 subwoofers that can compensate for excess bass from subwoofers placed too close to a wall, and a few other minor tweaks that I think will win big yawns from all but the most fanatical home theater enthusiasts. But when switching between plain-vanilla Dolby Digital and THX Ultra2 while watching movies, I found that the sound jelled better in three dimensions, and there was a greater sense of a seamless sonic picture, instead of multiple speakers arrayed around the room.
More useful was the video-conversion circuitry, which lets you use a composite-video VHS VCR and get the signal to your HDTV via the component-video output. Why would you have or use such a VCR in a sophisticated system? Well, it's important only if you already own such a unit, but it's nice to know the 5803 will upconvert its signal in this manner. Also useful for some enthusiasts will be the two 7.1-channel analog inputs. I was able to easily use both a DVD-A player and a multichannel SACD player, switching between the two in seconds.
The overall sound of the AVR-5803 ranked at the very top of what I've heard from receivers. I auditioned the same multichannel SACDs used in reviewing the Pioneer Elite VSX-49TX receiver (September 2002), and I felt the sound was comparable. Without a direct A/B comparison, it was impossible to rank them or any of the other top-of-the-line receivers I've reviewed. Based on memory, I'd say the Pioneer might have been slightly warmer in the midrange, but the Denon was the king of transparency and resolution of low-level detail.
Conclusions
It's big, it's complex, it's attractive, it's built to do your sonic bidding, and it's at the pinnacle of what's possible in an A/V receiver. I don't know of any receiver that can do more, and I don't know what else Denon could possibly add to upgrade the AVR-5803's flexibility or performance. But then, I say that every product cycle, and somehow, Denon and the rest manage to add something useful, if not earth-shattering.
The addition of THX Ultra2, DTS 96/24, and other small enhancements will probably not be enough to get many buyers of recent A/V receivers to trade up to the AVR-5803, nor will the Denon Link feature—unless the copy-protection and SACD issues are resolved. The latter is certainly possible, but given the record industry's current paranoia and its insistence on alienating its core consumer base with onerous restrictions, Denon Link's usefulness as a means of transmitting and receiving multichannel DVD-Audio bitstreams will be very limited. You can't fault Denon for trying.
While I found it easier to use than the AVR-5800, the AVR-5803 is among the most complex and daunting receivers available. Blame its poorly written instruction manual, the improved but still not exactly user-friendly remote control, and the illegible front-panel display. Be sure to acquaint yourself with all of these items before buying.
Those issues aside, the Denon AVR-5803 is one of, if not the, finest-sounding and -performing receivers currently available. It is, for all intents and purposes, the current state of the art in audio/video receivers and probably for some time to come, and is therefore highly recommended.
<!- ----------------------- Tech Center Ads ----------------------------->

SPONSORED TECH CENTER
<!- ---------------------336x280 ADS------------------------------->
<!- ---------------------FIXED AD------------------------------->
<!- ---------------------336x80 ADS------------------------------->
<!- --------------------Sponsored Link Ads-------------------------------->
<!- ------------------------Bottom Ads---------------------------->