Denon AVR-5800 A/V receiver Page 2
How the AVR-5800 Does It
Thanks to its clean, uncluttered rear panel, hooking up the AVR-5800 wasn't all that difficult. The rear includes enough of every kind of connection you'll ever want or need, including three sets of component-video inputs with bandwidth wide enough for HDTV switching, full preamp output facilities, three videotape loops, four coaxial digital inputs (one for AC-3 RF LD), six TosLink ins, and two TosLink outs for digital recording. The 5800 will even feed digitized analog (from the tuner or a turntable, for example) from these TosLink outs for recording to CD-R or MiniDisc. There are two sets of multichannel audio external input jacks for multichannel SACD or DVD-Audio playback. And, of course, there's an RS-232 port for custom installers to play with.
Using the AVR-5800
I always try to operate a new receiver without using the instructions to see how intuitive the operating system is. Big mistake this time—problems occurred as soon as I started using the AVR-5800 with Denon's new Aktis RC-8000 LCD touchpanel remote control. I needed the instructions right away, and even with them I had difficulties—for the first time, I couldn't even get sound from a receiver under review.
Eventually, I figured it out. Leaving open the possibilities that I am a) a poor reader, b) slow, and/or c) a techno-slug, the bottom line was that I hated the RC-8000 remote, even after acclimating to it. It's too heavy (more than half a pound without batteries) and too big to fit comfortably in my small, pudgy hand. Volume and Channel Up and Down, Mute and Light are conveniently placed physical buttons that you can feel. But its joystick-controlled multiple LCD control screens were a pain in the butt to use. All the "buttons" on these screens are the same size and arranged in neat and orderly rows, meaning you must pay attention and look closely. Operation by feel alone is impossible [a generic shortcoming of all touchscreen remotes—TJN].
Fortunately, you can customize the remote screen, adding, deleting, and changing the names of the buttons—one way to get around my criticisms. But I think that, out of the box, the design could have been far more user-friendly—the RC-8000 is definitely not a Philips Pronto. This is a shame—the Denon remote has some good features, including a battery-charging base support, a USB port for computer editing, RF or IR operation, and enough other features that it would take a separate review to cover them all. The remote even has its own 33-page (!) instruction manual.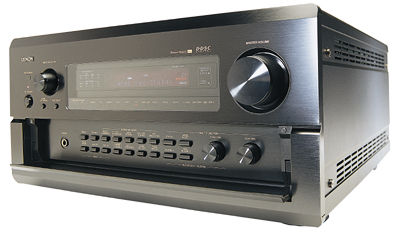 While the AVR-5800's black faceplate with gold lettering is sexy, elegant, and understated, it's impossible to read the lettering without a flashlight. Even in daylight, it's difficult to discern what the buttons do. Open the front-panel door and you're confronted by two rows of nine buttons each, equidistant, of almost equal size, and equally poorly marked.
The Denon's instruction manual also left a lot to be desired, but that's nothing new in this industry. There are errors and omissions that can make an already difficult setup almost impossible, and some of the instructions are just plain hard to understand. For example, on p.18, which describes how to get to the Setup menu (believe me, you won't get there unassisted!), Step 8 is to push the "joy stick to the right to display the Setup 3/5 page." Never mind that you have to take eight steps just to get to the Setup menu—where you actually have to go is to the Setting 3/5 page. Not a big difference when you know it; when you don't, you might go searching for it and easily get lost.
<!- ----------------------- Tech Center Ads ----------------------------->

SPONSORED TECH CENTER
<!- ---------------------336x280 ADS------------------------------->
<!- ---------------------FIXED AD------------------------------->
<!- ---------------------336x80 ADS------------------------------->
<!- --------------------Sponsored Link Ads-------------------------------->
<!- ------------------------Bottom Ads---------------------------->