BenQ W10000 1080p DLP Projector Page 2
Edge Optimizing and Clarity controls are also available to provide artificial enhancement of the image. They are not available for HDMI, and since I did most of my serious viewing via HDMI, I never used them.
Five selectable aspect ratios are offered: anamorphic (16:9), 4:3, Letterbox, Wide (an uneven stretch mode that fills the 16:9 screen with a 4:3 image) and Real (1:1 pixel mapping with no scaling). The Letterbox selection operates in the usual way, by blowing up a letterboxed (non 16:9 widescreen) image to fill the screen from left to right. But it may also be used to stretch a 16:9, 2.35:1 image for use with an anamorphic lens on a 2.35:1 screen.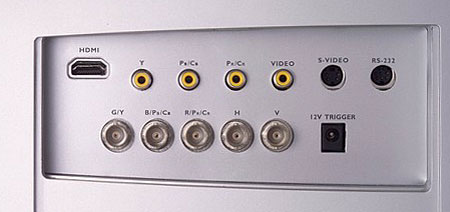 The remote control is one of the best I've used. It's backlit, with an easily located Light button, and offers direct access buttons for frequently used controls such as input selection, aspect ratios, and (some) video adjustments. The most important buttons are well spaced and clearly marked in black with their functions (or with icons for brightness and contrast) plainly visible through the backlighting.
Finally, there is no manual film mode control on the projector. The BenQ automatically selects film mode when it finds it appropriate.
Performance
If the BenQ can be singled out for one characteristic, it's peak light output. It's a light cannon. With 80 hours on the lamp, the projector set up and calibrated for optimum performance and located about 12-feet from the screen, the iris turned down to produce respectable blacks (0.006 foot Lamberts at about 1/3 open), and the lamp on Whisper mode, it produced a peak white level of 22.6fL on my 78-inch wide, 1.3-gain Stewart Studiotek 130 projection screen. With the iris wide open and the Whisper Mode Off, the other conditions the same, it produced about 40fL. In the latter situation the blacks crept up to a much less than satisfactory 0.018fL. But since the brightness of a projected image is directly proportional to the area of the screen, you could project the BenQ on a screen double or even triple the size of mine and still produce more than adequate brightness with a very respectable black level.

The BenQ also performed superbly on all of my standard 480i-to-1080p deinterlacing and scaling tests. The projector will not accept a 480i input over HDMI, so I conducted these tests using a component 480i input. The only test that produced less than sterling results was the 2/2 (video-based material) cadence test. While BenQ makes no specific claims as to the video processing engine they are using, the results closely resemble those I've obtained in the past from displays that use Faroudja's DCDi 480i deinterlacing.
That pristine performance did not extend, however, to the projector's high-definition, 1080i-to-1080p deinterlacing. The test patterns available on the HQV Benchmark HD DVD and the new Digital Video Essentials HD DVD suggested that the BenQ uses "bobbing" for most of its HD deinterlacing. For less technically inclined readers, bobbing is a method of deinterlacing that, to put it as simply as possible, eliminates deinterlacing artifacts but in the process can also significantly reduce resolution.
But the results on typical 1080i program sources called the test pattern results into question. On most real-world HD programming, both video and film-based, the BenQ produced a superb picture, with fine detail, good contrast, and vivid yet natural color. And most of all, it demonstrated the kind of punch I've come to expect from DLP projection, particularly on brighter images that showed no sign of the lightening that's often seen with other projection technologies, lightening that reduces saturation and produces a subtly washed-out appearance.
1080i from film-based material clearly looked like full 1080 high-definition. Every detail in the newly released, reference-quality Complete Matrix Trilogy HD DVD box set came through. The same was true of the new release of Apocalypto on Blu-ray. In turns visually stunning and wildly violent (why show just one severed head bounding down the pyramid steps then you can show four!), it gives any projector a powerful workout. The BenQ did a fine job with it, from the detail to the color. In particular, the green jungle foliage in the film looked very natural, without the plastic-looking, phosphorescent green that's all too common in modern digital displays.
I have a copy of a Pioneer Blu-ray demo disc that contains some of the most striking video-based HD material I've ever seen. On this disc, in particular, my reference JVC DLA-RS1 (the "professional" version of the JVC DLA-HD1) did look a hair sharper, but the BenQ made up for it with better color saturation, "pop," and depth on bright scenes—likely the result of the inherently superior ANSI contrast of DLP.
The W10000 will accept 1080p inputs at both 24fps and 60fps, though BenQ does not specify exactly how the projector treats 24fps. I can say with certainty that it does not simply double it to 48fps, since I saw no flicker.
Standard definition material on DVD looked fine as well, though it's hard to get enthusiastic about even the best standard definition on DVD after a steady diet of HD DVD and Blu-ray! I did find, however, that when upconverted to 1080p HDMI with the Pioneer Blu-ray player, some DVDs looked a hair sharper than when fed into the BenQ at lower resolutions and upconverted to 1080p by the projector.
If the BenQ has a weakness, it's in its chosen gamma curve. Gamma describes the way in which a video display's output brightness changes as the level of the input changes. As measured, the BenQ's gamma was a very constant 2.4 through all but the darkest grays, where it crept up to 2.6. These are respectable results. But the low-middle brightness region often looked just a little too dark. Shadowed objects, including faces, sometimes appeared drab and lacking in presence. The effect is difficult to describe, but easy to see. It gave such images a slightly gritty (but not grainy) look that suited some material but not all. Raising the brightness control to compensate for this compromised the black level.
And you don't want to do that, because the black level on a properly set up W10000 is very respectable. Not as good as the best projectors we've tested, but hard to criticize. The caveat here is that you need to carefully balance the contrast, brightness, and iris settings. I obtained the best result, after calibration, by setting the brightness and contrast to their optimum levels, using appropriate test discs, with the iris at about midpoint. Then I increased the iris setting to minimize the mid-low darkening mentioned, but stopped before significantly compromising the black level.
Following that procedure the BenQ's shadow detail was good, but as described above it could still look a little grayed-out and smothered in the mid to low grays. It was clearly less rich, punchy, dimensional, colorful, and detailed on dark scenes than the JVC mentioned above. In fact, in its overall consistency from bright to dark scenes the JVC beats the BenQ, not to mention other all other sub-$10K projectors I've tested to date.
Rainbow artifacts were a bit more prominent on the W10000 than on the higher-end (and more expensive) single-chip DLP projectors I've tested over the past few months. But I am more sensitive than average to this artifact.
Conclusion
The BenQ's greatest strength is its formidable light output. It can support a much larger screen than most other single-chip DLPs and, indeed, most home theater projectors using other technologies as well. It also has good color, with color points that, out of the box, are closer to the HD standards than most other projectors I've tested. And its black level, while slightly higher than the best I've measured, is good as long as the projector is properly set up.
The competition is fierce, however. I'd like to see the W10000 improve on its performance in the mid gray areas, where it can tend to look drab if there are no bright highlights to add punch. While its gamma is not technically incorrect and quite consistent, most competitors offer a variety of user selectable gamma settings. In my experience a slightly lighter gamma than the single one currently in the projector can produce a more consistent image from light to dark.
As it stands the BenQ is a solid performer. It has the potential to be even better.
Highs
Bright, crisp, punchy image
Excellent 480i-to-1080p deinterlacing and scaling
Exceptional brightness can accommodate large screens or be tamed by the manual iris for smaller screens
Lows
No gamma options, and the fixed gamma is slightly dark
Shadow detail could be better
<!- ----------------------- Tech Center Ads ----------------------------->

SPONSORED TECH CENTER
<!- ---------------------336x280 ADS------------------------------->
<!- ---------------------FIXED AD------------------------------->
<!- ---------------------336x80 ADS------------------------------->
<!- --------------------Sponsored Link Ads-------------------------------->
<!- ------------------------Bottom Ads---------------------------->