Used Projectors, Dubbing VHS, Hiding Speakers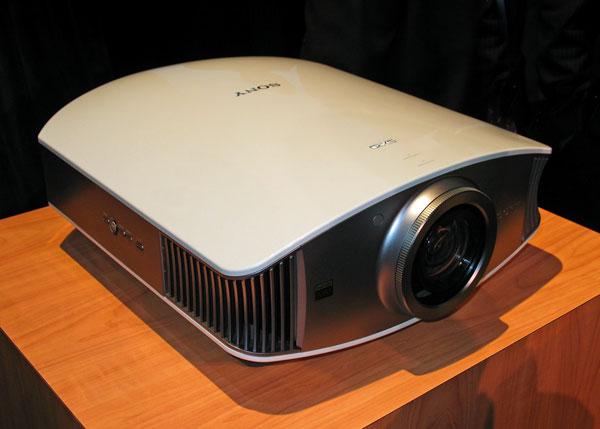 A Brighter Tomorrow
I have a 6-year-old Sony VPL-HS20 projector, and I'm thinking about a replacement. Why not a slightly used projector? Is this a good idea? Thomas Norton's review of the Sony VPL-VW100 had a calibrated light output of 15.9 foot-lamberts, while his review of the current VPL-VW85 has an output of 29.65fL. Can this be true? TJN's tested output of the JVC DLA-HD950 is 19.63. Is the Sony 85 really 50 percent brighter than the JVC?
Kevin Larrowe
I don't think it's necessarily a bad idea to buy a used projector, with one caveat—lamp life. A lamp's brightness drops even after a few hundred hours, so a used projector is likely to be dimmer than a new one. Try to determine the number of hours on the lamp, which is usually found in one of the projector's menus. And buy an extra lamp—in fact, if the installed lamp has something like 1000 hours on it, replace it from the outset and you'll be much happier with the picture.
As for Tom's measurements, the value you quote for the JVC DLA-HD950 is the result he obtained with the iris set to -6; with the iris wide open, the peak white level was 23.34fL in Normal lamp mode and 32.70fL in High mode. So the JVC actually measured brighter than the Sony (20.06fL in Low lamp mode, 29.65fL in High mode, Advanced Iris set to Auto1). And don't forget that the JVC has no dynamic iris, whereas the Sonys do.
You're right, the older VW100 (seen above) wasn't nearly as bright as the VW85, which illustrates that newer projectors tend to be brighter overall, which is another factor to consider when thinking about buying a used projector.
Preserving the Past
Can you recommend a good VHS/DVD recorder combo unit? I would like to transfer some of my VHS tapes to DVD.
Nick Sherlock
We haven't reviewed any such units in a long time, primarily because few companies make them any more, and those that do tend to make the same models for years without updating them as often as other types of products like Blu-ray players. Robert Silva at About.com maintains a list of currently available and recommended VHS/DVD recorder units here.
To Hide or Not to Hide
I plan to build a dedicated home-theater room in the basement when we renovate. My biggest dilemma is whether the future design will be based on "hidden" speakers as so many pro installations seem to employ or whether to have freestanders.

 I would be happy with the former as long as there is no compromise in sound and image quality. For reference, my current gear includes B&W 704 (2), B&W HTM7, Wharfedale Valdus (2), Rotel RSP 1066 and RMB 1075.
Steve
If you're going to use your existing speakers, I would definitely not put them in wall niches to hide them behind fabric. Freestanding speakers are designed to be, well, freestanding; putting them in a tight space will seriously compromise the sound. If you want hidden speakers, there are plenty of models designed to be mounted in or on the wall, and they sound just fine; see Home Theater's reviews here. In that case, however, you'll need to buy new speakers, which could take a bite out of your budget that might be better spent on other things.
If it were me, I'd keep the speakers you already have and put them out in the room. On the other hand, I don't have any kids or pets that could knock the speakers over; if you do, that might tip the scales in the other direction.
If you have a home-theater question, please send it to scott.wilkinson@sorc.com.
<!- ----------------------- Tech Center Ads ----------------------------->

SPONSORED TECH CENTER
<!- ---------------------336x280 ADS------------------------------->
<!- ---------------------FIXED AD------------------------------->
<!- ---------------------336x80 ADS------------------------------->
<!- --------------------Sponsored Link Ads-------------------------------->
<!- ------------------------Bottom Ads---------------------------->