Speed Racer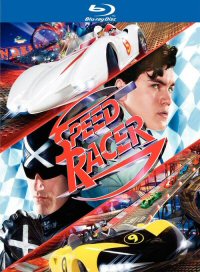 Based on the popular Japanese cartoon, Speed Racer (Emile Hirsch) is a natural behind the wheel of his Mach 5. His loyalty to the family racing business, led by his father (John Goodman), is put to the test when Arnold Royalton (Roger Allam) attempts to lure Speed to the Royalton Industries race team. Speed declines and joins forces with the mysterious Racer X (Matthew Fox) in order to save the family business and protect the sport he loves.
From the opening credits, it's easy to see that the Wachowski brothers' take on Speed Racer remains true to its cartoon roots—for good or ill. Visually, the movie is stunning, with brilliant colors and fantastic CGI work, and despite its anti-capitalist message, this staunch capitalist found it surprisingly entertaining. The moral of the story is to believe in yourself and not let money and power corrupt you, which I take no umbrage with, but the evil corporation makes the choice pretty simple for Speed.
The VC-1 video presentation may very well be the best ever from Warner Brothers, and given the style of the photography, I would expect nothing less. The virtual CG world comes to life with a pristine print lacking any grain or blemishes. Given the intense color palette, banding could have been a significant issue, but it never makes an appearance, even with the audacious use of primary colors. Black levels are inky and deep, providing a visual experience unlike anything I have previously witnessed. It may not be everyone's cup, but if it's yours, grab a chair and drink it up.
In lieu of a lossless audio soundtrack, Warner has included a measly 640kbps Dolby Digital 5.1 mix on the BD25 disc, which is a major disappointment. The lossy mix is respectable, but having a reference-quality HD video encode with SD audio is unacceptable two-plus years into the next-generation format. Bass response is adequate, but the highs sound a bit strained and abrasive, especially compared to the smoother response that a Dolby TrueHD soundtrack provides. On the plus side, the surround speakers are effectively used with discrete effects, and the front soundstage is wide with natural and intelligible dialog.
Sadly, Speed Racer was a box-office flop, and the bonus features are meager. Presented in SD are three behind-the-scenes supplements that include "Spritle in the Big Leagues," which takes you on a tour of the movie sets; "Speed Racer: Supercharged," which explores the film's cars and racetracks; and "Speed Racer Car-Fu Cinema," exploring the unique moviemaking process. Rounding out the material is a standard-def digital copy of the film (Windows PC only) and a DVD game called "Speed Racer Crucible Challenge."
Speed Racer received little critical acclaim, which puzzles me. The Wachowski brothers have taken a campy1960s cartoon and brought it to life with a mesmerizing visual style unlike anything I've ever seen. Unfortunately, the lack of a lossless audio track limits this disc to a video-only demo when it could have been so much more. Don't let the critics scare you away—Speed Racer is a lot of fun. When I saw it theatrically, it received a well-deserved standing ovation—there aren't many films that are bestowed this honor.
Release Date: September 16, 2008
Movie: 8 out of 10
Picture: 10 out of 10
Sound: 7 out of 10

Review System
Source
Panasonic DMP-BD30
Display
JVC DLA-RS1 projector
Stewart FireHawk screen (76.5" wide, 16:9)
Electronics
Onkyo PR-SC885 pre/pro
Anthem PVA-7 Amplifier
Belkin PF60 power conditioner
Speakers
M&K S-150s (L, C, R)
M&K SS-150s (LS, RS, SBL, SBR)
SVS PC-Ultra subwoofer
Cables
Monoprice HDMI cables (source to pre/pro)
Best Deal analog-audio cables
PureLink HDC Fiber Optic HDMI Cable System (15 meters) from pre/pro to projector
<!- ----------------------- Tech Center Ads ----------------------------->
<!- ---------------------336x280 ADS------------------------------->
<!- ---------------------FIXED AD------------------------------->
<!- ---------------------336x80 ADS------------------------------->
<!- --------------------Sponsored Link Ads-------------------------------->
<!- ------------------------Bottom Ads---------------------------->