Sharp Aquos LC-15L1U-S Wireless LCD TV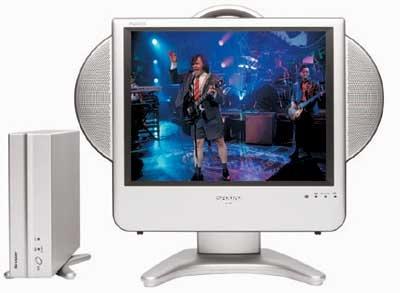 Remember that commercial when plasma TVs first came out, with that couple randomly placing their new plasma set on different walls around their apartment until they finally settled on a ceiling mount? That ad always bugged me because they made it look so easy to just decide where you wanted your TV to go and then put it there. What about the power? What about the cable hookup? What about video from a DVD player? Moving a TV around is a real chore regardless of how little it weighs.
FAST FACTS
DIMENSIONS (WxHxD) TV, 19 1/2 x 17 1/2 x 8 7/8 inches with pedestal stand as shown; 19 1/2 x 13 3/4 x 2 3/8 inches without stand Wireless A/V Center, 4 1/2 x 9 1/8 x 10 inches (vertically oriented) WEIGHT TV, 14 pounds with pedestal stand and rechargeable battery, 11 pounds without stand PRICE $1,800 MANUFACTURER Sharp Electronics USA, www.sharpusa.com, 800-237-4277
KEY FEATURES
• TV with 15-inch (diagonal) LCD screen • Connections through outboard Wireless A/V Center • Built-in carrying handle, flip-out easel stand; supplied detachable pedestal stand • Built-in rechargeable battery • inputs/outputs Wireless A/V Center S-video and 3 composite-video inputs, all with stereo audio; RF input and loop-through output for antenna/cable; IR emitter output TV composite- and S-video inputs with stereo audio
Until now. Sharp has truly cut the umbilical cord with the new Wireless Aquos, a 15-inch (diagonal) LCD set that's the first TV to require no cords whatsoever. Not for power. Not for cable TV. And not for recorded video. Akin to a cordless phone, the Sharp LC-15L1U-S combines an outboard Wireless A/V Center to handle the connections, a rechargeable lithium-ion battery, and the marvels of Wi-Fi (the original 802.11b standard) to produce mobile TV.
Installation is simple and straightforward. While the Wireless Center can be placed virtually anywhere that's close to a cable-TV jack and a power outlet, you do need to keep it away from sources of interference like microwave ovens, cordless phones, and devices using Bluetooth wire less technology. A loop-through output is provided for both the RF antenna/cable and Video 1 inputs, and the Video 2 input can be reconfigured as an output.
The TV automatically "finds" the Wireless Center when it powers up and from then on works pretty much like a regular set. It also has a headphone jack and its own composite/S-video input if you want to connect a camcorder.
Designer Toshiyuki Kita incorporated a handle into the top of the stylish panel, making it easy to tote this portable about. The table stand is totally unobtrusive on the kitchen or bathroom counter, but to fit in tighter spaces - like the tile surround of our Jacuzzi - simply remove the TV from its pedestal and use the flip-out easel stand instead.
<!- ----------------------- Tech Center Ads ----------------------------->
<!- ---------------------336x280 ADS------------------------------->
<!- ---------------------FIXED AD------------------------------->
<!- ---------------------336x80 ADS------------------------------->
<!- --------------------Sponsored Link Ads-------------------------------->
<!- ------------------------Bottom Ads---------------------------->