Sanyo PLV-Z3 LCD Video Projector
With its fold-down front panel and uninspiring plastic case, the Sanyo PLV-Z3 suggests nothing so much as a large (okay, very large) clock radio. In a world where, not so very long ago, video projectors were expected to require three or four strong longshoremen to deliver and set up, the newest digital designs still generate a sense of wonder. Even now, audiophiles continue to equate size and mass with quality, and "longer, lower, wider" are still the watchwords with car enthusiasts (though it's no longer politically correct to actually say so in polite company).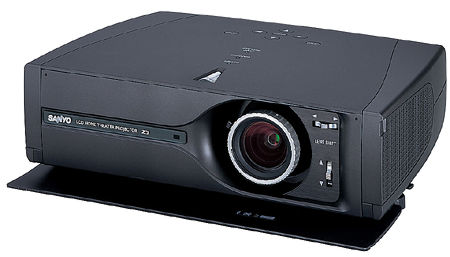 You can still pay as much for a top-flight home video projector as a luxury car. Even less-lofty models command the price of economy wheels. But in the last few months, I've seen three new models for under $3500 that impressed even this CRT die-hard. And they're all LCDs, no less, a technology we all thought was about to be swamped by the DLP juggernaut. The Sanyo is the most recent and least expensive of the three.
Readers who have seen our reviews of the other two models, the Sony VPL-HS51 and the Panasonic PT-AE700U, need to know that the killer new feature that distinguishes both of those other models is a dynamic iris that adjusts automatically, opening up on brighter scenes and closing down on darker ones. Such an iris can vastly improve the peak contrast ratio. Sanyo representatives informed me that the PLV-Z3 does include such an automatic or dynamic iris, and a Sanyo press release does refer to it. Sanyo's website also claims that a "new motorized iris yields 2000:1 contrast ratio." But such an iris is not listed in the features list posted in front of the owner's manual (odd that it's not trumpeted there, since it's such a hot item), and while I was told that it could be defeated, nothing in the manual said anything about turning it on or off. In fact, I could find no reference to it in the manual at all. The manual does, however, refer to two of its lamp modes, React image 1 and React image 2, as "controlling brightness according with input signal." But nothing I experienced in the operation of the projector, its picture, or in my measurements, suggested the sort of results I'd expect from a dynamically operating iris. The Sanyo's measured peak on/off contrast (see "Testing and Calibration") was significantly lower than that of either the Panasonic or Sony. Still, at its best the PLV-Z3's blacks were better than I would expect a conventional LCD projector. Apart from that, the projector does have a manually adjustable iris with the widest range of settings I've ever seen. The factory imaging presets make use of a number of these settings, along with four different lamp modes. Both the iris and the lamp configurations may also be adjusted manually.
Behind the panel
The PLV-Z3's lens hides behind that drop-down front panel I mentioned at the top of this review, along with the manual focus and zoom controls as well as both horizontal and vertical lens-shift adjustments. The projector's throw distance is fairly short (1-1.3:1), so make certain it will work for your situation.
A keystone control is described in the manual and appears on both the remote control and the onscreen menus, but it was non-functional on our sample. Perhaps it was deleted from the software after the menus, remote, and manual were completed—no great loss, since digital keystone adjustments can reduce a projector's effective resolution.
There's a full set of usable controls on the top of the projector, but you'll likely use the remote control for all your adjustments and selections. Speaking of which, the PLV-Z3's remote is simple but effective. It's not only illuminated, but each button's function (with the exception of those dummy keystone up and down buttons) is written on the button itself so it shows through the backlighting. Many illuminated remotes do not exhibit this key feature; without it, you can see the buttons, but not the words that describe what they do!
There are also direct-access buttons for each of the six inputs, another frequently shortchanged feature. My only real criticism of the remote is its directly accessible reset button, something that does not, in my opinion, belong on a remote where it may be pushed by accident.
Onscreen menus provide full control over all aspects of the projector's operation. I've seen far more expensive projectors that don't offer the variety of useful adjustments the Sanyo makes available to the user. This is both a blessing and a curse. The knowledgeable user or installer can use these controls to get a remarkably satisfying picture; the novice can use them to produce live-action cartoons.
Sanyo provides detailed instructions for using the PLV-Z3 with a computer. I won't go into this here, but nine pages of the 59-page owner's manual are devoted to it. If you're planning to make a computer one of your sources, the projector provides useful settings for this application.
And it provides even more flexibility for video use. You can save different picture setups for each of the six inputs. The Image Level menu provides eight different factory presets with the sorts of names common in the consumer display business, such as "Dynamic" and "Powerful" (that's the mode you use with sunglasses). "Natural" is described in the manual as the mode to use "to enjoy faithfully reproduced images without any control by the projector." Some of these settings provide enough light output, even on a near-unity-gain screen of reasonable size (say, 8 feet wide or less), to enjoy sports or other brightly lit program material with at least some room light. This extra light output may also be put to use in a darkened room if you insist on a much larger screen.
But if you want a truly cinematic image, I recommend more conservative settings and screen sizes. There are four "User Image" memories, and I much preferred my own setup to any of the factory settings (see "Testing and Calibration"). With an 80-inch wide image on a Screen Research ClearPix2 acoustically transparent screen (gain specified as 0.95) and the Sanyo calibrated for the best image rather than simply the brightest image, the picture was adequately punchy with most program material, but I wouldn't have objected to another 20% or so of light output. You can get this extra brightness (and then some) with those brighter factory presets, or simply by using a higher lamp setting and/or opening up the iris wider than I chose to. But either option will result in some sacrifice of image quality, particularly in black level and/or fan noise.
The Sanyo has four lamp settings. In the lowest one, the setting that provides the best contrast, the projector is very quiet. It's not quite as noise-free as the Sony VPL-HS51, but it's close. In the higher lamp settings required for those bright modes, the fan noise is clearly audible.
Also included are all the usual image controls—brightness, contrast, color, tint, and sharpness—along with five color-temperature presets. There are also overall RGB white balance and Gamma adjustments. A Film setting for interlaced inputs adds 3:2 pulldown detection for film-based sources.
You may also store four different User color temperature settings in each of the four User memories). A user-accessible Advanced menu adds separate controls for RGB Gain (high level) and Offset (low level), RGB Gamma controls, and Overscan. Three other controls—Auto Black Stretch, Contrast Enhancement, and Transient Improvement—are not available for the HDMI input. I used HDMI for most of my viewing and didn't miss them. All the other controls, including contrast, brightness, color, tint, and sharpness, are fully functional with HDMI.
The usual selection of aspect ratios (Sanyo calls them Screen Sizes) are provided. These include Full for enhanced widescreen (anamorphic) and HDTV material, Zoom for expanding a non-anamorphic letterboxed source to fill the screen from left to right, Normal for 4:3 images, two "through" modes that pass the image through with no scaling, and two Natural Wide modes that perform an uneven stretch on 4:3 material so it fills the full width of a 16:9 screen. I've found this feature tolerable and even useful on some projectors for non-critical material, but the stretch characteristics chosen by Sanyo rendered these so-called Natural Wide options unwatchable.
With any 720p or 1080i program material at the HDMI input, the PLV-Z3 offers only two aspect ratio choices: Full and Natural Wide 2. This means you can't fill the full width of a 16:9 screen with a standard-definition, non-anamorphic, widescreen letterbox image in these upscaled resolutions. Instead, what you get is a letterbox image within a 4:3 area on your 16:9 screen, with a wide black border around it on all sides. The solution is simple enough: switch your source to 480p. With that input resolution, the Sanyo's HDMI connection provides all the projector's aspect-ratio options.
You might, in fact, even get better results with a 480p signal from anamorphic widescreen DVDs. The deinterlacer built into the Sanyo is nearly as good as the Faroudja chip built into the Panasonic DVD-RP56 DVD player. When I compared a 480p feed from this player with 480i (in the latter case the projector is doing the deinterlacing), the Panasonic-deinterlaced 480p won by only the slimmest of margins. However, the component input of the projector did require a much higher setting of the sharpness control than did HDMI to achieve a comparably crisp picture. Fortunately, this higher setting did not result in an artificially enhanced image.
Apart from the usual housekeeping functions like Mounting (to reverse and/or invert images for ceiling and/or rear projection installations), Power Management (turns off the projector in five minutes when no input is detected for 30 seconds or more), Language, and Background color, the PLV-Z3 offers two unique features. Small video projectors, particularly those without a sealed light path, are prone to dust collecting inside, most critically on the LCD panels and other parts of the light path where it can not only reduce the overall brightness of the projector, but produce stationary, shadowy spots in the picture.
<!- ----------------------- Tech Center Ads ----------------------------->

SPONSORED TECH CENTER
<!- ---------------------336x280 ADS------------------------------->
<!- ---------------------FIXED AD------------------------------->
<!- ---------------------336x80 ADS------------------------------->
<!- --------------------Sponsored Link Ads-------------------------------->
<!- ------------------------Bottom Ads---------------------------->