Runco Does Cabo
I've always been impressed with Sam Runco's familial attitude toward his employees and dealers as well as the consumer-electronics press corps and even the entire industry. This attitude is especially evident during his company's annual spring retreat in Mexico, held this year at the Meliá Cabo Real resort on the Sea of Cortez, halfway between Cabo San Lucas (famous home of Sammy Hagar's Cabo Wabo bar and tequila business) and the lesser-known but much more quaint San Jose del Cabo. Not only does Runco invite his top 10 dealers and a few fortunate journalists, he encourages them to bring their families, stressing the importance of making and maintaining personal connections within the CE community.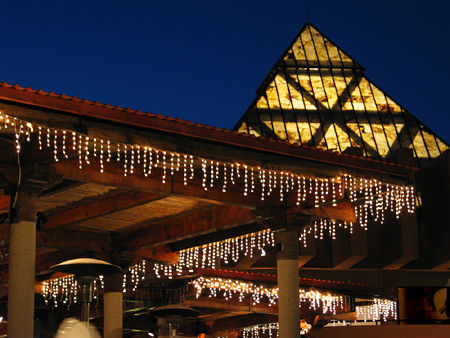 The Meliá Cabo Real comes alive with light as dusk falls.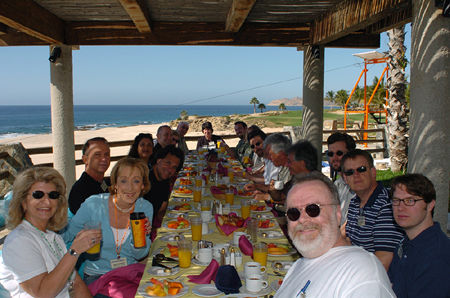 The first morning, the press corps met for breakfast by the azure Sea of Cortez.
Another important element of the trip is a pair of morning meetings, which are intended as a forum to discuss the state of the industry and Runco's place in it. This year, many interesting points were brought up, including Runco's emphasis on service as much as technology, resisting the market trend toward the commoditization of home theater. Admittedly, Runco sells high-end, high-priced displays (though they have reached the $3500 price point with the CL-410 DLP projector), and a certain level of service is expected in that market.
One topic of discussion was the role of the press. Among the issues that Joel Silver, president of the Imaging Science Foundation (ISF), thought should receive more press coverage were video servers such as Kaleidescape and digital rights management (DRM). Not only does DRM affect the use of servers, it has also slowed the development of the blue-laser optical-disc formats. On the other hand, Hollywood's interests must be protected or there will be no content to enjoy on those or future formats. As always, a balance between content protection and fair use must be struck.
Sam Runco expressed his desire to see more coverage of the industry's inconsistent implementation of DVI and HDMI from one product to the next, a problem that was acknowledged by many at the meeting (including myself). Dealers (and reviewers) face many difficulties because of this, making it imperative that manufacturers implement these interfaces in full and consistent compliance with the specs. I intend to repeat this wherever I can, especially in reviews.
A report from Elf Foundation president and founder Doug Weinstein revealed that the charity has installed 35 full-blown home theaters ("Rooms of Magic") in children's hospitals around the country since its inception in 2001. He also introduced a newly formed charity called Reel Angels, which provides first-run movies to complement the hardware provided by the Elf Foundation; they also arrange for the stars of those movies to visit the hospitals. It's an incredibly worthy cause, and Runco is strong supporter, providing projectors for many Elf systems.
In one of the hotel's conference rooms, Runco set up several of their products to demonstrate. The newest were three Crystal Series LCD flat panels, all with 1366x768 native resolution: the CR-26HD (26 inches, $2495), CR-32HD (32 inches, $4995), and CR-40HD (40 inches, $6995). These represent Runco's entry into the LCD flat-panel market and will be available by the end of April. All include ISF day and night modes, DVI inputs (which are more robust than HDMI connectors), and backlights that are adjustable per input.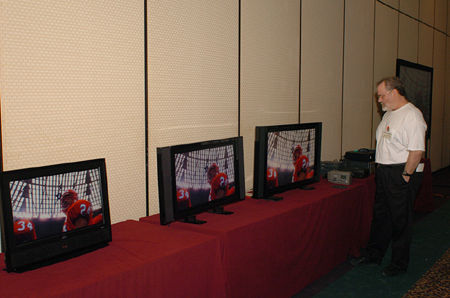 The author examines Runco's new Crystal Series LCD flat panels.
A number of projectors were on hand as well, including the aforementioned single-chip CL-410 with 1024x576 resolution and a case that is twice the size of competing products to accommodate a very effective noise muffler and prevent any appreciable light leakage. The 3-chip VX-2c (1280x720, $39,995) was shown with Runco's CineWide option ($12,995), an anamorphic lens that glides into position to optically change the aspect ratio from 1.78:1 to 1.85:1 or even 2.35:1 without losing any pixels to letterbox bars. Finally, the 3-chip VX-60d (1400x1050, $89,995), part of Runco's Video Xtreme series, was firing onto a 16-foot-wide screen to produce a truly impressive picture. The VX-60d is also available with 1400x788 resolution ($79,995), and both models offer five lens options.
Of course, the time we spent in Mexico wasn't all work; Runco made sure there were plenty of fun, family-friendly activities, including an egg-toss contest, sack race, belly-flop competition, talent show, and movies under the stars. All in all, it was a fabulous week of tech talk, warm breezes, and cold margaritas, for which I am very grateful. Thanks, Sam, for continuing to foster a strong sense of community within our industry.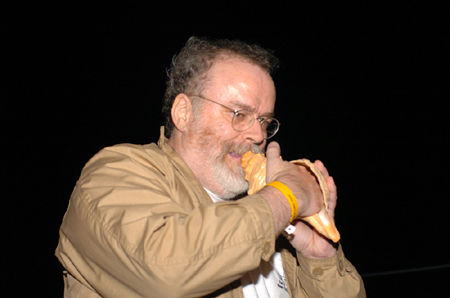 The author played "Tequila" on the conch shell during the talent show after imbibing said libation.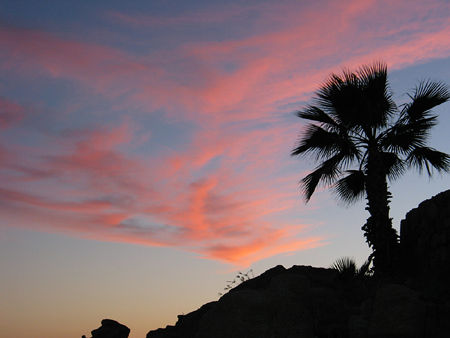 Magnificent sunsets were made to order in Los Cabos, Mexico.
<!- ----------------------- Tech Center Ads ----------------------------->
<!- ---------------------336x280 ADS------------------------------->
<!- ---------------------FIXED AD------------------------------->
<!- ---------------------336x80 ADS------------------------------->
<!- --------------------Sponsored Link Ads-------------------------------->
<!- ------------------------Bottom Ads---------------------------->