Optoma H56 DLP front projector
Reviewing Optoma's H56 DLP front projector has been an issue of karma for me. The H56 has crossed my path several times in the past two months, the first time at the 2003 Consumer Electronics Show, where news of its debut was lost in a sea of PR from other companies. At the time, I paid it little attention.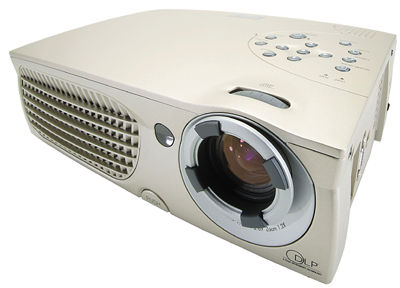 A few weeks later, Optoma's Ken Tompkins suggested I include an H56 as one of eight HDTV monitors and projectors I was planning to set up to watch the 2003 Super Bowl. I took him up on his offer and built a simple, no-frills theater around the projector in the unfinished part of my basement.
The guests watching ABC's HDTV broadcast in that Spartan facility fell in love with the H56, more so than with the time-tested Sony VPH-D50HTU CRT front projector in my permanent theater. Several guests expressed interest in buying an H56 for their own business or home use, and exclaimed about the "amazing picture quality from such a small projector."
Unscientific comments, to be sure. The H56 had a certain appeal that made it a crowd favorite, but I couldn't get a handle on it. Was it the compact size? The bright image? One thing was for certain—I had to take a closer look and find out for myself. So a third H56 and I followed our joint karma to my studio. This time, I was armed with a phalanx of equipment and video sources with which to test what the projector could do.
Out of the Box
The Optoma H56 is, in a world, simple. It's about the size of a small loaf of bread, and it has a minimum of connectors and controls. This compactness is due to the use of a single 1024x768 (XGA) digital micromirror device (DMD) with a six-segment color wheel.
The pixel resolution of this DMD tips you off right away that the H56 is adapted from a business projector. Is this a bad thing? Perhaps not, since DLP projectors using DMDs with a 4:3 aspect ratio typically sell for half the price of full-blown home-theater designs using 1280x720 16:9 chips.
Using a 4:3 projector means that any widescreen content you watch will be letterboxed. It also means that you're throwing away resolution—16:9 HDTV programs are mapped to 576 vertical pixels (for an overall resolution of 1024x576) in the active 16:9 area of the chip), while DVDs of 2.35:1 films use only 437 vertical pixels. There's also the question of just how dark the unused pixels in that 4:3 chip are when projecting a 16:9 image in the dark (see sidebar, "Is Letterboxing Okay for Home Theater?"). It helps that the DMD itself is one of Texas Instruments' new Double Data Rate (DDR) designs, capable of higher contrast and better black levels.
You don't get a lot of connections with the H56, but you get what you need. There's one composite input (RCA), the usual S-video jack, a 15-pin VGA connector, and a DVI-I jack. This type of DVI connector can accept both analog and digital input signals, provided you have the appropriate cable. Fortunately, Optoma provides a DVI-I–to–Y-Pb-Pr breakout cable with the H56, although this cable is only 6 feet long—a bit short for most installations. The connector complement is rounded out by an RS-232C jack for remote control, and a 12V trigger for an electrically powered screen.
There are two speaker grilles at the rear of the H56's top cover, but look closely—you'll find no speakers behind them, nor will you spot any audio-input jacks. The grilles are there because the H56 shares its chassis and covers with Optoma's lower-resolution H50 DLP projector, which does have onboard speakers. It's unlikely you'd want to use such tiny speakers if you install the H56 in a full home theater; apparently, Optoma agrees.
The supplied lens has a short zoom ratio of 1:1.2, and you can fill an 80-inch, 4:3 screen (100 inches diagonal) from about 16 feet away. The lens itself has a vertical image offset for above-the-projector viewing, which means you'll have to place the H56 on a low table for right-side-up front projection. (You can also mount it on the ceiling and invert the image.) The projector's internal fan is very quiet, which is nice considering the substantial (200W) UHP lamp that's being cooled off. Hot air is vented through the front grille to avoid cooking your audience.
Remote and Menus
The H56's remote control is a clever design that looks like a big dog biscuit. It's backlit (points awarded), it provides direct access to numerous menu functions (more points), and it even has a toggling aspect-ratio control, digital zoom, and digital keystone correction (lots of points). On the other hand, navigating the H56's menus is not so easy (points taken away), and an internal timer clears the menu after a few seconds (more points taken away).
There's quite a handful of image adjustments for such a simple projector. In addition to the big five—Contrast, Brightness, Saturation, Hue, Sharpness—there's also a five-step gamma selection (I used position 2 for my tests), and three predefined white-balance settings labeled merely "1," "2," and "3." On top of this are three Picture modes (Cinema, Normal, and Vivid) that are basically preset combinations of brightness, contrast, and gamma, plus two User settings. Optoma has also provided a White Peaking control, the effect of which was hard to see. I suspect it may have been added to boost contrast with VHS and other analog sources.
The H56 has several pixel-mapping modes. In the 4:3 menu, choose from Normal (fits all 4:3 images to the available pixels), Native (lower-resolution sources are mapped 1:1, leaving a black frame all around), and 16:9 (enlarges letterboxed video to fit the width of the frame). In 16:9 input mode, you can fill the width of the screen with anamorphic DVDs or blow up 16:9 letterboxed video to crop and fill the full 1024x768 pixels.
<!- ----------------------- Tech Center Ads ----------------------------->
<!- ---------------------336x280 ADS------------------------------->
<!- ---------------------FIXED AD------------------------------->
<!- ---------------------336x80 ADS------------------------------->
<!- --------------------Sponsored Link Ads-------------------------------->
<!- ------------------------Bottom Ads---------------------------->