New Speakers, 3D Glasses, Audio Connections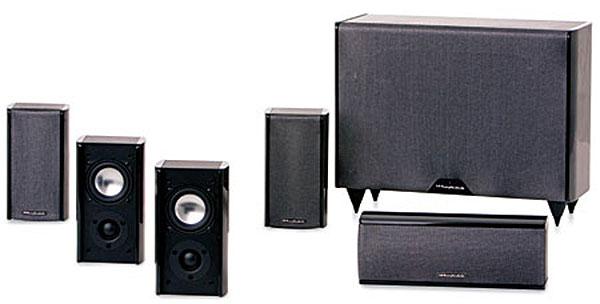 Upgrade and Downsize
I have a Yamaha RX-V663 AVR, Sony BDP-S350 Blu-ray player, Sony KDL-46W4100 TV, DirecTV HD DVR, and Apple TV. My current speaker setup (Yamaha boxed set) includes three in front, four surrounds, and one subwoofer. The subwoofer has died, so I figure this would be a good time to change out some speakers as well; in particular, I'd love to eliminate some speakers. My budget is around $400 or a bit higher.
Donald Cox
Replacing a 7.1 speaker system with a 5.1 system is the best way to reduce the number of speakers, and it still provides good surround sound. If you can stretch your budget to $600, I recommend the Wharfedale Achromatic WA-S1 speaker system, reviewed here at HomeTheater.com. This is the lowest-cost recommended speaker system in our Buyer's Guide, and I'm sure it would serve you well.
How Stupid Can the CE Industry Be?
Will one manufacturer's active-shutter 3D glasses work with another manufacturer's display? For example, will Panasonic's glasses work with a Samsung 3D TV? And how does the source device—e.g., a 3D Blu-ray player—figure into the equation? Does the source device produce the alternating images that are simply reproduced by a dumb display, or does the display have a role in the 3D image processing?
Carl Slagle
Sadly, each manufacturer's active-shutter glasses are incompatible with other manufacturers' TVs, so in your example, Panasonic's glasses will not work with a Samsung 3D TV. This monumentally stupid situation is one reason that 3D TVs are not selling as well as many had hoped. The Consumer Electronics Association is working on a universal standard for active-glasses synchronization, and several companies, such as Xpand and Monster, offer universal glasses, but they can't take into account the slightly different color-correction factors required by different 3D TVs.
The source device (3D Blu-ray player, 3D TV receiver) does not produce alternating images that are simply reproduced by a dumb display. Instead, these devices encode the 3D information in one of several standard ways and send that info to the display via HDMI. The display must be able to decode the signal into the left and right images, and virtually all 3D displays can handle all the standard 3D codecs.
If That's What You Really Want
I got a new Sony STR-DH810 A/V receiver, which supports the audio return channel over HDMI 1.4. However, my KDL-52XBR6 TV only supports HDMI 1.3, so there's no audio return channel from it. If I don't want to have to use my AVR every time I watch TV, what is the best option for connecting the audio? Up to now I've used separate HDMI connections from the cable box and Blu-ray player to the TV with analog L/R audio from the TV to my old stereo. My cable box, Blu-ray player, and TV all have optical audio out.
David Shorrosh
Many people don't want to have to use the AVR every time they watch TV, but I'm not one of them. The sound from just about any TV's internal speakers is so poor, I'd rather fire up the AVR every time, and a good universal remote like one of the Logitech Harmony models makes this easy.
But if you really want the option of watching TV without the AVR, I'd connect the source devices to the TV via HDMI and the TV's optical digital-audio output to the AVR. You won't hear the full benefit of any advanced codecs like DTS-HD Master Audio and Dolby TrueHD when you do engage the AVR, and the TV's optical output is probably at a fixed level, which means the TV's remote won't control the volume; you'll have to do that from the AVR.
If you have a home-theater question, please send it to scott.wilkinson@sorc.com.
<!- ----------------------- Tech Center Ads ----------------------------->
<!- ---------------------336x280 ADS------------------------------->
<!- ---------------------FIXED AD------------------------------->
<!- ---------------------336x80 ADS------------------------------->
<!- --------------------Sponsored Link Ads-------------------------------->
<!- ------------------------Bottom Ads---------------------------->