New, Cheaper Blu-ray Player Leads Sony's Charge Into 2007
With the 2007 CES barely a memory, it seems far too soon for a 2007 line show from a major manufacturer. But Sony opened its annual product showcase for the press today at the Paris Hotel in Las Vegas.


There was plenty of news. For starters, there is a new member of the Sony Blu-ray Disc player family. Priced at $600, the BDP-S300 is likely to shake up the high definition disc player market when it arrives this summer. It offers a Blu-ray output up to 1080/60p or 1080p/24p, plus upconversion of standard DVDs to 1080p via HDMI. It is ready for x.v. Color (Sony's branding for the new xvYCC color space) from compatibly recorded discs. It will also pass multichannel linear PCM, Dolby Digital Plus, and (according to a Sony rep but not listed on the product's display card) DTS-HD Master Audio lossless in multichannel PCM form via the player's HDMI output. No claim, as yet, for Dolby TrueHD compatibility. The BDP-S300 will also play back CDs, MP3s, and JPEG images stored on DVD-recordable discs.



In other Blu-ray news, Sony's VGX-XL3 Digital Living System ($3,300, April) is a full-function computer with the form factor of a large disc player. It includes, among other features, a Blu-ray read/write drive, a CableCARD-enabled TV tuner with high-definition cable support, HDMI output, a wireless keyboard, and 2x250GB hard drives. The hard drive capacity may be supplemented by external hard drives, either from Sony or a third-party, providing almost unlimited room for music, photos, movies, TV shows (including high-definition) and personal videos.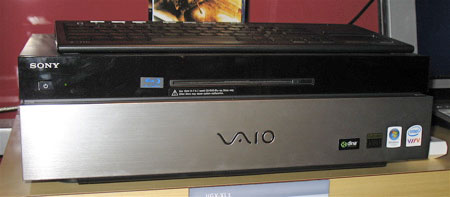 Sony also showed off its upcoming BRAVIA Internet Video Link, a concept for delivering both standard and high-definition programming over the Internet. Later this year the company will market an add-on module designed to fit on the back of seven of Sony's newest TVs, enabling them to receive audio/video content directly from the Internet (via a broadband Ethernet connection) without the need for a computer. The programming, including both high-def and standard def, will be made available by Sony Pictures Entertainment and its partners in the project, AOL, Yahoo!, Grouper, and Sony BMG Music.


I saw this concept demonstrated in January at CES and was underwhelmed. I remain so. Viewed on even a small, 37" television, samples of the system's "high-definition" content looked inferior in quality to what I would expect from an average standard definition DVD, much less high-definition. The audio from the system will also be limited to two-channel stereo. I'm not at all tingly about this. Technology moves fast, of course, and the early pre-production demonstrations may not fully represent the production capabilities of the system. But the hardware for the user side must be very close to final production, since a July launch and $300 price for the module were announced at the show.


Sony's entire range of televisions (as well as its new home theater-in-a-box systems) will now sport the name BRAVIA, a designation previously used only for the company's flat panel designs. The huge success of the latter products, and the resulting wide recognition of the BRAVIA name, prompted the Braviazation of all Sony televisions.


The big news at the show in Sony TVs was the introduction of a new line of three LCD BRAVIA microdisplay RPTVs. There are three sets in this group, with two of them (46" and 50" models in the E3000 series) offering a resolution of 1920x1080, which Sony refers to as FullHD. Only a smaller 37" model is limited to a lower resolution (1266x720). All three of these LCD models have Sony's Advanced (dynamic) Iris, which now appears to be standard in all Sony microdisplay designs. The sets are also very shallow—a maximum of 12.6" in the 50-inch KDF-50E3000.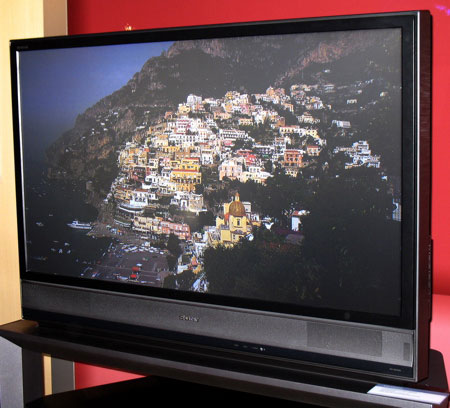 (LCD microdisplays are now widely referred to as 3LCD designs—the current vernacular for an LCD microdisplay that uses three imaging chips. Of course, LCD microdisplays always used three chips, one for each primary color, but marketers from a number of companies, wanting to distinguish their LCD designs from single-chip DLPs, coined the 3LCD moniker.)

Sony was also showing off its new standard line of BRAVIA SXRD televisions, the 2020 series. All offer full 1920x1080p resolution with 1080/60p/24p input capability.


Also announced were two new 1280x720 LCD front projectors. The BRAVIA VPL-AW15 will be available in June at $1,500. Like the current Cineza VPL-HS60, which it replaces, it incorporates an automatic iris. It looked excellent in a side-by-side demo with that earlier Cineza on a relatively small screen (82" diagonal, 16:9 Stewart Studiotek 130). Its 1100 Lumen rating is 300 Lumens higher than the older model, and the difference was quite obvious. It will also accept a 1080p/24 source, and offers a specified dynamic contrast ratio of 12,000:1 (Advanced 2 Iris enabled).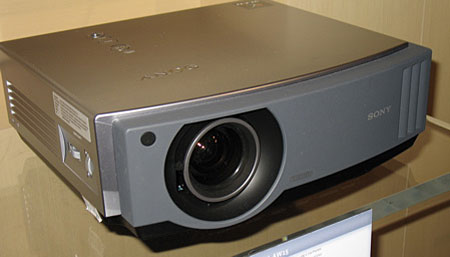 The second model, the BRAVIA VPL-AW10, does not yet have a price, but it will be under $1,500. It will not, however, have an auto iris. According to the Sony rep, both of these new projectors will have HDMI 1.3 inputs. (The Sony reps were, in general, unwilling to be specific about the HDMI ratings in the new gear, arguing that they want to avoid consumer confusion. This particular rep apparently didn't get the memo.)


The star of the show, also shown at CES, was Sony's BRAVIA KDL-70XBR3, 70" flat panel LCD. It can be yours for just $33,000. It's shipping now, and in fact several have already been sold. One customer reportedly bought two!
<!- ----------------------- Tech Center Ads ----------------------------->
<!- ---------------------336x280 ADS------------------------------->
<!- ---------------------FIXED AD------------------------------->
<!- ---------------------336x80 ADS------------------------------->
<!- --------------------Sponsored Link Ads-------------------------------->
<!- ------------------------Bottom Ads---------------------------->