Let's Put On a Show!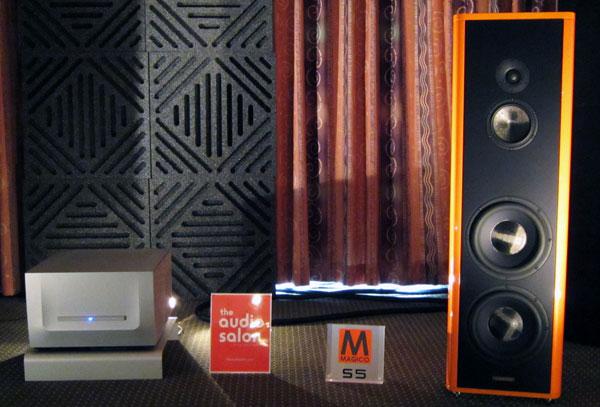 The weekend before last, I drove to Newport Beach, CA, for the second iteration of The Home Entertainment (T.H.E. Show), Newport Beach, or THESNB. (Just kidding on the latter, though the full name is a bit cumbersome.) Last year's installment was fun but a little thin on exhibitors. This year, the show was so much bigger that it had to spread out from the main venue of the Hilton Hotel to the Atrium Hotel next door. If I had known it was going to be so big, I would have arranged to spend two days there instead of simply making it a day trip.
This won't be an extensive show report. For that I direct you to the report on Stereophile.com. It wasn't possible to visit every room and spend quality time in each of them over the course of a single day, so I bypassed (or passed quickly through) rooms with gear that I was intimately familiar with from other shows or from companies so obscure it's unlikely they'll have much impact. The next big thing in audio could come from one of those obscure companies, but experience suggests it will not.
The Newport Beach conclave is one of those determinedly 2-channel shows that have been springing up all over the map following the recent success of the Rocky Mountain Audio Fest held in Denver every October for the past several years. But Newport Beach could turn out to be the king of them all, considering the fact that it takes place in a massive population center extending from Los Angeles to San Diego, with a relatively high average household income (even in our current dicey economy).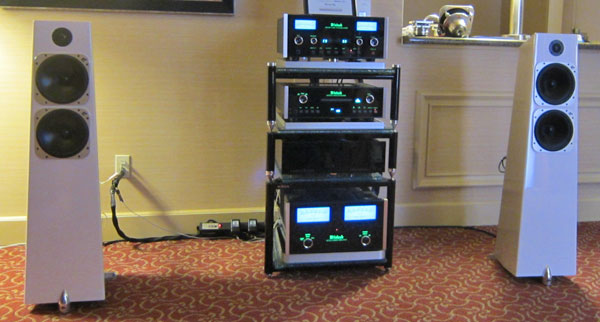 Before I get to the heart of this blog (about the absence of home theater at hi-fi shows), a few words about rooms that impressed me at Newport Beach. Totem had a moderately big room, and its big—but not too big—and expensive flagship floor-standing speakers were pumping out some tight, impressive bass.
AudioQuest's new Dragonfly DAC ($250), about the size of a large flash drive, can output an analog 2-channel signal directly from the USB output of a computer, and it was making some very nice sounds through a system unfamiliar to me.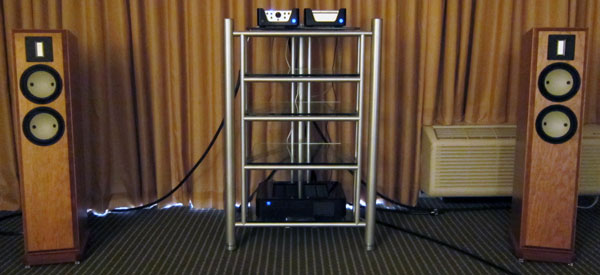 Internet-direct company Wyred4Sound had a small but moderately powerful integrated amp ($1500) with a built-in DAC, plus a music server ($2000) controlled by the user's iPad. The speakers in the Wyred4Sound room were Symphonia 72Rs from Clearwave Loudspeaker Design ($7200). They also appear to be available direct from Clearwave's website, and they sounded very promising. They were also beautifully finished and employed the sort of drivers normally found in speakers selling for more than $30,000/pair (two 6.5-inch Accuton woofers in a 2.5-way configuration, together with a RAAL ribbon tweeter).
The Emotiva 6.2s, driven by Emotiva electronics both current (amps) and new (preamp and CD player), sounded great on familiar program material, apart from a slight bass boominess that could easily have been due to the small-hotel-room effect. Emotiva gear is also sold direct online at very attractive prices.
Moving on to more nosebleed price levels, the Magico Q3s ($39,000/pair) were being driven by $130,000/pair, Swiss-made, Soulution monoblock amps and Synergistic cables. You don't want to know about the tweaks employed in this room (cables raised off the floor were the least of them), but there's no denying that the sound was outstanding.
Magico's more budget-conscious (i.e., slightly under $30,000!) S5, seen in the photo at the top of this blog, was on display in another room, driven by a 2-channel Constellation Audio amp. This system sounded superb as well, though slightly less refined than what I heard from the Q3s (with different program material).
Magnepan showed its MM2 mid-tweeter panel speaker ($2000/pair) designed to be mounted on the room's sidewalls. They sit flush when not in use and are motorized outward when the listening begins. They require woofer panels ($800 each), which are designed to be mounted separately from the MM2s. Because of the wide spacing between the walls, Magnepan set up a center speaker to fill the hole in the middle. The center signal was derived from Dolby Pro Logic processing, but this was a music-only setup, not home theater. The sound was excellent—well balanced and easy to like.
Heed Electronics, from Hungary, makes both electronics and speakers. I was intrigued by its Enigma multidirectional speaker ($3500/pair), a two-way system with the drivers mounted on the cabinet's top surface, slanted toward the listener by about 30 degrees. When I remarked that they bore more than a passing resemblance in looks and sound to some designs from Shahinian Acoustics, the rep replied that the company's founder was once the Hungarian distributor for Shahinian. (One of Heed's electronics series is called the Obelisk line—google Shahinian Acoustics if this reference doesn't ring a bell). While I could pick some nits with the Enigma's spectral balance (such a speaker design is more dependent than usual on the room), the spatial characteristics of the sound were special enough to get me humming "where have all the omnis gone? Gone to MBL every one?"
There were only two video screens at the show (and thus two surround setups)—a small system with a flat panel and RSL speakers in a regular hotel room and a big McIntosh system in a ballroom-sized space, using a Wolf Cinema projector on what appeared to be a screen at least 15 feet wide. The electronics and speakers were all McIntosh, of course. I was unfamiliar with the material they were playing when I visited&$151;an Adele concert from London's Albert Hall, a great barn of a space. The vocals were edgy and bright, nearly to the point of making me run away screaming, but I suspect the room and the excessive volume levels had more to do with this than the basic quality of the system.
Which brings me to my main topic. I didn't expect to see or hear much home theater at this show, an expectation that was definitely fulfilled. In fact, you could attend every hi-fi show in the US this year—CES, Axpona, T.H.E. Show in New York, T.H.E. Show in Newport Beach, The Capitol Show in Washington, D.C., the California Show in San Francisco, and the Rocky Mountain Audio Fest in Denver (they're multiplying like rabbits!)—and not find, in total, more than half a dozen attempts to set up and demonstrate home theater. The only exception is CEDIA. Why?
For starters, home theater has always appeared to turn off traditional audiophiles. I know many such folks who also enjoy home theater—including all of them who write for our print magazine—but the pleasures to be gained by watching and listening at the same time have been a hard sell overall.
Perhaps even more importantly, most home-theater demos seem willfully designed to alienate 2-channel audio fans, featuring as they often do explosive effects and general mayhem with the volume turned up to 11. I appreciate dynamics as much as anyone, but I also appreciate other qualities of a good soundtrack, in particular a well-crafted music score. There's a place for blowing up things real good, but movies are also loaded with low- and mid-level atmospheric sounds, both ambient and musical. There are also more than a few good concert videos. And with today's Dolby TrueHD and DTS-HD Master Audio, there's no longer the excuse that plain-vanilla Dolby Digital is just too brittle and harsh. If that's what you hear these days, blame the recording or the system, not the audio format.
But I think the main reason home theater fails at audio shows is that it's difficult if not impossible to set up a home-theater demonstration in the average hotel room. The space is just too small, and the larger rooms are expensive. But until we see at least half a dozen home-theater demos among the 50-100 demos at the typical audio show, or some enterprising entrepreneur starts a home-theater-only show, the home-theater fan will remain woefully underserved at these events.
<!- ----------------------- Tech Center Ads ----------------------------->

SPONSORED TECH CENTER
<!- ---------------------336x280 ADS------------------------------->
<!- ---------------------FIXED AD------------------------------->
<!- ---------------------336x80 ADS------------------------------->
<!- --------------------Sponsored Link Ads-------------------------------->
<!- ------------------------Bottom Ads---------------------------->