Latest Software Reviews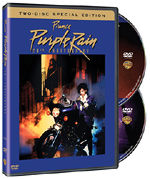 DVD: Purple Rain 20th-Anniversary Edition—Warner Brothers
Video: 4
Audio: 4
Extras: 4
The artist currently (and formerly) known as Prince experienced quite the career resurrection in 2004. The year began with his induction into the Rock and Roll Hall of Fame, and he followed that up with his biggest album and tour in ages. With the purple one's place atop the pop world once again secure, Warner Brothers has found the perfect time to release the 20th-anniversary, special-edition DVD of
Purple Rain
.
Although Prince had already scored a number of hits, it was the release of Purple Rain in 1984 that elevated him to the status of rock-and-roll royalty. Although he'd never acted—in fact, most fans had never even heard him speak—Prince effectively portrays, well, Prince (aka The Kid) in the semi-autobiographical film. In fact, just about everyone in Purple Rain plays themselves, and that only adds to the fun. Morris Day and his valet Jerome almost steal the movie, but nothing could overshadow the amazing musical sequences that make Purple Rain a truly landmark rock film.
If you happen to own the original 1.33:1 DVD release for Purple Rain, you might as well toss it into Lake Minnetonka, as the new two-disc special edition finally gives the film the DVD presentation it deserves. It contains a gorgeous 1.85:1 anamorphic transfer and fantastic Dolby Digital 5.1 soundtrack, and the bonus features alone are worth the purchase price. There are three featurettes with all-new interviews, all the videos (including those from The Time and Apollonia), and even the original footage from the MTV premiere party. Prince is noticeably absent from the full-length commentary track, but you won't really miss him; one listen to "The Beautiful Ones" tells you all you need to know.—Gary Maxwell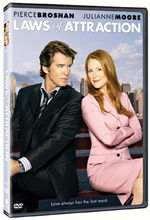 DVD: Laws of Attraction—New Line
Video: 3
Audio: 3
Extras: 2
Starring Pierce Brosnan and Julianne Moore, Laws of Attraction is a breezy comedy that recalls the classic onscreen pairings perfected by Hollywood in the '50s and '60s. The story follows two ambitious divorce attorneys who become entangled while representing opposing sides of a case. When their work takes them to a gothic-style castle in Ireland that's contested in the divorce, they can't help but fall for their surroundings and each other.
Bustling New York cityscapes give way to sweeping green vistas on the DVD, which features a pleasing palette of natural-looking colors and includes both 1.33:1 and 2.35:1 anamorphic versions of the film. Although the sharp picture is good overall, highlights tend to lose detail in many scenes.
In typical romantic-comedy fashion, the Dolby Digital 5.1 audio consists mainly of quick-witted exchanges and a few musical interludes. However, while the surrounds sleep, the three front channels provide easy-to-understand dialogue complemented by a nuanced score.
The disc's supplemental package is decidedly slight, offering no commentary track and no production featurette. In fact, save the requisite theatrical trailers, the only extra is a series of deleted scenes, which includes an alternate ending that, frankly, should have been left on the cutting-room floor.—Christy Grosz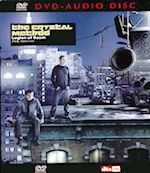 DVD-Audio: The Crystal Method—Legion of Boom (DTS)
The Crystal Method's music isn't exactly the stuff high-resolution audio demos are made of, but it certainly provides excellent fodder for a surround sound demo. Perhaps that's why DTS choose not to include a single 24/96 track on the new Legion of Boom DVD-Audio. Both the 5.1-channel DVD-Audio and 6.1-channel DTS ES soundtracks are 24-bit/48-kilohertz, while the PCM stereo track is 16/48. No matter. The audio quality is good, but DTS is banking on the surround mix to draw people in.
It's a good bet, as the surround mixes will bring your system to life. The Crystal Method's music is all about experimentation—this time around, it's a creative blend of techno, rap, dance, and straightforward rock—which frees 6.1 mixer Fred Maher from the preconceived notions of where instruments should be in the soundfield. As DJs Ken Jordan and Scott Kirkland play with the music, he plays with the mix in a way that enhances and envelops without being distracting.
In keeping with the surround theme, the DVD-Audio's extras are all in DTS ES, including 16:9 versions of the original and director's cuts of the "Born Too Slow" video, directed by Gore Verbinski (The Pirates of the Caribbean, The Ring). There's also a run-of-the-mill 11-minute making-of featurette, a photo gallery, a bio, and an interesting breakdown of the "True Grit" mix: You can listen to drums only, drums, and bass, everything but the vocals, and the final mix. It gives you a glimpse of how the duo work their mixing mojo.—Adrienne Maxwell
<!- ----------------------- Tech Center Ads ----------------------------->

SPONSORED TECH CENTER
<!- ---------------------336x280 ADS------------------------------->
<!- ---------------------FIXED AD------------------------------->
<!- ---------------------336x80 ADS------------------------------->
<!- --------------------Sponsored Link Ads-------------------------------->
<!- ------------------------Bottom Ads---------------------------->