Latest Software Reviews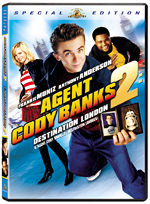 DVD: Agent Cody Banks 2: Destination London—MGM/UA
Audio: 4
Video: 4
Extras: 2
If your kids are fans of the first
Cody Banks
movie, do yourselves a favor and just keep popping that puppy into the player. Steer clear of this strained and largely humorless sequel. What's the problem?
Cody 2
has too much "spy" and not enough "kids." CIA operative Banks, now 16, is acting like a grown-up secret agent, which robs this film of the charm that Frankie Muniz displayed while learning the ropes in the first movie. There's zero chemistry between him and his female counterpart/love interest, Hannah Spearritt; and all the dads out there would probably agree that we'd rather watch statuesque Angie Harmon play Banks' "handler" than pudgy Anthony Anderson (even though Anderson tries to be funnier).
At least the DVD is well put together technically. The two-sided disc offers a choice of 2.35:1 anamorphic or 1.33:1 transfers, and picture quality is excellent in both, with sharp detail and vivid coloration. The Dolby Digital 5.1 soundtrack is equally clean and crisp, and makes good use of every speaker.
The extras package is pretty kid-friendly, with a lightweight making-of documentary, deleted and extended scenes, photo gallery, and an interactive quiz track. Our favorite thing about the disc: The typical audio-only commentary has been replaced by a "visual cast commentary" track in which Muniz, Anderson, and Spearritt pop into frame occasionally to share behind-the-scenes stories and info.—Drew Hardin
DVD: Cocoon and Cocoon: The Return—20th Century Fox
Cocoon
Video: 2
Audio: 2
Extras: 2

Cocoon: The Return
Video: 3
Audio: 3
Extras: 1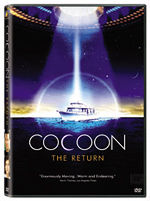 There's a funny moment in Say Anything when John Cusack's Lloyd Dobler introduces a movie to the residents of a retirement home. The video is Cocoon, but lest you think this film is just for "mature adults," be assured it's a crowd-pleaser for all ages. It's also welcome viewing some 19 years later, and aside from a chuckle about whatever became of Steve Guttenberg, holds up extremely well.
Several notches below is Cocoon: The Return, the unnecessary but painless sequel that brings the geriatric space travelers back to earth on a rescue mission.
Rightly, most of Fox's attention was lavished on the first film, even if the extras are a mixed bag. Three short, vintage documentaries are pure promotional fluff, as the narrator gushes about Ron Howard's "new" film. But there is a new commentary by the director, who always has interesting things to say, and is happy to recount the joy of shooting with such veterans as Hume Cronyn, Jessica Tandy, and Don Ameche. The sequel is devoid of extras except for the original trailers.
Picture quality on the original is a bit soft but adequate, with both 1.33:1 and 1.85:1 anamorphic widescreen presentations. The unusual Dolby Digital 4.1 soundtrack isn't bad and has its moments during some of the effects sequences. The Return is slightly better on both counts, owing to a cleaner print and a full-on, bass-rich 5.1-channel track.
If you have fond memories of the original, you'll want to add it to your DVD collection. You can give or take the sequel. —Gary Frisch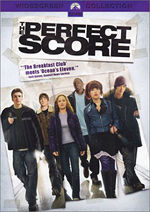 DVD: The Perfect Score—Paramount
Video: 4
Audio: 4
Extras: 4
Hoping to score high on college-entrance exams, a group of high school students from wildly diverse backgrounds join forces to steal the answers in The Perfect Score. With a nod toward the '80s heyday of director John Hughes, the film, which stars teen ingénues Scarlett Johansson and Erika Christensen, offers a glimpse into the angst of teenage life as well as the increasing pressure to succeed that young students face.
The DVD's 1.85:1 anamorphic picture, which features a palette of natural-looking colors, has good detail even in the most complicated scenes. While the Dolby Digital 5.1 audio doesn't get much action in the way of effects, it scores high on the film's snappy dialogue and varied music.
As for the extras, feature-length commentary from director Brian Robbins and screenwriter Mark Schwahn provides a comprehensive look into the production, and the disc includes the requisite original theatrical trailer. The highlight of the supplemental material, however, is the extremely thorough making-of featurette, which includes plenty of insight from cast and crew, outlining everything from script to casting to shooting.
Though the film ultimately plays more drama than comedy—devolving into an ABC After School Special–style conclusion—it's worth watching to remember what that adolescent moodiness is all about.—Christy Grosz
<!- ----------------------- Tech Center Ads ----------------------------->
<!- ---------------------336x280 ADS------------------------------->
<!- ---------------------FIXED AD------------------------------->
<!- ---------------------336x80 ADS------------------------------->
<!- --------------------Sponsored Link Ads-------------------------------->
<!- ------------------------Bottom Ads---------------------------->