Steep—Sony Picture Classics (Blu-ray)
Video: 3/5
Audio: 3.5/5
Extras: 2.5/5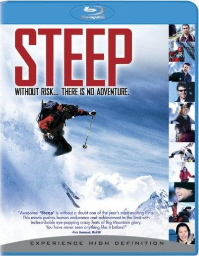 I always enjoy a good extreme sports documentary. Whether it is big wave surfing, skating or base jumping, I'm always blown away with the level these guys take it to. Steep looks at the extreme skiing side of things including big mountain skiing. These are the guys that are climbing peaks that most would look at in fear only to ski down what looks like a near impossible run. You see quite a few variations on the sport including "Heli-skiing", which requires the use of a helicopter to get to impossible peaks. Crazy is an understatement for some of these guys, but you have to admit it's pretty cool to see what some people are brave enough to do. The documentary is excellent and covers the history of the sport and where it is going. The photography is gorgeous and a mix of new high definition footage and archived film.
This is a hard one to judge for video quality. All of the interviews are shot with HD cameras and most of the recent footage was shot in HD as well. Of course this footage looks great, though it has that smooth look of video that we've become accustomed to with Discovery Channel specials. The older material varies a lot with some footage sourced from older hand cameras or cheap film stock. You can tell they tried their best to make the most of what they had to work with and it actually stands up pretty well for the most part. I did notice some light banding from time to time but not nearly as much as I would expect given the footage. Film grain can also be a bit excessive at times, but this is mainly an issue with the archive footage. Considering how many sources they used for video on this, the Blu-ray transfer holds up really well.
The audio is presented in Dolby TrueHD 5.1 and does a great job of lending to the atmosphere. Most documentaries do a great job of getting you involved with the storyline and the score here adds to the excitement of the footage and the sense of dread and tension. Dialogue can be slightly forward at times, but I didn't notice any strain. Dynamics are better than I expected for the genre. There are some nice low bass touches here and there and the surround use is more than expected.
Extras include a feature commentary with the director and a few high profile skiers. There is also a pair of photo montages and an interview with the late Doug Coombs. Some trailers are also included before the film.
Anyone that appreciates the extreme side of sports will eat this one up. I've seen a lot of crazy footage for skiing before but I had no idea things had gone to this level of extreme. The HD presentation adds to the gorgeous backdrops and make it just that much more intense. Recommended.
<!- ----------------------- Tech Center Ads ----------------------------->

SPONSORED TECH CENTER
<!- ---------------------336x280 ADS------------------------------->
<!- ---------------------FIXED AD------------------------------->
<!- ---------------------336x80 ADS------------------------------->
<!- --------------------Sponsored Link Ads-------------------------------->
<!- ------------------------Bottom Ads---------------------------->