Installations: Step Right Up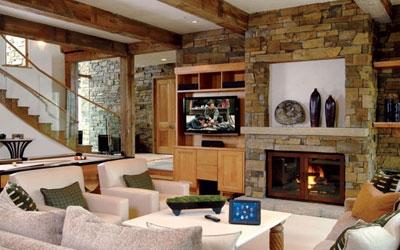 Much of my work as owner of Experience AV in Montrose, Colorado, is in the strange world of spec homes - and in this market, a developer with a little foresight is the best friend a custom installer can have. Here in the beautiful San Juan Mountains of southwest Colorado, it's not uncommon for a developer to build a $4- to $10-million-dollar home on nothing more than the hope that someone will buy it. To most of us, that would seem insane, since 4 million bucks would satisfy all of our audio, video, and home theater cravings and leave us financially set for life.
Recently, I finished an installation in a spec home in Telluride built by developer Scott Brown of SSB Mountain Ventures in Houston, Texas. Scott has a reputation for U.S.-based builder/owners of Casa Fortuna decided to outfit their south-of-the-border hacienda with a custom-installed audio/video system. Another is that Casa Fortuna is the keystone in a new seaside development, in U.S.-based builder/owners of Casa Fortuna decided to a Sounds perfect, right? But you can listen to the surf and Texas. Scott has a reputation for making very livable houses, as opposed to the many homes in this area that are built strictly as trophy photos for office walls. Although he wanted to maximize his investment by keeping costs in line, he also wanted to make sure he got everything right. Part of his plan was to find a "forward-thinking" A/V company - which he felt he'd found when he contacted us at Experience AV.
The Telluride home includes a full phone/data/TV structured-cable package, alarm and lighting-control systems, Wi-Fi distribution, and speaker and audio-zone control wiring, with several of the rooms finished with speakers and controllers. There are "creative" wire paths to accommodate retrofit audio-jack locations. And the multiple locations for TV placement within a room give an interior designer plenty of flexibility.
Anticipating the desire to send high-def video around the house, we installed two RG-6 coax and two Cat5e cables in every room. We also installed a separate rack in the audio closet in case the homeowner wants to add remote video sources or a video server system. Using Control 4's modular control system, we installed six zones of audio, basic shade control, and lighting control in the common areas to show the capabilities of a full control system without totally automating the house at the developer's expense.
It took quite a bit of planning to create a system that can easily be expanded to address the future homeowner's changing needs. Of course, it would be nice to have a crystal ball to predict the future of home entertainment. Now that so many products are computer-based, new technology is emerging at a frantic pace. It seems like computers are obsolete the week after you buy them, and it's becoming the same with A/V gear.
Frequently changing product specifications and continually evolving wire types, such as HDMI, have made it that much more important to prepare for new technology. It might seem like overkill to run a conduit from your gear rack to your projector, but what are you going to do when HDMI is replaced with the inevitable next-generation connection? Wouldn't it be great to be able to add whatever you need without tearing out a chunk of wall (or ceiling)? Our average price for adding this kind of conduit to a new-construction theater is about $65. That's less than what you'd have to pay a drywall guy just to cut the holes if you later decided to run a new cable.
<!- ----------------------- Tech Center Ads ----------------------------->
<!- ---------------------336x280 ADS------------------------------->
<!- ---------------------FIXED AD------------------------------->
<!- ---------------------336x80 ADS------------------------------->
<!- --------------------Sponsored Link Ads-------------------------------->
<!- ------------------------Bottom Ads---------------------------->