Heroes Season One and Two—Universal (Blu-ray)
Video: 4/5
Audio: 4/5
Extras: 4.5/5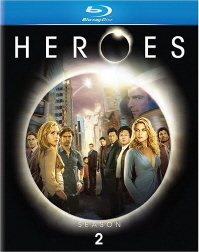 Experience the suspense, mystery, and electrifying twists as this astonishing series follows seemingly unconnected, ordinary people around the globe who discover they have extraordinary powers. As they come to terms with their unique abilities, their risky decisions will affect the futures of everyone around them …and the world.
With Hollywood embracing the comic book culture with open arms and massive budgets it was only a matter of time before we started to see it leak into the TV realm. Superheroes are nothing new to TV, I grew up with The Incredible Hulk and Spiderman but NBC's juggernaut Heroes is a completely different type of show. Rather than focusing on a single character Heroes takes on the notion that people are evolving into the next step of evolution and more and more people are finding they have abilities that make them super human. This is reminiscent of the X-Men themes but this rag tag group isn't nearly as organized.
Universal had previously released the first season of this show on HD DVD but for its Blu-ray bow we get both seasons. The second season was cut short due to the writer's strike so it is half the length of the first season. The first season fleshes out the characters while back building an apocalyptic tale of a deadly blast in New York. The second season focuses more on The Company and their development of a deadly virus along with the introduction of some new characters and their side stories.
The show took some time to grab my interest but ultimately it started winning me over. With so many characters to cover it takes some time before we get to the real meat of the story but eventually the pace picks up considerably. Fans of the comic genre and sci-fi adventure should really give these a chance if you haven't already. They have production values that are far better than most TV shows and the stories get better and better.
Heroes is shot in HD and the material does translate quite well to the Blu-ray format. The image has a bit of a gritty look that is obviously intentional and not quite as polished as some other HD television shows I've seen. Contrast levels are a bit exaggerated and lend to the depth of the image and nice dimensionality. Colors are a bit bold but not overly blown out like so many shows I've seen. Whites can bit a tad blown out at times but it does add to the stylized look of the show. Compression artifacts are never an issue throughout both seasons and I was glad to see that banding was kept to a minimum. While I wouldn't say this is the best looking television show on the format, it is leaps and bounds above the HD broadcasts that I've seen on NBC.
Universal has gone all out with the soundtracks for these shows and offers full 5.1 DTS-HD Master Audio support. You have to love the bandwidth and space Blu-ray provide that allows for this type of treatment. Since these shows revolve around superheroes and have plenty of action, they definitely benefit from the lossless audio tracks. Dynamics are quite good for a TV show and there is some nice low end response from time to time. The surround soundstage isn't quite as compelling or engaging as a big budget Hollywood production but you get more than your average TV action series. The soundtrack does a great job of balancing the action in the soundstage with nice imaging across the main channels. Dialogue is a big part of this series and the tone and timbre of the mix is terrific with only a few moments of strain noticed. This easily ranks up there as one of the best TV shows I've heard yet.
To say these releases are loaded with extras would be an understatement. Universal may have been a bit late to the Blu-ray game but they've nearly surpassed everyone in terms of making the most of what the format has to offer. Both seasons get full "U-Control" support with picture-in-picture features that include interviews, on the set footage and more. You can also home in on your favorite character and find where they are throughout the time line. Both seasons are also BD-Live ready and Universal plans on launching their BD-Live site soon. On top of the interactivity, both seasons are loaded with production features that cover the special effects, stunts, production design and more. There are tons of deleted scenes and even some character bios.
Universal has delivered the mother load with these releases. The A/V presentation is excellent and there are enough supplements to appease the most die-hard fan. Universal has definitely set the bar on how to release a TV series with these two seasons. Highly recommended!!
<!- ----------------------- Tech Center Ads ----------------------------->
<!- ---------------------336x280 ADS------------------------------->
<!- ---------------------FIXED AD------------------------------->
<!- ---------------------336x80 ADS------------------------------->
<!- --------------------Sponsored Link Ads-------------------------------->
<!- ------------------------Bottom Ads---------------------------->