Finding Nemo: Collector's Edition
Voices of Albert Brooks, Ellen DeGeneres, Alexander Gould, Willem Dafoe, Geoffrey Rush, Barry Humphries, Austin Pendleton, John Ratzenberger. Directed by Andrew Stanton. Aspect ratio: 1.78:1 (anamorphic), 4:3. Dolby Digital 5.1 Surround EX (English, French, Spanish), THX. Two discs. 100 minutes. 2003. Buena Vista Home Entertainment 3007803. G. $29.99.


Picture ****


Sound ****


Film ****


In Finding Nemo, clownfish Marlin desperately tries to find his only child, Nemo, who has been captured and deposited in the fish tank of a dentist in Sydney, Australia. As unlikely as that sounds as the plot of the latest computer-animated film from Pixar and Disney, you'll have no trouble finding Nemo in your nearest video store on its November 1 release date. In fact, you might want to get in line early. It was the biggest hit of the year through Labor Day, and the highest-earning animated film of all time. No film released this year is likely to be more fun, or more gorgeous to look at.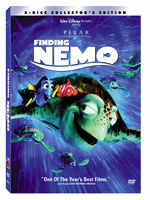 The story couldn't be simpler. Marlin is Nemo's overprotective single parent. The film's opening scenes clearly show why, and while this introduction might disturb sensitive young children, if they can handle Bambi, they can handle this. When Nemo is caught, Marlin begins a panicked but increasingly heroic journey in which he meets "friendly" sharks, a school of fish with a peculiar talent, surfer-dude turtles, a whale, helpful pelicans, and Dory, a friendly bluefish with a short-term memory problem. Dory's absentmindedness runs in her family—at least, she thinks it does.


As voiced by Ellen DeGeneres, Dory, who accompanies Marlin on his odyssey, is the spark that makes Finding Nemo's story soar. But that doesn't diminish the work of the other voiceover artists (including Albert Brooks as Marlin), who continue Pixar's tradition of the perfect voice for every part.


Finding Nemo is so entertaining that you might not even notice the subtleties of its animation the first time through. You'll certainly see the vivid colors and striking 3-dimensionality. But look closer at the textures and shading, the lighting, the reflections, and the other incredible details, some of which you still might not be conscious of until you listen to the hilarious and informative "visual" commentary track (with interruptions explaining specific aspects of the film's creation). Animating underwater scenes was a stiff challenge, but in reaching and even exceeding their goals, the Pixar team has again raised the bar for everyone else doing feature-length computer animation.


With two exceptions, the contents of this 2-disc DVD are divided into adult-friendly (disc 1) and kid-friendly (disc 2) versions. Disc 2 contains a reformatted, full-frame version of the film (Disney apparently feels that kids will object to letterbox bars—which we find unlikely), plus extra features that are heavily game-oriented. Even the original short film Exploring the Reef with Jean-Michel Cousteau, while fun, is more jokey than informative. The two features on disc 2 that adults will want to see are a hilarious trailer for Pixar's next (late 2004) feature, The Incredibles, and the animated short Knick Knack, an early Pixar effort that was shown with Finding Nemo in its theatrical run. The commentary track accompanying this DVD version of Knick Knack has much to say about the early days of computer animation.


Disc 1 has the widescreen version of Nemo, the feature commentary track, deleted scenes (not fully animated), a making-of documentary (less cutesy than the kids' version on disc 2), and more. That "more," on both discs, includes several "virtual aquarium" scenes designed to be left on your video screen for an extended period. A neat idea, except that whoever thought of them has apparently never heard of screen burn-in. While there is some movement in all of these scenes, most of them have enough stationary detail to raise burn-in concerns for owners of CRT or plasma displays. Unless you own a DLP or LCD display—in which case you can leave these scenes on all day if you want to—I wouldn't keep them onscreen for more than a few minutes.


The image quality of Finding Nemo is incredible: super-sharp, with vivid colors and superb 3-dimensionality. Some of the underwater scenes are a little hazy, but that's almost certainly intentional. It looked almost as detailed on my two displays, a Sharp DLP projector and a rear-projecting Hitachi CRT, as it had in the DLP presentation I saw in the theater.


I first saw Finding Nemo on the big screen in San Francisco following Home Entertainment 2003. The images weren't the only thing that impressed me. The sound was amazing as well. It wasn't spectacular except in a few places, particularly the submarine sequence, where the dynamic range, bass, and surround activity are all you could want—but it was clean and sweet in a way that film soundtracks seldom are in the theater. The DVD is every bit as good. (I auditioned this EX release in conventional 5.1-channel mode.) There's really nothing to criticize apart from the slightly cavernous voices on the commentary track—I'm really reaching here.


This is an exceptional release. Finding Nemo belongs in every DVD collection. If you've already seen it, I guarantee you'll see and hear things on the second viewing—or even the third—that you missed the first time around. If you haven't seen it, now's your chance. Don't miss it.—TJN
<!- ----------------------- Tech Center Ads ----------------------------->

SPONSORED TECH CENTER
<!- ---------------------336x280 ADS------------------------------->
<!- ---------------------FIXED AD------------------------------->
<!- ---------------------336x80 ADS------------------------------->
<!- --------------------Sponsored Link Ads-------------------------------->
<!- ------------------------Bottom Ads---------------------------->