Blade Runner, Kubrick Films Coming To HD
Warner slipped a tantalyzing insert into the
The Ultimate Matrix Collection
box set released earlier this week, a two-sided affair offically announcing that
Blade Runner
will hit HD DVD this October on one side and touting a "Kubrick Collection" as coming soon to both HD DVD and Blu-ray on the other.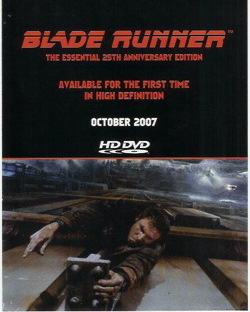 Blade Runner is being released in what Warner is calling "The Essential 25th Anniversary Edition." Blade Runner is already famous for having what must be a record number of versions released before, during and after its 1982 theatrical release, and rumors have persisted for years that Ridley Scott would unveil a still newer cut of the movie with restored scenes that haven't made any of the myriad preceding versions of the sci-fi classic.
For those initiated in Blade Runner lore, the major set piece of the rumored restoration is a sequence of Harrison Ford's Deckard visiting in a hospital with Holden, the blade runner who gets iced by Leon in the film's opening sequence.
Internet sites have quoted foreign web sites that detail the Blade Runner 25th anniversary release as being a five-disc set with the restored 2007 cut of the film, accompanied by no fewer than four additional cuts of the film. The other versions are the 1982 US and International versions of the film, the 1992 director's cut, and my own personal favorite, the "work print" version of the film that audiences in LA and San Francisco saw prior to the release of the 1992 director's cut. And there's actually more, but if this HD DVD release has even half of this stuff this is the release Blade Runner fans have been waiting for a long, long time.
Although Warner supports both Blu-ray and HD DVD, Blade Runner is for now announced only for HD DVD. This has also been the case with Batman Begins and The Matrix trilogy, ostensibly due to the availability of superior interactivity features currently available from the HD DVD format and its players.
Details are far murkier on the Kubrick movies in that no details were on the insert at all. Shown were graphics from Full Metal Jacket (which is already available on HD DVD and Blu-ray and is one of the most roundly criticized HD transfers released on next-gen media), 2001, A Clockwork Orange, The Shining and Eyes Wide Shut. "Coming Soon" could mean next month or next year. But since Kubrick's films are treasured to Warner's catalog and movie fans alike, this is a big deal. More details as soon as they come in...
<!- ----------------------- Tech Center Ads ----------------------------->

SPONSORED TECH CENTER
<!- ---------------------336x280 ADS------------------------------->
<!- ---------------------FIXED AD------------------------------->
<!- ---------------------336x80 ADS------------------------------->
<!- --------------------Sponsored Link Ads-------------------------------->
<!- ------------------------Bottom Ads---------------------------->