Home Entertainment in Review
What did you miss at this year's Home Entertainment Show?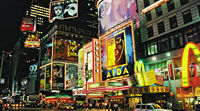 The Word Is Out
Does the saying "A good time was had by all" sound slightly cliché? I don't care. We really did have a fabulous time at the Home Entertainment 2002 show in New York City late last May. By "we," I don't just mean we magazine folk, as we definitely weren't alone. There were about 15,000 readers of Home Theater and our sister publications—Home Theater Buyer's Guide, Stereophile, Stereophile Guide to Home Theater, and Audio Video Interiors—in attendance. Everyone was looking for the latest and greatest home theater gear to purchase in the year ahead.
I overheard two fellas from Texas talking about what a great time they were having. It turns out that these guys were consumers who had flown up from Texas because they feel that the Home Entertainment 2002 show is the best show to be hands-on with a wide variety of equipment from the major manufacturers. Stay tuned for details on when and where the 2003 show will take place. I promise to give you plenty of advance notice.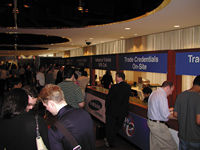 I want to offer my congratulations to Keith Grier of Locust Valley, New York, for winning the show raffle: a deluxe home theater system that includes great gear from Mitsubishi, Dunlavy, Yamaha, and Philips. The show's full schedule of seminars covered everything from the future of flat-panel TV to digital HDTV here and now. For those who wanted to experience live music, there were concerts from blues legends Jimmie Lee Robinson and Wild Child Butler, as well as cool jazz guitarist and vocalist John Pizzarelli and his trio.
Anyway, I know what you're thinking: How about the home theater demos? Impressive is the first word that comes to mind. Krell and Faroudja teamed up for a powerhouse demo that included the new FDP-DILA1 projector and LAT1 speakers. As they demoed a clip from Chicken Run, the vibrant action on the Stewart FireHawk screen was spellbinding. Paradigm had another excellent demo featuring their Studio Reference Series loudspeakers, a 133-inch Da-Lite screen, power and processing from Anthem, and a slew of video and source components from major manufacturers, including the impressive SharpVision front projector. The list just goes on and on. There were also plenty of excellent two-channel demos from manufacturers such as Gershman Acoustics, dCS, and Arcam (who also had a standing-room-only home theater demo with Runco).

I never get tired of taking a brief moment of respite during one of these hectic, fast-paced shows to just sit for a minute and listen to some spellbinding music. Talk about meditation. I can't imagine anything more positive for the soul. As one fellow seated next to me during the Nordost premium wire and cable demonstration said while nodding his head and taping his feet in time to the music, "That just sounds baaaaaaaad" (read: very good). I couldn't have agreed more. —Maureen Jenson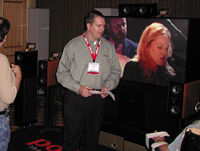 Let Freedom Ring
U.S. Attorney General John Ashcroft's warning of possible terrorist attacks in the New York area initially made me nervous about our Home Entertainment 2002 show. The attendees in the Hilton's tall towers sounded like a potential target, but experiencing millions of dollars' worth of home theater gear all in one place is hard to pass up, especially for the faithful. Fortunately, the weekend went off without an apocalypse, and the show was more exciting than ever. Perhaps any potential terrorists were simply enthralled by Samsung's first DLP-based rear-projection television. The set, priced at $5,000, utilizes Texas Instruments' newest DLP dark chip for an improved black level. Samsung tied in the set's introduction with a free digital-cinema screening of Star Wars: Episode II—Attack of the Clones. Everyone who came to the show got a complimentary box of nearly every form of concession-stand candy, plus free popcorn, free drinks, and even a free T-shirt.
If they didn't OD on sugar, potential thugs may have been sidetracked by Zenith's slew of new products, which included small to medium-sized LCD flat panels, inexpensive plasma displays, and a slim, 60-inch-diagonal high-definition LCD-driven rear-projection TV. Although it's not yet ready for market, Zenith also showed a new HD DirecTV tuner that can output a high-def signal's native rate via a DVI connector. No word on whether this box will have an IEEE 1394 connection.
Even crazed zealots might have reason to pause, given that Sharp's high-definition D-Theater VCR has IEEE 1394 connectors. Sharp played prerecorded D-VHS tapes through the XV-Z9000U projector to amazed audiences. While a new projector is in the works, Sharp also promised to introduce a high-definition PVR in 2003.
Wannabe martyrs may have found a new reason to live, thanks to the show's many DLP projectors. Runco projected big images from around a corner with their new VX-5000 DLP display. The $27,000 projector has an amazing off-angle lens compensation. SIM2's smaller and more-straightforward Grand Cinema line combines great picture quality with great cosmetics. Dwin's new projector wasn't ready for the show, but the TransVision1 looked good in the Outlaw/Atlantic Technology room. The latest PLUS projector, the HE-3200 ($3,200), is a step up from the HE-3100 (now only $2,800) with electronic zoom and HD input capabilities. At these prices, even an Afghani could afford one (it's only $15.2 million in Afghanistan currency).
Combine the great products with a full lineup of informative and entertaining seminars, and you can't go wrong. All in all, the show was great fun and turned out to be quite safe. If you didn't make it this time, you better mark your calendar for next year. —Mike Wood
<!- ----------------------- Tech Center Ads ----------------------------->

SPONSORED TECH CENTER
<!- ---------------------336x280 ADS------------------------------->
<!- ---------------------FIXED AD------------------------------->
<!- ---------------------336x80 ADS------------------------------->
<!- --------------------Sponsored Link Ads-------------------------------->
<!- ------------------------Bottom Ads---------------------------->