HDTV Info Center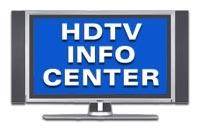 •HDTV Buying Guide Shopping for a new TV or projector? Check and compare features, specs, and prices for more than 600 models, HD and otherwise, in our interactive buying guide. •Resource Center: HDTV Today's HDTV landscape is bustling with choices that go well beyond simply choosing how big a screen you want. To help narrow the field, we suggest starting with Display Types and Display Technologies to figure out what kind of TV will best suit your lifestyle - and budget. •How to Set Up Your new HDTV Get your new hi-def set hooked up right and looking great. •HD DVD/Blu-ray Info Center In-depth information on hi-def discs, players, and recorders. •S&V's Best The best gear to buy right now. •2:3 or Not 2:3? Why you can't simply point a video camera at a movie and have it come out right •Anatomy of an HDTV Test Report For neophytes and hardcore videophiles alike: What makes a review tick? •Basic Cable: Choosing the Right Cables for Your System Understanding your audio and video connection options can help you get the best possible picture and sound. •Beyond HDTV There's technology in the wings that will make today's high-definition video look primitive •Big-Screen Values How to get the maximum screen for the minimum green •CES Roundup 2007 Trends, highlights, and hot new products from the 2007 Consumer Electronics Show - S&V's editors sort it all out. •Choose Your Own HD Adventure Shopping for an HDTV can be just as adventurous as those "Choose Your Own Adventure" books. They'd begin like a normal book, but at the end of each page, you'd be faced with a decision that radically altered the story. •Display Technology Smackdowns Top-contender HDTV technologies go head-to-head in S&V's merciless picture quality comparisons •DLP vs. LCD Rear-projection HDTV technologies square off in S&V's second big-screen smackdown •DLP vs. LCoS Two of today's hottest displays go side-by-side in our third HDTV technology face-off •The Future of Flat-Panel TVs New flat-TV technologies promising better pictures - and some other surprises - are gearing up to challenge plasma and LCD •FiOS TV: Fiber HD Right to Your Door Wish your satellite or digital cable-TV provider offered more high-definition channels, or maybe just a better picture? •Get the BIG Picture Ten reasons why a front projector could be right for you •HDMI 1.3: The Missing Link HDMI 1.3 gives you some good reasons to get excited about a cable •HDTV Over the Air Get pristine high-definition TV the old-fashioned way - with an antenna. What you need to know to choose the right one. •HDTV When You Want It A quick look at every possible way to record in high-def •How to Install a Front Projector Sean Greer explains what you need to know to get that new projector up, running, and looking great. •How Important is 1080p Input Capability? Our expert answers the questions. •How to Buy, Install, and Adjust an HDTV Sound & Vision explains what you need to know to get the most out of a new HDTV, from shopping to setting up to calibrating for best picture quality. •How to Buy HDTV Whether it's because of newspaper ads, TV shows saying they're being broadcast in HDTV, or the buzz from co-workers, relatives, and friends, you've probably been thinking about testing the HDTV waters. •How to Mount a Flat-Panel TV Is getting a flat-panel set out of the box and onto the wall something you can do yourself, or do you need to hire a pro? •Inner Workings: Inside a Front Projector A look at how a modern digital front projector is put together and functions. •Inner Workings: Inside a Liquid-Crystal Display (LCD) The granddaddy of fixed-pixel technologies, LCDs first appeared in pocket calculators in the early 1970s. LCD technology is amazingly versatile, able to power front projectors, rear-projection TVs, and flat-panel displays. •Inner Workings: Inside a Plasma Screen When a plasma TV isn't displaying an image, the stuff behind the name is just an inert gas - usually a mixture of neon and xenon - but it's a big part of what allows these TVs to measure just 3 to 6 inches thick. •Laser-Driven DLP Projectors Mitsubishi's new technology could open the way to lighter, quieter displays with better color and deeper blacks •Make Room for HDTV Finding the right high-definition set and surround sound speakers for your living room is as easy as 1-2-3. •Maxing Out Resolution How much resolution your TV needs for best possible picture quality depends on screen size and seating distance. Here's how to figure it all out. •No Problem Today's gear can present you with so many options that sometimes it's hard to make the right choice. Let S&V's experts show you the way out of three common home-entertainment dilemmas. •Picture Perfect: TV Calibration Demystified Professional calibration enables a TV to perform to its full potential. Here's what's involved and what it can do for you. •Plasma Partners Inventive ways to make your new flat-panel TV feel at home •Plasma vs. LCD S&V's first flat-TV smackdown puts two popular technologies to the test •Setup Screwups We diagnose five of the most common problems ailing home theaters - and prescribe the right medicine. •Step By Step: How to Calibrate Your HDTV Like a tune-up on your car, a few tweaks can have your HDTV running better than ever. But unlike an auto overhaul, you can make these adjustments yourself. •The Bigger Picture Everything you need to know to buy the front-projection screen that's right for you. •The Connected House: Dialing for HDTV Ma Bell's kids take on the cable guys •The Custom Installer: Garden Party Building your own HDTV paradise at home. •The Custom Installer: Front and Center You're ready for a front-projection video system, but is your room? •The Custom Installer: Your New TV Isn't Perfect ... But here's what you can do to make it look better •The HD Deluge is Here! Cable, satellite, and the telcos are poised to offer significantly more high-def programming - finally. •The Progressive Tradeoff What makes 720p broadcasts look different? •The Trouble with TV Guide Today's CableCARDs are one-way devices that can't access on-demand video services or, more important, display your cable provider's onscreen interactive program guide.
•
Video Upconversion: Facts and Fallacies
Does every component in your system want to upconvert your video? Is that a good idea? And what does it mean, anyway?
Other HD Resources
HD DVD/Blu-ray Info Center In-depth information on hi-def discs, players, and recorders. Learn about the technology, keep up with the latest products, and check out the reviews.
Resource Center S&V's technology explanations and shopping advice help you choose the gear that's right for you. Also includes an extensive glossary of common (and not so common) A/V terms.
Buying Guides Find the best HDTV or receiver for your home, taste, and budget. Our comprehensive buying guides allow fast, easy searches and unlimited side-by-side feature, spec, and price comparisons.
Sound & Vision Equipment Reports Sound & Vision's expert reviews of audio and video components deliver thorough, critical evaluations of performance and usability for all types of audio and video components.
<!- ----------------------- Tech Center Ads ----------------------------->
<!- ---------------------336x280 ADS------------------------------->
<!- ---------------------FIXED AD------------------------------->
<!- ---------------------336x80 ADS------------------------------->
<!- --------------------Sponsored Link Ads-------------------------------->
<!- ------------------------Bottom Ads---------------------------->