The Gear's the Thing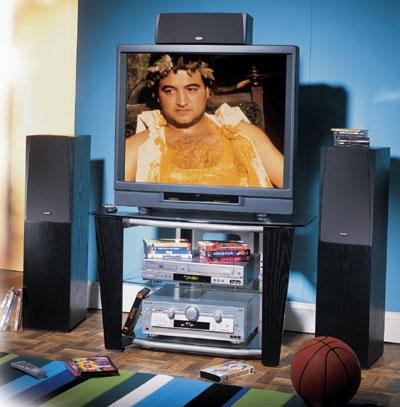 Photos by Tony Cordoza
With all of the home theater toys out there, our inner child can't help but continually drool. But when it comes to being an adult and figuring which ones you can actually buy with the cash (or credit card) at hand, it can get to be pretty daunting. Well, your hard-working Gear Guy has done the legwork and helped out three people by assembling systems that range from affordable to high-end. And since these components are culled from test reports in past issues of Sound & Vision, you can go back and read the full reviews (many of them are on our Web site - check the Archives listings or use the Search function). Chances are the actual prices will be lower than the ones here - I've quoted list prices, but street prices can be much less. Feel free to treat the difference as my finder's fee. Ready to start spending? Let's go.
Dear Gear Guy, Everybody used to envy the stereo in my frat-house room, until a pledge poured Coors into it. I want to replace it with something decent, but I can't spend more than $2,000. Of course I want a DVD player, but the house has a vast library of educational videotapes, so I need a VCR too. Don't worry about the TV, though - my current set is pretty good.Frat Boy
Dear Frat Boy, I'll bet those tapes are highly "educational." In fact, I have a pretty nice library of my own. Well, in less time than it takes to solve a second-order differential equation, I can lay out a very spiffy system for you.
Let's start with the player - the Samsung DVD-V2500 ($250, reviewed in April 2003), to be specific. This little beauty is a DVD player and a VHS Hi-Fi VCR, plus it handles recordable discs in the DVD-R/RW, DVD+RW, and CD-R/RW formats and even Memory Sticks with JPEG and MP3 files. Along with VHS tapes, it can play (but not record) S-VHS. While all tape signals emerge from a composite-video output, which limits picture quality, DVDs can take advantage of its clean progressive-scan component-video output. (If your current TV doesn't have a progressive-scan component-video input, make it a priority when you're ready to upgrade.) And in case you're wondering, you can't copy from DVD to tape. Reviewer David Ranada liked the Samsung player's slide-show capability and called its progressive-scan output "superior," declaring it a "winner." Not too shabby for $250.
For your receiver, go with the Panasonic SA-HE100 ($300, reviewed July/August 2002). This inexpensive, feature-packed powerhouse boasts a six-channel amplifier delivering 100 watts per channel; Dolby Digital and DTS decoding, plus Dolby Pro Logic II and DTS Neo:6 processing to extract 5.1-channel playback from two- or four-channel sources; and a respectable number of inputs and outputs, including a six-channel input for upgrading to DVD-Audio or Super Audio CD (the Samsung can't play either of those formats, though). It doesn't have any onscreen displays and has only one coaxial digital input, but it does have three optical inputs. Reviewer Daniel Kumin praised the Panasonic's audio quality as "outstanding" and said this receiver would "rock your world." In fact, it was so good that we gave it a Reviewer's Choice Award last year.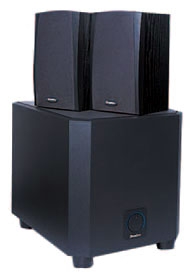 Boston Acoustics CR55 surround speakers and PV500 subwoofer.
Of course, you'll want some kick-ass speakers - like the Boston Acoustics CR95 system ($1,250, reviewed January 2003). The floor-standing front left/right CR95 speaker is almost a yard tall and sports a 1-inch tweeter and a 7-inch woofer. Its large cabinet pays off in bass performance, which lab tester Tom Nousaine called "outstanding." The reasonably compact PV500 subwoofer, which has a 10-inch driver powered by a 100-watt amplifier, can reach down to a floor-shaking 25 Hz. Throw in a CRC center speaker and diminutive CR55 surround speakers, and you're ready to rock. Reviewer Daniel Kumin declared that the Boston Acoustics system offered "fine performance, handsome looks, and excellent value."
Just don't forget to open your window so the sorority across the street can enjoy your new system, too. For $1,800, this rig will make you Big Man on Campus.
If you're really pressed for space (and bucks), check out the Cambridge Soundworks all-in-one MegaTheater 510 system ($850, reviewed December 2002). These guys practically invented big-bang-for-the-buck audio, and the 510 is a splendid example of good econo-technology. You get five speakers, a subwoofer, and a main unit that packs a progressive-scan DVD player and surround sound receiver. This system plays loud and sounds good, and the money you save can be wisely spent on DVDs. You know - the educational kind.
<!- ----------------------- Tech Center Ads ----------------------------->
<!- ---------------------336x280 ADS------------------------------->
<!- ---------------------FIXED AD------------------------------->
<!- ---------------------336x80 ADS------------------------------->
<!- --------------------Sponsored Link Ads-------------------------------->
<!- ------------------------Bottom Ads---------------------------->