East Coast, West Coast
In separate line shows held in San Diego and New York, Hitachi announced their new video line last month. Most of the models will begin appearing in stores before the start of the annual fall holiday buying season.
As with many television manufacturers, Hitachi divides their product line into several distinct ranges, with the top models reserved for the upscale Director's Series. Apart from a few features, cosmetics, and price, this allows greater marketing flexibility, with the top range generally sold through specialty retailers.
It's no secret that flat panels are in, and if you didn't know that, one look at Hitachi's new models will tell the story. Both LCD and plasma displays are represented, with 42- and 55-inch plasmas and 26-, 32-, and 37-inch LCDs.
To avoid confusion, I'll concentrate on the Director's Series in this report except where noted. In plasmas, the 55HDX62 ($6999) and 42HDX62 ($5499), both available in October, include 12-bit color processing, Quick Start HDTV and NTSC tuners (which offer fast, seamless access to all channels), CableCARD compatibility, two HDMI inputs, gloss-black styling, anti-reflective screen coatings, and 4-step black enhancement. The 42HDX62 is also an ALiS (Alternate Lighting of Surfaces) design.
There are standard (HDS52) and Cineform (HDT52) models of the same sizes with similar but slightly reduced feature sets and prices. For example, the 42HDS52 and 55HDS52 will be available in October for $4299 and $5799, respectively. Like most manufacturers, Hitachi will also offer a standard-definition (EDTV) 480p plasma, the 42EDF52, for $2699 (August).
Hitachi's largest Director's Series LCD flat panel is the 32-inch 32HLX61 at $3799 (August). This 1366x768 design is a two-piece unit that comes with an Audio Video Control Center with dual HDMI and IEEE 1394 inputs and a single-wire connection to the display itself. The HDL52 standard series of flat-panel LCDs will include 26-, 32-, and 37-inch models, with the 37HDL52 available in October for $3499.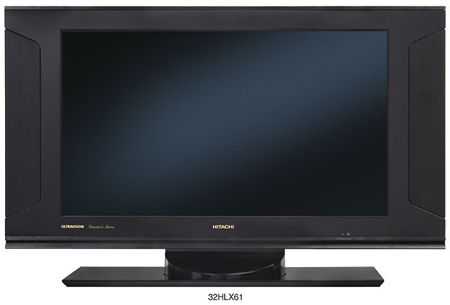 Hitachi also showed new rear-projection LCD, LCoS, and CRT designs. CRT fans will be intrigued by the seven new sets in that now endangered species. The two flagship UltraVision S825 designs are the 51-inch 51S825 ($2099) and the 57-inch 57S825 ($2299), both shipping in September. The standard F710A series will include both of these sizes plus the 65-inch 65F710A ($2699). While the wide-neck CRTs of Hitachi's discontinued CRT Director's Series are lamentably gone, the new models offer Super Contrast CRTs, 5-element lenses, Quick Start HDTV and NTSC tuners, CableCARD compatibility, and an HDMI digital video/audio input.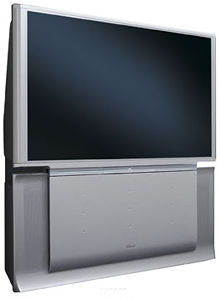 Hitachi's LCoS RPTV X927 Director's Series includes the 60-inch 60X927 ($6499, November) and 70-inch 70X927 ($8499, December), both incorporating Hitachi's Dual Focus Lens System to get the most out of the sets' 1920x1080 LCoS panels.
Finally, there are new LCD rear-projection sets, with the first models scheduled to arrive in August. The premium VG825 line, scheduled for September, includes 50-, 60-, and 70-inch designs. All exhibit 720p resolution and offer many of the features described above: Dual Focus Lens System, Quick Start HDTV and NTSC tuners, CableCARD compatibility, two HDMI inputs, and a Roll and Click remote. They range in price from $3199 to $4099.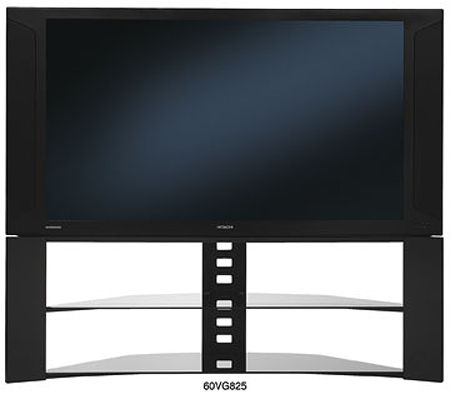 <!- ----------------------- Tech Center Ads ----------------------------->
<!- ---------------------336x280 ADS------------------------------->
<!- ---------------------FIXED AD------------------------------->
<!- ---------------------336x80 ADS------------------------------->
<!- --------------------Sponsored Link Ads-------------------------------->
<!- ------------------------Bottom Ads---------------------------->