CES - Day 1
The official opening day of CES brings more announcements - and more gawking attendees to fight your way through. Geoffrey Morrison, Home Theater Magazine's Video Editor, more than once voiced his desire for a cattle prod. Fortunately for everyone concerned, none of the exhibitors were displaying cattle prods although a quick trip through the Las Vegas Convention Center aisles will take you past vendors showing everything from telescopes to hand-held electronic Bible navigators to flying discs with LED lights inside. It's such a shame all we get to cover is home theater gear...
After a lackluster day of mostly inconsequential press conferences yesterday, today (January 7th) was much more energizing and informative. After a bleary eyed editorial breakfast meeting in which some of us attempted to discuss a plan of action for the remainder of the Show while others occupied themselves with admiring the skimpy nature of the waitresses' uniforms (hey, it's Vegas, after all), it was back to the Convention Center floor.
Echostar (DISH Network) and DIRECTV duked it out with back-to-back press conferences. DISH Network's big announcement was that they will begin offering a Video On Demand (VOD) service by March to new customers with DISH Network's new digital video recorder (DVR), the DISH Player-DVR 625. The new service will eventually offer as many as 100 movies "shown on TV for the first time". New movies will premiere every week, and DISH Network explains that the DISH Player-DVR 625 will receive the movies via satellite, and DISH On Demand (their name for the VOD service) will be accessible by pressing the DVR button on the DISH Network remote. The DVR-based DISH On Demand service will provide advanced pause, reverse, and fast forward capabilities and "offers a better VOD experience than any other satellite or cable TV provider," according to Michael Schwimmer, DISH Network's executive vice president of Marketing and Programming.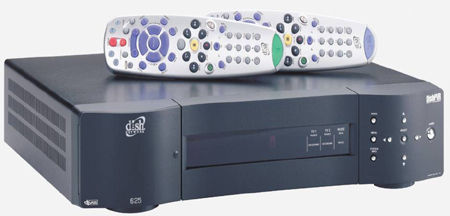 DISH Network also introduced the new DISH Player-DVR 942, a dual-tuner, HD DVR with the ability to view independent programs - one in HD and one in standard definition - on two TVs at once. It includes a 250 GB hard drive that offers a recording capacity of up to 25 hours of high-definition and up to 180 hours of standard-definition content. The new satellite receiver will be available in the first quarter of this year, and new customers will be able to buy the system for $749 (including dish antenna and free standard installation).
Among the other interesting announcements from DISH Network (including the soon-to-be-available interactive Karaoke channel) was the early glimpse of a series of DISH Portable DVRs - with 2.2", 4", and 7" screens - that will store photos, MP3 files, video from your PC, and full-resolution MPEG2 programming from one of the new DISH Network USB 2.0-equipped (DISH-Comm-enabled) DVRs such as the DVR 522 and DVR 322.
DIRECTV touted the soon-to-be-launched satellites which will give them the capability of offering local broadcast HD channels to almost 36 million households in 12 of the top TV markets around the country (New York, Los Angeles, Chicago, Philadelphia, Boston, San Francisco, Dallas, Washington D.C, Atlanta, Detroit, Houston, and Tampa) in the second half of this year.
DIRECTV Mix channels will soon offer subscribers the ability to view up to six live channels, all on one screen, and use their remote control to listen and direct tune to any of the channels on the screen. The mix channels will include DIRECTV News Mix (showing the most widely viewed news networks), DIRECTV Sports Mix (showing popular game match-ups and televised sporting events from the major sports networks), and DIRECTV Kids Mix (featuring the most popular children's television networks).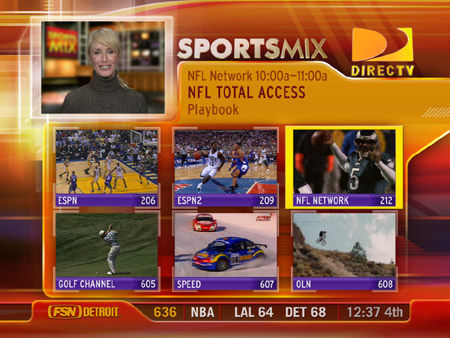 A new (non-TiVo) DIRECTV Interactive DVR (to be available in mid-2005) will record and store up to 100 hours of standard-definition programming and offer direct access to interactive services such as advanced search capability, recording of an entire season of a particular program, record now/pay later, and viewmarks. Also announced was the DIRECTV Home Media Center which, according to DIRECTV, is designed to be a whole-house entertainment solution allowing DIRECTV subscribers to access content - including digitally recorded video, digital photos, and digital music - seamlessly from all TVs in the house. In addition to including a DVR, the DIRECTV Home Media Center will also support HD and SD signals.
One of the more interesting bits of news came from DivXNetworks. DivX is a patent-pending video compression technology that has been gaining lots of support from computer buffs as well as CE manufacturers. The new DivX 6 codec - "capable of true HD video at half the bit rate of Windows Media 9" - is scheduled to be released in March of this year. Apex Digital announced that they will integrate DivX video technology into their entire product line in 2005. But we were really amazed by the demonstration of a DivX Connected system which used a relatively inexpensive DVD player as the client through which digital media stored on a PC was sent to an HDTV. Look for DivX Connected Certified gear later this year. It's going to be very cool.
<!- ----------------------- Tech Center Ads ----------------------------->
<!- ---------------------336x280 ADS------------------------------->
<!- ---------------------FIXED AD------------------------------->
<!- ---------------------336x80 ADS------------------------------->
<!- --------------------Sponsored Link Ads-------------------------------->
<!- ------------------------Bottom Ads---------------------------->