Canon XH A1 HDV Camcorder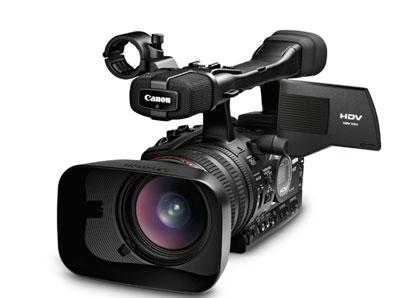 High-definition camcorder offerings have ramped up over the past year, with compact models priced as low as $1,000 or less arriving from Sony and Canon. At the same time, higher-end models from both companies have also hit the streets that are so packed with professional-grade features that you'd be well equipped to create your own indie flick. For most folks, however, the main drawback of these models is size and bulk: a five-pound camcorder that's as long as your forearm doesn't lend itself to casual, everyday shooting. But if you're serious about capturing high-quality high-definition video and don't have patience for the limited manual controls on consumer cams, "prosumer" models are the way to go. Let's take a look at one of the prime examples of the category, the Canon XH A1 HDV camcorder.
Though the XH A1 might seem enormous to someone used to carting around a pocketsize MiniDV camcorder, it's actually one of the most compact semi-pro models (and at $3,500, with an additional $250 rebate until June 30th, it's also the most affordable). The camera uses three 0.33-inch CCDs to record 1080i HDV or 480i DV video to regular MiniDV tapes. In addition to automatic controls, The XH A1 has three servo rings located on its lens that let you reach out and manually adjust focus, zoom (20x), and iris. This in itself is a big leap, convenience-wise, from consumer HD cams, virtually all of which make you step through some combination of menus, button pushing, and wheel scrolling to make these crucial adjustments.
Other physical features include a 0.57-inch wide viewfinder; a 2.8-inch, 16:9 LCD screen that sits flat on the camera's top surface and then swivels out for shooting; a top-mounted carrying handle with controls for zoom and recording start/stop to accommodate low-angle handheld shooting; and a built-in microphone and accessory shoe. Canon's rechargeable battery pack, which is rated for a maximum 5.5 hours shooting time, plugs into a compartment located on the back surface. Also, a slot located within the compartment accepts SD/MMC cards for storing digital pix shot in the camera's photo mode.
Another giveaway that the XH A1 is a serious piece of gear is its numerous audio/video connections. A set of balanced XLR audio inputs are located on one side, along with switches for line- or microphone-level input, channel selection, and mic-level attenuation. On the cam's other side are individual dials for adjusting channel 1 and 2 audio levels. A flip-up flap on the back beside the battery compartment contains additional jacks, including a FireWire (i.Link) port, high-def component-video, minijack composite-video/stereo audio, and headphone outputs, and a LANC control jack. In addition, a nearby lid pops up to reveal a BNC composite-video output.
<!- ----------------------- Tech Center Ads ----------------------------->
<!- ---------------------336x280 ADS------------------------------->
<!- ---------------------FIXED AD------------------------------->
<!- ---------------------336x80 ADS------------------------------->
<!- --------------------Sponsored Link Ads-------------------------------->
<!- ------------------------Bottom Ads---------------------------->