Blu-ray Recordable Discs at a Store Near You
Before the first consumer players - that's right,
players
- have even hit the market, TDK has started shipping cartridgeless 25GB recordable and rewritable Blu-ray Disc (BD) discs to retailers and is thus claiming bragging rights as the first company to bring blank BD media to the market. TDK Vice President of Marketing, Bruce Youmans, went so far as to say being the first to introduce recordable BD discs "can be counted among the most significant product introductions in the company's distinguished 70 year history."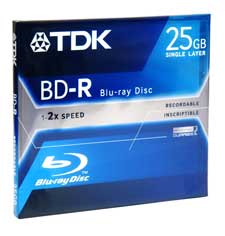 Retail pricing is $19.99 for the single-layer 25GB BD-R recordable disc and $24.99 for the BD-RE rewritable version. TDK says it'll begin shipping dual-layer 50GB blank media later this year with the 50GB BD-R priced at $47.99 and the 50G BD-RE at $59.99.
TDK's BD discs are manufactured at the company's Chikumagawa Techno Factory in Japan. (That's not really important to know for most people, but I just like the sound of "Chikumagawa Techno". It ought to be a channel on XM or Sirius.)
A long time ago in a galaxy far, far away (actually it was April of 2003 and in Japan), Blu-ray Disc discs were released for professional authoring use, but they came with a protective cartridge that kept the recording material, which resides a mere 0.1 millimeter beneath the surface of the disc, from being adversely affected by sharp or rough objects such as butcher knives and broken sake bottles. The new, "bare" media utilizes TDK's DURABIS formulation - claimed by TDK to be the world's most advanced and most protective hard coating - that increases the scratch resistance of BD discs by a factor of 100. DURABIS is also said to resist fingerprints and, by rapidly discharging static electricity, resist the accumulation of dust. (I'm hoping to one day cover my entire house in DURABIS. Think of the savings in cleaning supplies alone, not to mention time and effort - something I don't put into it anyway...)
Previously, TDK announced the creation of a quad-layer 100GB BD disc; but, not happy with a such a pitiful amount of storage on a BD disc, TDK says it's hard at work developing the world's first 200GB BD disc prototype.
Although you're certainly welcome to buy as many of the newly available BD discs as you want, TDK is thinking they'll probably sell most of them for business and commercal uses.
<!- ----------------------- Tech Center Ads ----------------------------->

SPONSORED TECH CENTER
<!- ---------------------336x280 ADS------------------------------->
<!- ---------------------FIXED AD------------------------------->
<!- ---------------------336x80 ADS------------------------------->
<!- --------------------Sponsored Link Ads-------------------------------->
<!- ------------------------Bottom Ads---------------------------->