10 Questions for Mike Mettler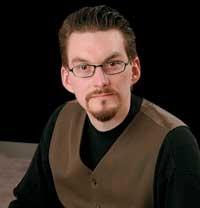 Soundandvisionmag.com has a dedicated, active and growing community. Nowhere is that passion demonstrated more than our forums. Recently, user "Matthew B." posed 10 questions to Sound & Vision Editor-in-Chief Mike Mettler. Mike enjoyed this so much that there's been talk about getting more editors involved to answer questions from our readers.
So, if you have a question, visit the Soundandvisionmag.com Forums and ask. While we don't guarantee that any or all questions will be answered, we can honestly say that we'll do our best!
What follows are "Matthew B.'s" 10 questions and Mike Mettler's responses.
1. Out of all the rock stars or bands as a whole, that you met, who did you feel was the coolest to hang out with? Wow, tough one off the bat. I guess because I've spent the most time with them would be The Tragically Hip. They really make you feel like part of the family. We've golfed together, test-driven cars, gone to museums, been out all night carousing, etc., etc.
They're treated like GODS in Canada, so it's almost like hanging with the Beatles depending on what part of the continent we're on. I've seen 'em live at least 100 times, so I've pretty much seen it all from sold-out hockey arenas, stadiums, and festivals to small, sparsely attended clubs in the heart of the good ol' USA.
Sister Hazel are cool to hang with. Very laid back and friendly. And I spent a good bit of time with Pearl Jam during the early days ('91-'92) and we always had fun.
2. Which star or group was generally interested in the test equipment that you would set up for them to review with you.
Hmm. Honestly, most of the rock guys are more interested in cars and car stereo gear. But some guys have asked me about certain speaker brands, stuff like that. I'll have to get back to you on that one.
3. Who had the funniest story they told you, you don't have to retell the story, but a topic sentence would be nice. That's a toss up between Ted Nugent, Billy Gibbons, and George Thorogood. Said stories are best left un-repeated here, sorry...
4. Ever get anything cool from anybody you were interviewing? Some of those things I can't discuss here, of course... (ahem) but I've collected a good number of autographs on CD covers, photos, etc. over the years. For our tenth wedding anniversary a few years ago, The Tragically Hip and their management sent my wife and me a few special things, like a limited-edition signed lithograph.
5. Ever get mobbed by any groupies while doing an interview?
My groupies or their groupies? I've been around people who've used me to help them get away from overzealous fans - Dave Matthews, the guys in Blues Traveler, etc. - and some fans, when they realize I could be a conduit to get them to meet their heroes or objects of obsession, will say ANYTHING to get backstage. (Doesn't work, though.)
<!- ----------------------- Tech Center Ads ----------------------------->
<!- ---------------------336x280 ADS------------------------------->
<!- ---------------------FIXED AD------------------------------->
<!- ---------------------336x80 ADS------------------------------->
<!- --------------------Sponsored Link Ads-------------------------------->
<!- ------------------------Bottom Ads---------------------------->