JVC DLA-X95R 3D D-ILA Projector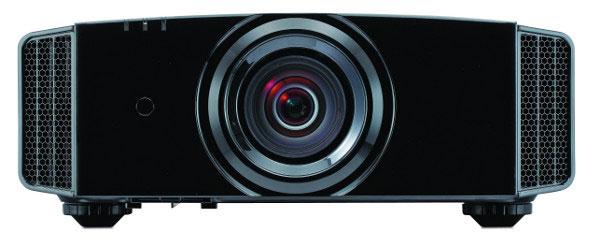 Price
: $12,000
At A Glance
Plus:
Best contrast ratio performance ever • Hand-Picked Parts • 3D performance is catching up
Minus:
Not true 4K • Loud in high lamp mode
THE VERDICT
The best contrast performance I've seen or measured to date and spectacular pixel focus and uniformity.
Earlier this year, I had the chance to review JVC's spectacular DLA-X55R 3D D-ILA projector and proclaimed it "the best 2D picture I've seen from any projector in my room to date." That was the truth until my personal DLA-X75R arrived shortly after. The DLA-X75R is one up in JVC's lineup and had improved contrast performance and was actually a bit sharper. So when I was given the opportunity to review JVC's flagship DLA-X95R I was more than happy to accept. This would give me the opportunity to see just how much improvement JVC's hand-picked parts added to the performance. Boasting a 130,000:1 native contrast performance while supposedly maintaining the brightness of my DLA-X75R, I was more than intrigued.
The Goods
When I reviewed the DLA-X55R I noticed right away some shortcuts that JVC made to keep the price down compared with the upper JVC line. Most of these shortcuts were cosmetic, including a matte finish case that lacks the automobile-like paint finish found on the higher-end models. The DLA-X95R's finish is a flaked black piano that gives the chassis a very upscale look. The DLA-X55R also lacked the certifications of the upper line. The DLA-X95R and DLA-X75R have been blessed by the THX gods for both 2D and 3D playback and also have ISF licensing. With that, the DLA-X95R features an auto calibration that can be implemented using JVC software and a Spyder colorimeter. While this is a handy feature for those that have the sensor, I would rather opt for purchasing a more capable sensor and one of the readily available software packages on the market such as from SpectraCal (admittedly a significantly more expensive proposition).. SpectraCal even has auto calibration workflows that do the work for you!
All of the JVC projector line features the same hookup options. The DLA-X95R sports two HDMI 1.4a inputs that are capable of full HD playback up to 1080p/60. This includes support for full HD 3D playback. You'll also find a legacy component video input for those still riding the analog wave. Despite the 4K moniker so boldly advertised by JVC, the DLA-X95R is not a true 4K playback device. It still uses a 1920x1080 D-ILA panel.
As I discussed in my review of the DLA-X55R earlier this year and Tom Norton talked about with last year's model, JVC has developed a proprietary device that sits in the optical path and shifts the image just ever so slightly, creating an offset that makes the visible image a quasi-4K resolution. This trick is done using an upgraded scaling algorithm from last year's e-shift models, called e-shift2. I don't have one of last year's projectors on hand to make direct comparisons, but having seen both in my own room, I don't recall much difference. I can't say I'm sold on e-shift in general in my particular setup. On my 120-inch screen, the difference is subtle at best, but if you see pixel structure in your setup, you may appreciate the difference. This year's models let you turn this feature off from the main setup menu, which is a welcome change from last year's projectors. This year's models also have some new image processing associated with e-shift that act as detail and contrast enhancement tools. These can be engaged even with the quasi-4K mode off.
One of the big highlights for this year's line (that also benefits those with older JVC 3D enabled projectors) is the new RF-based 3D emitter (show below). When JVC first introduced 3D to its projector line, it required an IR-based transmitter for use with its glasses. While these worked pretty well, the IR blaster wreaked havoc on other IR devices in rooms. This year JVC has introduced an RF emitter and RF glasses, both of which can be used with older 3D models if you'd like to buy them separately. The DLA-X95R, at its premium spot at the top of JVC's line, includes both the new emitter and two pair of the new RF 3D glasses. I used these in my review earlier this year and also with my personal DLA-X75R, and they work great. The glasses lock on quickly, and the RF system doesn't make control of my other equipment frustrating.
The DLA-X95R also features an Ethernet port for connection to a home network. The biggest benefit here is control of the projector from JVC's mobile app. Of course you could also control the projector via an RS-232 control system or IR-based commands. I used the JVC iOS app with my iPhone, and it worked as advertised but didn't add anything that the remote doesn't handle on its own. JVC can also execute software updates via this Ethernet port, though only through connection to a Windows laptop, not via a direct network connection.
The DLA-X95R's remote is the typical JVC design but has a few more buttons for direct picture modes not featured on the lower line, including THX and a few others. The backlit remote is easy to navigate and provides access to just about anything you'd need to adjust during playback.
Dialing In
The DLA-X95R shares more similarities than differences with the previously reviewed DLA-X55R. The only place you'll really see any differences (other than the image on the screen) are the setup menus. Here you'll find a long list of color profiles that weren't included with the lower-line projector we reviewed earlier. The DLA-X75R and DLA-X95R share this list of color profiles, some of which incorporate a color filter that's deployed into the light path. It is easy to tell when this happens since there's a very audible snap when it's put in path. I didn't see any need for most of them, as the Standard mode is the most accurate, and the in-line filter employed with some of the profiles actually cripples the light output. But video is a taster's choice, so you may like the look of the included modes.