Samsung HDTVs Do Amazon VOD
Samsung celebrated two milestones last week involving Amazon Video On Demand and Blockbuster On Demand.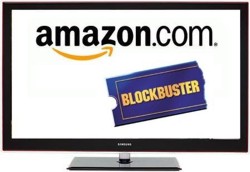 Amazon VOD will now be available through some Samsung HDTVs via downloadable widget. This will offer access to 50,000 movies and TV shows, though unfortunately only 2000 are in HD. The models involved are LCD and plasma HDTVs in Series 650 and above plus LED-backlit HDTVs in Series 7000 and above. Download the widget through the Samsung Internet@TV Content Service feature. Then your program purchases will be stored in the Amazon VOD video library. No subscription is required.
In addition, as we've previously reported, Samsung has also hooked up with Blockbuster On Demand. Affected models include the HDTVs mentioned above plus the Samsung BD -P1600, BD-P3600, and BD-P4600 Blu-ray players, plus the HT-BD1250, HT-BD3252, HT-BD7200 and HT-BD8200 HTiB systems. Onscreen searching and browsing is part of the process, again via the Samsung Internet@TV Content Service. By adding Blu-ray players and HTiBs to the HDTVs, Samsung has made the service available in multiple devices throughout the home. Pricing will be $2.99-3.99 for movie rentals or $7.99-19.99 for movie purchases.
See Samsung press releases via Engadget HD.
LATEST VIDEO
WHERE TECHNOLOGY BECOMES ENTERTAINMENT