Sony LEDs the Way
Sony introduced seven new Bravia LCD HDTVs yesterday in sizes from 40 to 70 inches. Most prominent was a head-to-head comparison between a Bravia LED-backlit set and a "leading plasma brand" that loose lips identified as Pioneer, though the badge was covered up.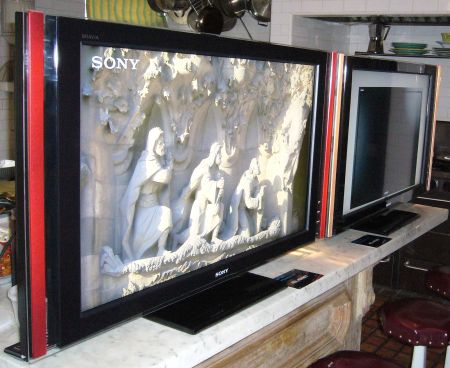 As always, I can't guarantee the validity of comparisons I haven't set up myself, and as always, my still pictures of the demonstration didn't look so hot, so I'm running a picture of something else. But the demo was impressive. The Sony set with LED backlighting and local dimming displayed a black level that would make me pretty darned happy in my own home even without something else to compare it to. In absolute terms, it looked great. Sony is calling it Triluminos, perhaps to evoke the past grandeur of the Trinitron moniker. It will be available in 55- and 46-inch Bravia XBR8 models.
Some smaller Bravias (52, 46, and 40 inches) featured a floating-glass industrial design with speaker grilles available in tomato red, silver, brown, or gold. Sony also made a big deal of its wireless connectivity moves, previously unveiled at CES, with DLNA distribution products tossing 1080p images (including some from Blu-ray players) hither and yon. YouTube has been added to the Bravia Internet Video Link. Finally, a miraculously small satellite speaker was shown in the HT-IS100 Bravia TheatreMicro System, designed to complement Blu-ray players and PS3 consoles. The products will ship in the fall at prices not yet available.
LATEST VIDEO