CEA to NAB: We Got Your Boxes Right Here
Members of the Consumer Electronics Association will support the transition to digital television with timely delivery of digital-to-analog set-top convertors, the head of the organization says in response to a public challenge from the National Association of Broadcasters.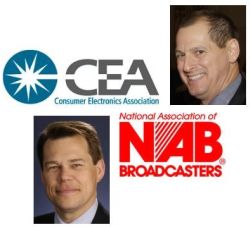 In a letter to Gary Shapiro of CEA, David Rehr of NAB had voiced his concern that failure to deliver the boxes on time would result in "consumer confusion and could negatively impact the overall success of the transition."
Shapiro's response referred to the "common commitment" of CEA and NAB, including websites that promote the transition and help consumers pick an antenna. He also reiterated an earlier promise to help implement a federal coupon program that would subsidize convertors for broadcast-dependent viewers who want to go on using their analog sets.
If there's any resistance, Shapiro suggested, it would more likely come at the retail level: "I would imagine that certain boutique, custom installation and high end stores may choose not to sell the coupon-eligible boxes, but rest assured that any American who wants to purchase a coupon-eligible box will have a wide variety of convenient retail sources from which to choose."
Consumers will not begin receiving coupons till January 1, 2008. However, Shapiro noted, specifications for the subsidy program will become available this summer. "I'm sure your industry joins ours in eagerly awaiting NTIA's August 15 announcement of further coupon program specifications so that we all have the necessary information to implement the program."
LATEST VIDEO