The Exorcist—Warner Bros. (Blu-ray)
Video: 4.5/5
Audio: 4/5
Extras: 4/5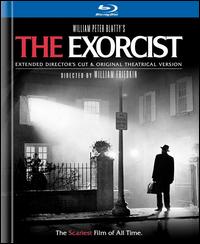 Controversial and popular from the moment it opened, "The Exorcist" marks its historic Blu-ray premiere in a 2-Disc Edition featuring Stunning Hi-Def Presentations of the Original 1973 Theatrical Version and the 2000 Extended Director's Cut. The frightening and realistic tale of an innocent girl inhabited by a terrifying entity, her mother's frantic resolve to save her and two priests - one doubt-ridden, the other a rock of faith - joined in battling ultimate evil always leaves viewers breathless. In the Extended Director's Cut, director William Friedkin and producer/screenwriter William Peter Blatty integrated over 10 minutes of footage deleted before the film's 1973 release. They include moments deepening the impact of a first-rate ensemble's remarkable performances and reinforcing the film's grip on its audience.
When you open the packaging of this deluxe Blu-ray release you'll find a letter from the director praising Warner's effort with this video presentation. I have to agree with him. Warner continues to inspire with the effort they make with the classic catalog films. The restoration effort here has paid off with a great looking print. Detail and dimension look great and you really get the sense of watching a solid film presentation of this nearly perfect horror gem. Colors don't have that dated feel to them and contrast levels are strong. In some ways the HD presentation may be a bit too good as it reveals shortcomings with the makeup. Both cuts are equally great too. The 5.1 DTS Master Audio mixes are also a treat. Sure the dynamic range isn't quite up to par with the more modern horror films, but this is still an exceptionally moody mix and the sound design still brings on chills.
Each film is delivered on its own Blu-ray disc and each is packed with great features. The director's cut includes a great documentary on the filming process with interviews and onset footage. You also get the features that were included on the previous DVD release and a feature commentary with the director. The original cut has two commentaries; one with the director and one with the author. You also get an intro from the director and some interviews and more behind the scenes. Both discs are housed in a digi-book package that includes bios, photos and more info on this landmark film.
Warner continues to do a brilliant job with these classic releases and this is one of the best yet. I love that they included both cuts of the film yet devoted a disc to each. The restoration effort is superb and the extras are great. An absolute must own for any collector!
LATEST VIDEO