ZVOX 325 Sound System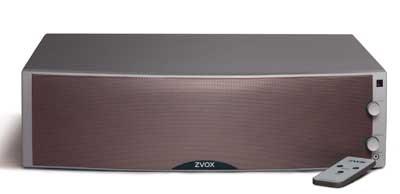 When Sound & Vision reviewed the original ZVOX 315 sound system in October 2004, the notion of a single-box surround sound solution for movies and music was utterly revolutionary. The 315 so strongly answered a market need and performed so well that we honored it that year with one of our Reviewers' Choice (now called Editors' Choice) awards.
Interestingly, the 315 didn't use any hocus-pocus digital processing to perform its magic - just good, basic speaker design. The center channel-style cabinet housed three small front drivers, with the outer two angled slightly out. You plugged in the analog stereo signal from your TV or DVD player, and the middle driver would put out left-plus-right channel information - in other words, mono. That's pretty much what you get from the center channel in any digital surround system, and it's hugely effective for anchoring dialogue to the screen.
Meanwhile, ZVOX's designer, Winslow Burhoe (who gained fame in the '70s with his speakers for EPI), tapped an ancient and proven form of analog spatial processing to deliver some semblance of surround sound: He fed the two outer drivers left-minus-right and right-minus-left channel information so they would deliver more of the "out-of-phase" content in the signal, which typically amounts to ambience in movies or crowd noise in concert videos or sports events. A PhaseCue control adjusted the output of the two outer drivers, allowing you to control the degree of effect. Add to this some clever internal design to reduce cabinet size and a small dedicated woofer that fires from a port in the back, and you've got something that can seriously embarrass any built-in TV speakers.
Not surprisingly, the 315 has proved venerable: It's still available from ZVOX at the same $200 price at which it was introduced. Still, the company wasn't content to remain a one-trick pony; it spent 2006 filling out its line with two new models. The ZVOX Mini debuted last spring, also at $200, offering a considerably smaller cabinet that can be carried with your iPod in an optional custom shoulder bag and run off a rechargeable battery - what ZVOX calls its "PortaParty" package.
LATEST VIDEO