Zenith R49W36 49-inch HDTV Monitor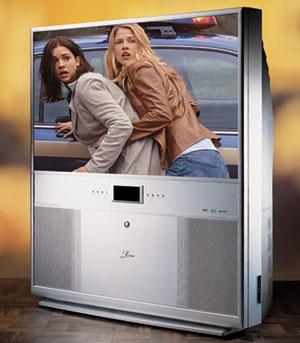 Photos by Tony Cordoza A newcomer to HDTV has to face so many new abbreviations and technical terms that he could end up feeling like a freshman at MIT. Competing for your hard-earned buck are technologies like LCD, DLP, plasma, LCoS, and CRT - all of which can be found in sets that feature 1080i, 720p, and 480p scanning, ATSC tuners, and DVI with HDCP. Adding to the confusion are numerous new brand names and hordes of uninformed salespeople.
After all that, Zenith's R49W36 is a relief. This rear-projection HDTV monitor, with its familiar brand name, time-tested CRT (cathode-ray tube) display system, and friendly operation, will appeal to anyone seeking simplicity in the complex HDTV landscape. At 49 inches (diagonal), its cinematic 16:9 screen is big, but not so big that it will crowd you out of your own living room. Best of all, you get a big picture for only $1,699.
When I first saw this TV in Sound & Vision's new A/V testing room, it looked like a silver wall with a screen on top. Unlike some other under-50-inch projection sets, it doesn't demand placement on a tabletop or expensive TV stand but qualifies as a piece of furniture in its own right, complete with convenient rolling casters. The only elements interrupting the silver wall below the screen are perforations for the speakers, a big Z logo below a bulbous power button, and a mysterious black window flanked by eight small buttons to access menus and other functions.
Using Zenith's sizable remote control forced even my longish fingers to stretch for certain buttons, but its overall layout was easy to grasp. The keypad itself is backlit, but since only half of the buttons are labeled, the rest appeared as unmarked green shapes in the dark. Preprogrammed codes let the remote operate other brands of VCRs, cable and satellite boxes, and DVD players.
Pressing Menu calls up the TV's excellent setup options, which include defeatable scan-velocity-modulation (SVM) processing, four picture presets, and options for sound and other video settings. Although purists may miss a manual convergence option, the automatic convergence did a better-than-average job of aligning the set's red, green, and blue CRTs. The feature that I missed was being able to associate different picture settings with each input. Instead, a global custom picture preset applies to all inputs.
LATEST VIDEO