Yamaha Aventage RX-A1000 A/V Receiver Page 2
Associated gear for this review included five Paradigm Reference Studio 20 v.4 speakers with the Paradigm Seismic 110 sub, operating without its internal EQ. My digital signal source is a beloved Oppo BDP-83SE universal disc player. My analog rig is a Rega Planar 25 turntable with a Shure M97xE cartridge and, for this occasion, a Bellari VP530 tube phono preamp.
I ran Yamaha's proprietary YPAO auto setup and room correction scheme. The process was uneventful. In my last review, I did a lot of mode switching during the movie demos. In this case, I stuck with the Straight mode, which delivers movie soundtracks with YPAO and bass management but without any other enhancement.
Bank Robbers, Mirrors, Exorcists
Takers is a cut above the average bank-robber movie, with a large and charismatic cast navigating multiple plot lines. Have I mentioned lately how much I love my Paradigms? Reunited with them after a long series of speaker reviews, I was pleasantly shocked at how good they sounded with this Yamaha Aventage AVR. The Blu-ray Disc's DTS-HD Master Audio soundtrack is full of layering, which this combination of AVR and speakers brought into high relief. An explosion was nice and solid down to the 80-hertz crossover I'd set between the speakers and the sub. Toward the end of the film, as its emotional intensity ramps up, a solo cello bursts out of the soundtrack, carrying an emotional catharsis that lesser equipment might have downplayed or fumbled.
The Blu-ray edition of Mirrors 2 is packaged with a two-sided DVD that contains both a standard-definition version of the movie and the original Korean film on which it was based. The latter, Into the Mirror, gave the Yamaha a Dolby Digital challenge. While the lossy soundtrack had a little of that old Dolby Digital edginess, it was still well balanced and listenable—the AVR didn't push it into grating territory. Standard horror effects, such as low synthetic swooshes and thuds, played well in the Yamaha's upper bass range. The Aventage made the most of the string orchestra's low bowing and the eerie entrance of a celesta. When a character walked away from the microphone while continuing to talk, the Yamaha delivered the reflections off a succession of hard surfaces with suitable complexity.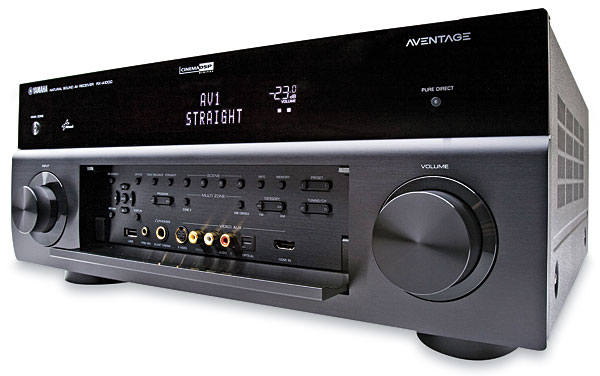 I returned to Blu-ray and DTS-HD Master Audio with The Last Exorcism, a supernatural thriller that treads on the same ground as The Blair Witch Project but with more spring in its step. The plot concerns a preacher who has lost his faith and performs mock-exorcisms as a means of demonstrating how fakery feeds super- stition. Not until the first half-hour has elapsed do the queasy strings enter a landscape hitherto dominated by dialogue recorded in a vérité style. Beau- tifully rendered by the AVR, the strings triggered a paradox that I didn't so much hear as feel: They sounded more real than the dialogue—with more high-frequency extension—but they peeled away that top layer of comfortable reality to access something more sinister beneath.
High Res, Low Res, High Res
Dedicated to the Victims of War and Terror includes Dmitri Shostakovich's Chamber Sym- phony Op. 110a and Alfred Schnittke's Concerto for Piano and Strings, both of which word- lessly but passionately address the victims of Stalin's purges and of institutionalized violence in general. This 2000 Delos release with Constantine Orbelian and the Moscow Chamber Orchestra is possibly the best SACD I've ever heard—no surprise, considering it's a John Eargle production. The CD layer includes Dolby Surround encoding, which non- SACD-player owners can access with any CD or DVD player using the Dolby Pro Logic II Music mode, though of course it was the 5.1-channel SACD layer that I played. In the brooding then turbulent Shostakovich chamber symphony, the strings resisted the front- or back-of- the-hall metaphor I often use. They were close up, definitely a front-row sound, yet so enriched with inner detail and ambience that the net result felt like all the best attributes of all the best seats in the house. In the Schnittke piano concerto, the piano was just right. The recording put me near the instrument, not inside it or too distant from it. Both of the pianist's hands were in correct balance, which speaks well of the AVR's performance down to 80 Hz, its YPAO room correction, and my excellent Paradigm Seismic subwoofer. This was best-case performance with best-case material.
Jan Akkerman pieced together his new CD, Minor Details, with his current band using e-mailed MIDI files and home studios. "It was one of the most difficult things I ever did," the ace guitarist admits in the liner notes, and I'd be lying if I said the result was an audiophile-quality recording. However, the master's guitar sails serenely over the mixes with his typical eloquence, and that was the element that the Yamaha and Paradigms grabbed and ran with (he said, almost but not quite ending a sentence with a preposition).
Esperanza Spalding's Cham- ber Music Society was the first unsolicited vinyl review copy I've received since maybe 1985. Thank you, Heads Up International. The two-disc set showcases the singing acoustic bass player in an eclectic set of jazz-inflected songs, accompanied by violin, viola, cello, keyboards, drums, per- cussion, the occasional guitar, and a couple of guest vocalists. The highlight was "Apple Blossom," a duet with guest vocalist Milton Nascimento. I pondered my choice of phono preamps—built-in solid state or external vacuum tube?—and went with the tubed Bellari. As I shifted among the listening modes, the two leading contenders were Straight, which uses YPAO room correction and bass management but no other sweeteners; and Pure Direct, which delivered the LP's two- channel signal without any embellishment. The difference was dramatic. Pure Direct had a lot more high-frequency exten- sion, more air, and a wider soundstage. Straight was warmer, with a more laid-back midrange and slightly rolled-off highs, plus a narrower but denser sound- stage that imaged Spalding's honeyed soprano more effectively. Though quite different, both were listenable.

In general, the RX-A1000 is a lower-powered and less costly version of the RX-A2000, an A/V receiver I loved. They both did a great job of driving my Paradigm Reference Studio 20 v.4s with room to spare. These have a rated sensitivity of 87 decibels and impedance that ranges from 4 to 8 ohms (we measured a minimum of 4.18 at 174 Hz when we reviewed them). Please note that your mileage may vary. For more demanding speakers, the higher-end model may be more suitable.
Driving the right speakers, the Yamaha RX-A1000 is a sterling performer. In quality of audio reproduction, this is an excellent mid-priced A/V receiver. In terms of features, Yamaha's reliance on homegrown technology may be limiting—I longed to hear what Audyssey room correction could do for this AVR. But room cor- rection isn't for everyone. If the fundamentals of performance are what matter to you, the Aventage line is compelling.