XM Rated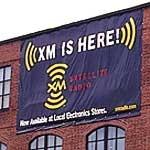 Midway through the trip, Bruce Springsteen's "My Hometown" plays on the dilapidated speakers in the Club Diner - a classic off-the-Turnpike eatery somewhere in Bellmawr, New Jersey - and it sounds like junk. I can't wait to get back on the road. Not to make good time - I have no schedule. I just want to get back to the maroon Cadillac DeVille that XM Radio has loaned us to try out its new billion-dollar-plus satellite radio network. Actually, the whole system - from the broadcast studios to the staff to the satellites XM launched a year and a half ago - cost $1.5 billion. But it'll cost you and me only around $300 for the receiver and $9.99 a month to use it.
We'll get to the details later. Back to The Boss.
"My Hometown" ranks right next to "Glory Days" and "Born in the U.S.A." on my list of Springsteen favorites. But I've heard those songs enough to last me three Abe Vigoda lifetimes. (Wait - he's not dead? Sorry.) I wanted something fresh, unlike that last joke. Something like "Be True" or "Meeting Across the River." You'll never find them on - what are those things called again? Oh, yeah: AM or FM radio. So don't bother looking. But if I hit Channel 40 on XM, I get Deep Tracks, which digs into albums and plays the songs you never hear outside your house.

The Roster
---
LATEST VIDEO
WHERE TECHNOLOGY BECOMES ENTERTAINMENT