Weekend Update: Harry Potter Complete and Titanic 3D on Blu-ray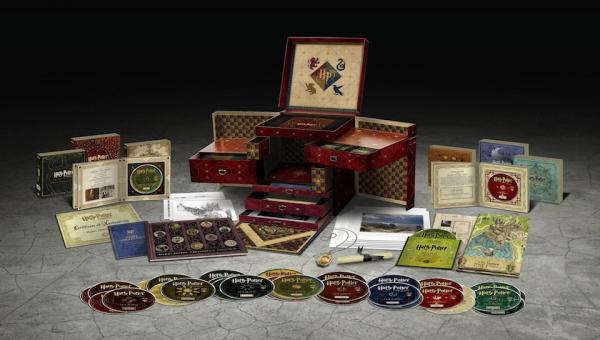 September 07
Harry Potter Wizards Collection
Now that the Harry Potter fantasy adventure saga based on the books of J.K. Rowling has come to a conclusion, casting its final spell over cinema audiences, it might be time to take stock over what we've been through and where we've traveled to over the course of the past 10 years, the first decade of the millennium, with Harry (Daniel Radcliffe), Hermione Granger (Emma Watson), Ron Weasley (Rupert Grint), Professor Albus Dumbledore (Richard Harris/Michael Gambon), Professor Minerva McGonagall (Maggie Smith), Rubeus Hagrid (Robbie Coltrane), Professor Severus Snape (Alan Rickman), Fred Weasley (James Phelps), George Weasley (Oliver Phelps), Bellatrix Lestrange (Helena Bonham Carter), Ollivander (John Hurt), Alastor 'Mad Eye' Moody (Brendan Gleeson), Professor Flitwick/Goblin Bank Teller (Warwick Davis), and all.
This 31-disc set (19 Blu-ray Discs and 12 DVDs) will help you to do so, containing all eight feature films in the Harry Potter franchise - Sorcerer's Stone, Chamberof Secrets, Prisoner of Azkaban, Goblet of Fire, Order of the Phoenix, Half-Blood Prince, Deathly Hallows: Part 1, and Deathly Hallows: Part 2 - plus extended cuts of Sorcerer's Stone and Chamber of Secrets, the 3D versions of Deathly Hallows: Part 1 and Part 2, along with 37 hours of extras and assorted memorabilia.
All, Video: 2.39:1. Audio: DTS-HD Master Audio 5.1 except theatrical versions ofStone and Secrets are in DTS-HD Master Audio 6.1. Extras: over 37 hours of extras with all those previously available on disc as well as new material - more than ten hours of new-to-disc bonus content and five hours of never-before-seen material including "The Harry Potters You Never Met," "Creating the World of Harry Potter, Pt. 7: Story,"and "Creating the World of Harry Potter, Pt. 8: Growing Up" featurettes, and extended version of the conversation with Rowling and Radcliffe; exclusive memorabilia including a collection of prop labels, 48-page "Harry Potter Catalogue of Artefacts," 22" x 26" blueprint of Hogwarts castle, conceptual art prints, 24" x 36" map of Hogwarts and its surroundings, 5" x 7" sketch prints by production designed Stuart Craig, Horcrux Locket from the Noble Collection, and numbered certificate of authenticity (with Hogwarts Express ticket design); DVDs and UltraViolet digital copies for streaming/downloading. Studio: Warner.
September 10th
Titanic 3D
Mix an impoverished American adventurer (Leonardo DiCaprio) with a young socialite (Kate Winslet) in a big boat, add ice, and stir into a frothy, romantic disaster movie. The tasty cocktail it produces is a titanic of a movie, the biggest-grossing film ever, earning $2.2 billion worldwide on its 1997 release, a record it kept right up until its director James Cameron broke it in 2009 with Avatar (which pulled in $2.8 billion). The heady mix also won 11 Oscars including Best Picture, Best Director, Best Cinematography, Best Film Editing, Best Sound Effects Editing, Best Sound, Best Visual Effects, Best Original Score, Best Original Song ("My Heart Will Go On"), Best Art Direction-Set Decoration, and Best Costume Design.
Now, after a successful 3-D re-release in theaters, Titanic is available in 3-D Blu-ray on this four-disc set. Of course, being Cameron, the best technology and efforts have gone into the conversion to three dimensions, and the film actually looks like it was shot in the format, comparing well with native 3-D films. Its 194-minute transfer is spread over two discs.
Titanic co-stars Billy Zane, Kathy Bates, Frances Fisher, Jonathan Hyde, Bernard Hill, David Warner, Suzy Amis, and Victor Garber.
A four-disc 2-D Blu-ray/DVD/UV Digital Copy edition is also available in the original aspect ratio of 2.39:1.
Video: 1.78:1. Audio: DTS-HD Master Audio 5.1, Dolby Digital 2.0. Extras: in-depth exploration of the film with the director, "Titanic: The Final Word" documentary produced by National Geographic with Cameron, three commentaries by Cameron, cast and crew members, and Don Lynch and Ken Marshall, sixty behind-the-scenes featurettes, featurette on the visual effects, 30 deleted scenes with optional Cameron commentary, Titanic crew video "$200,000,001: A Ship's Odyssey," deep dive presentation narrated by Cameron, construction timelapse, videomatics, still galleries, Cameron's Titanic scriptment, storyboard sequences, production artwork, bibliography Titanic parodies (MTV's 1998 Movie Awards skit, Saturday Night Live skit, Titanic in 30 seconds, Celine Dion's "My Heart Will Go On" music video; DVD, and UltraViolet digital copy for streaming/downloading. Studio: Paramount.
LATEST VIDEO